Food Trucks
TRU is happy to welcome food trucks on campus! Food truck operations run through April to October and are located in the campus court beside Old Main by the basketball courts.
Schedule
Vendor
Day of Week
Time
Kochi Bao
Tuesdays
11 a.m. - 3 p.m.
Scheduled times are subject to change due to weather and/or food availability.
---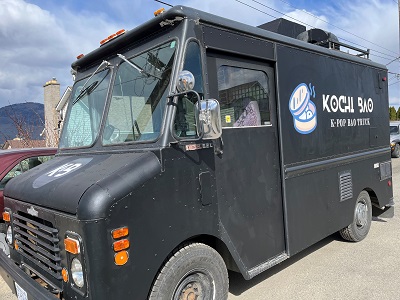 Kochi Bao
Tuesdays from 11 a.m. to 3 p.m.
The Kochi Bao Kpop food truck serves handmade baos with traditional and whimsical fillings. They take pride in serving only fresh products, with the utmost minimal pre-made products. Enjoy the flavours of Korea, China, Taiwan, Japan, and Southeast Asia all from one funky little truck while enjoying the best and latest from the Kpop world.
---
---
About food trucks
Becoming an approved TRU mobile food vendor
We are always searching for new vendors to expand our food offering. For more information, please contact:
Jessica Papineau
Ancillary Services
250-371-5660
jpapineau@tru.ca
Requesting food trucks
Are you part of the TRU community and interested in booking a food truck for an upcoming event? Your first step would be to contact Jessica Papineau, Food Service Operations Manager, Ancillary Services. Some of the details to consider are:
What is the number of people in attendance for your event?
Do you have a specific mobile vendor in mind?
What are the hours you will be needing the mobile vendor for?
We can only have mobile vendors in certain locations on campus, do you have specific location in mind?
---
Follow us in Instagram for updates
---