TRU Future Student Ambassadors
The Thompson Rivers University Future Student Ambassadors are a team of highly involved current students here to help future students discover all that TRU has to offer!
Your Path to TRU
Check out our latest blog posts for everything future students need to know about TRU! Hear from our Future Student Ambassadors about their experiences as current TRU students, and from our Future Students Office for important dates, deadlines, and details you won't want to miss.
» View more blog posts
Find us on Instagram
Meet the Winter 2022 TRU Future Student Ambassadors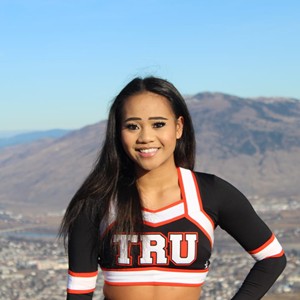 Hello everyone! My name is Alex Duarosan, but you can call me "Al Pal". I am a third-year Bachelor of Arts student majoring in Psychology while studying Marketing and Communications on the side. I am from Kamloops (otherwise known as TK'emlups) and reside in beautiful British Columbia.
I am a student athlete for WolfPack Cheerleading, a Career Ambassador for the Career and Experiential Learning department, TRU World Social Media Ambassador, Safety Ambassador for the Risk Management and Health & Safety department, co-op student, and now a Future Students Ambassador for the Future Students department!
As you can probably tell, I love to get involved at Thompson Rivers University! I've participated in awareness campaigns such as Bell Let's Talk for mental health, presented at Open House, helped at a student-wide food drive, and competed in the University World Championships of Cheerleading, placing fifth across the world!
One piece of advice I have for future students is to get out of your comfort zone. You might find that the best experiences come from those you least expect. Get involved, whether by means of the campus or the community. You will advance your network and might find passions along the way!
---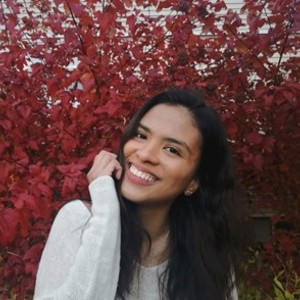 Hi everyone! My name is Valeria Molina, and I am a third-year international student from El Salvador. My major is in Communications and New Media and my minor is in Marketing. I am a really friendly person who loves to travel, volunteer, play sports, watch movies, and spend time with friends and family. This is my second semester as a Future Student Ambassador here at TRU and I am super excited to connect with all the new prospective students once again.
One tip that I have for future students would be to get involved. I would encourage them to try different clubs, sports teams or even just talking to their peers and professors outside of class. Be open to meeting new people and trying out new things. Getting out of your comfort zone will definitely be worth it in the end. You might even discover new passions and talents!
---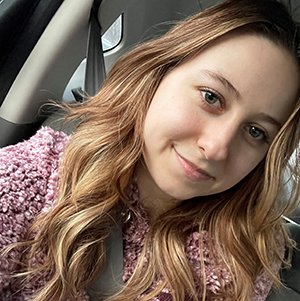 Hi everyone! My name is Hailey Lepine and I am currently in my last semester of the Accounting Technician Diploma. Upon completion of this program, I plan to ladder into the Bachelor of Commerce with a concentration in accounting and then eventually complete the Charted Professional Accountant program. I was born and mostly raised in Kamloops so I can answer student questions about off campus resources. As a Metis student, I can also point students in the direction of Indigenous events and resources that are available at Thompson Rivers University. Although I am close to completing my diploma program, I have been a student at the university for some time while trying to decide which program was best suited for me, so I also have knowledge on different courses and programs provided at this institution.
An important piece of advice that I have for future TRU students is to remember to prioritize downtime to engage in favored recreational activities. By giving myself breaks in between studying or attending lectures I find I can focus better when returning to my coursework. Also, giving yourself breaks to do things you enjoy is important in upholding mental health and reducing school related stress.
---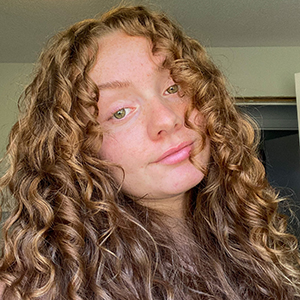 Hey there! My name is Arnica Palechuk and I am a third-year student at TRU. I am in the Bachelor of Arts majoring in communications and new media studies and minoring in marketing. I am from Kamloops which is where I currently reside. I came to TRU after graduating early and it has been a blast since! When I am not on campus I like to ski, paddle board, travel, and hang out with my dog. This is my first semester as a Future Student Ambassador, and I am very excited to connect with prospective students!
One piece of advice I have for prospective students is to get involved on campus. This can be anything from helping a peer find a classroom to being on a sports team. Personally, being on a sports team my first year helped me transition into university much easier. It provided a support system that shared a common interest and allowed me to meet new people who I now call my close friends. All I can say is step out of your comfort zone and join a club, team, or even an intermural sport. It is an excellent opportunity to broaden your experience at TRU!
---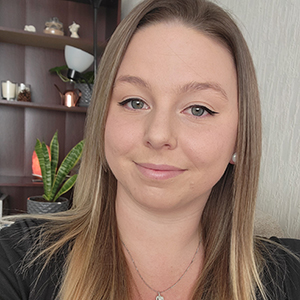 Hello! My name is Erin and I am currently in my 3rd year at TRU - my 2nd Year in the Bachelor of Natural Resource Sciences Program! As a Future Students Ambassador, I look forward to representing TRU as well as the NRS Program! I moved to Kamloops in 2019 to begin attending TRU and have lived here ever since. Along with my role as a Future Students Ambassador, I am a CO-OP student and currently involved with the TRU Student Chapter of the Wildlife Society. One of my favourite things about coming to TRU was that I could take my first year here to do my upgrading on campus while I took care of some electives, because I had graduated high school ten years prior. Being able to do this made the transition back into formal education much smoother for me! Some of my other favourite things about TRU so far include the beautiful campus and the small class sizes, which allow for meaningful interaction with your instructors. I have really loved being able to connect with my instructors rather than feeling like just another student number in the masses.
My best advice to prospective and current TRU students is to take care of yourselves, mentally and physically, and allow yourself to take a break if you need it. Additionally, get involved in the TRU community while on campus by joining clubs or finding volunteer opportunities! The experience you'll gain is highly valuable, as are the friendships you'll make along the way! I am greatly looking forward to meeting as many people as possible while in my position as a Future Students Ambassador!"
---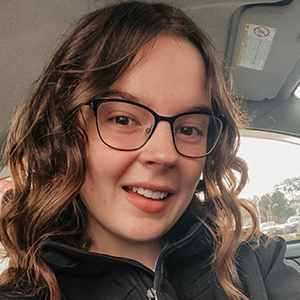 Hey there! I'm Abigail, but you can just call me Abby. I'm a Métis student in the Bachelor of Arts program, majoring in Geography and Environmental Studies. In 2020, I moved from a small town in B.C. to Kamloops to attend TRU. It was the best decision I have ever made! TRU offers small class sizes and many student supports which has made the transition from high school to university seamless. When I'm not studying, you can find me spending time doing a variety of outdoor activities such as hiking, skiing, and camping. I'm also an avid reader!
My biggest piece of advice for future students is to not be afraid to take the next step. It's scary, but there are so many support systems ready to help you along this journey. We got you!
---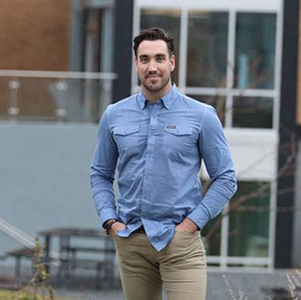 Hi everyone! Adrian here :)
I am a proud Metis man from Nelson, BC, and a 3rd year Social Work student here at TRU. This is my first year at TRU and in Kamloops. I am a transfer student from a smaller college where I facilitated events and workshops as a Student Ambassador. I am passionate about helping to cultivate an inclusive, diverse and culturally sensitive atmosphere within the educational community, and I am excited to continue that work here at TRU.
Being new to Kamloops, I can't wait to explore this beautiful land! I am a huge sports guy and will do just about anything physically active! I love being outdoors and have been trying out new hiking trails around town.
If there is one piece of who I am that I wish to share with you all, it's this: Although life has its dark days and can waver one's ability to overcome what they are faced with... without these challenges, obstacles, hardships, pains, heartbreaks, struggles and adversities, we never know or truly learn what we are fully capable of attaining and accomplishing—we never reach or grasp our true potentials in life. Let this principle guide you and those you care for and love as difficulties may test the very limits of what we can all withstand.
I hope to see and connect with as many of you as possible this year if you're visiting TRU!