TRU Future Student Ambassadors
The Thompson Rivers University Future Student Ambassadors are a team of highly involved current students here to help future students discover all that TRU has to offer!
The role of the Future Student Ambassador is to connect with future students and their families to share their TRU experiences and journeys! Ambassadors work together with the Future Student Office to promote TRU through on and off campus events, virtual information sessions, high school visits and presentations, career and education fairs across British Columbia and Canada and more.
Become a TRU Future Student Ambassador
Interested in becoming a Future Student? Recruitment for the 2021-2022 Future Student Ambassador Team will begin April 2021. Check back soon for more details!
For more information about becoming a Future Student Ambassador, email Holly McLean in the Future Students Office at futurestudents@tru.ca.
Meet the Winter 2021 TRU Future Student Ambassadors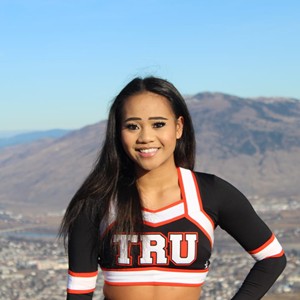 Hello everyone! My name is Alex Duarosan, but you can call me "Al Pal". I am a third-year Bachelor of Arts student majoring in Psychology while studying Marketing and Communications on the side. I am from Kamloops (otherwise known as TK'emlups) and reside in beautiful British Columbia.
I am a student athlete for WolfPack Cheerleading, a Career Ambassador for the Career and Experiential Learning department, TRU World Social Media Ambassador, Safety Ambassador for the Risk Management and Health & Safety department, co-op student, and now a Future Students Ambassador for the Future Students department!
As you can probably tell, I love to get involved at Thompson Rivers University! I've participated in awareness campaigns such as Bell Let's Talk for mental health, presented at Open House, helped at a student-wide food drive, and competed in the University World Championships of Cheerleading, placing fifth across the world!
One piece of advice I have for future students is to get out of your comfort zone. You might find that the best experiences come from those you least expect. Get involved, whether by means of the campus or the community. You will advance your network and might find passions along the way!
---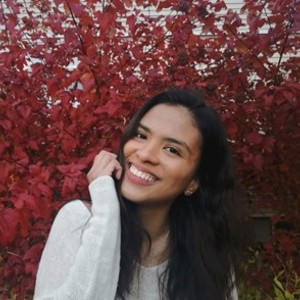 Hi everyone! My name is Valeria Molina and I am a second-year international student from El Salvador. My major is in Communications and New Media and my minor is in Marketing. I am a really friendly person who loves to journal, volunteer, play sports, watch movies and spend time with friends and family. Besides being a Future Student Ambassador, I am also part of the TRUSU Engage for Change Club as their social media coordinator.
One tip that I have for future students would be to get involved. I would encourage them to try different clubs, sports teams or even just talking to their peers and professors outside of class. Be open to meeting new people and trying out new things. Getting out of your comfort zone will definitely be worth it in the end. You might even discover new passions and talents!
---
Hello! I'm Sarah, a fourth-year business student studying Finance and Human Resource Management. In my third year of studies, I spent a semester in Lyon, France through the TRU Study Abroad Program. I am also the Vice President of two clubs here at TRU: The TRU Women in Business Club, and Enactus. I grew up in Nelson, BC, where I learned to love all things outdoors, especially hiking and camping!
My tip for future students is to take advantage of all the amazing support TRU has to offer! Supports like the writing center, counselling services, and wellness center are so helpful, and everyone is welcome to access them. These services can really make a difference in your mental health and help you thrive in university!
---
Hi! I'm Margo Beitel, a fourth-year of a Bachelor of Business Administration with a marketing major. This term, I have returned to the Future Students Office as an ambassador after being a co-op student last year! Since completing my co-op, I have also gone on to be an ambassador for the Career and Experiential Learning department. I am from Calgary but lived in Kelowna for most of high school. My hobbies include running, hiking, and generally enjoying the outdoors!
My tip for future students would be to start your assignments the day that they're assigned. Even if it's just opening up a word document and making a title page or writing one sentence about what your paper is about. I find that if I have a document going, I'm less likely to procrastinate until the last minute.
---
Hello everyone! My name is Tristan Dueck and I am in my second year of studies, currently working towards a Bachelor of Science in Cellular Molecular Microbial Biology. Though I hail from Kingston, Ontario, I grew up primarily in Maple Ridge, British Columbia, and only recently moved to Kamloops to pursue my passion for biology at Thompson Rivers University. While most of my time is dedicated to studies, I spend my free time with friends, as a science and calculus tutor, or experimenting with microbes to make interesting food and drinks.
My tip for future students would be to never pass up an opportunity to get involved! Participate in the job fair, check out club day, attend the late night against procrastination. There are many unique opportunities here that you may never get the chance to take again, so make the most of it!
---
Hi there! I'm Cassidy Jean, a fourth year Bachelor of Arts student pursuing a Double Major in English and psychology. I was born and raised in Kamloops, so I know a lot about the city. Aside from being a Future Student Ambassador, I am also an Arts Ambassador, a Supplemental Learning Leader, and I'm part of the Writer's Club here at TRU. I started my TRU journey through the TRU-Start program and I've never looked back. In my free time I love to read, write, and go for walks.
My one piece of advice for future students is not to be afraid to ask questions, especially of your professors. The professors and other staff members at TRU truly want to see students succeed so never be afraid to ask for help if you need it.