Office of Indigenous Education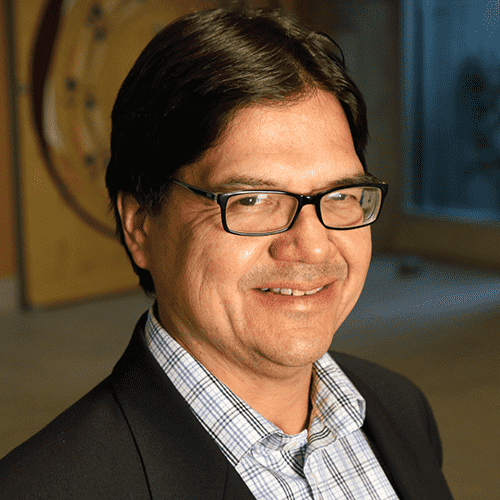 Paul Michel
Special Advisor to the President on Indigenous Matters
pmichel@tru.ca
250-377-6050
Paul's Bio
Paul belongs to the Secwepemc Nation and he is traditionally from Hust'alen (Adams Lake First Nations). Paul is honoured to be working as Indigenous Executive Director at Thompson Rivers University and he recognizes that this wonderful university is situated in the traditional territory of Tk'emlups.
Paul has broad-based Indigenous experience in the areas of administration, student support services, university instruction, Indigenous research and governance.
Paul is responsible for the successful campus-wide implementation of Indigenous education and he will correspond with students, elders, staff, faculty, administrators, researchers and community partners to enhance the quality of Indigenous education at TRU. Paul will respect, honour and empower the Thompson Rivers University vision to make this the university of choice for Indigenous learners.
Paul welcomes all Thompson Rivers University students to our campus. Indigenous students are encouraged to access all the Indigenous services available to them and to access the Cplul'kw'ten (TRU Gathering Place).
Please contact me or TRU Cplul'kw'ten staff if you require more information or assistance.
---
Tina Matthew,
Executive Director of Indigenous Education
tmatthew@tru.ca | 778-471-8395
Tina's Bio
Tina is a proud Secwepemc woman and member of Simpcw First Nation located in the North Thompson Valley. She brings with her a passion for helping Indigenous people by making opportunities accessible to everyone. She is honoured to hold the position of Associate Director of Indigenous Education at Thompson Rivers University and acknowledges the traditional territory of the Tk'emlúps te Secwépemc on which the TRU Kamloops campus resides on.
Tina will be working closely with the Indigenous Education Executive Director and staff to provide advice and project management in order to align the TRU Strategic Priorities with the implementation of Indigenization supports for Indigenous student success. She will work with all TRU departments, administrators, faculty, staff, elders, students, as well as external organizations and communities.
Tina holds a Master of Education and an undergraduate degree from Simon Fraser University. She is an education professional with over 20 years' experience working with Indigenous communities, organizations, public & private institutions, and industry. Tina has particular strengths in conducting research, developing organizational processes, and connecting Indigenous people with training and collaboration opportunities. She is an active community member who always strives for self-governance and leadership for all Indigenous people through mentorship and leadership.
Tina looks forward to meeting with current and future administration, faculty, staff, students, and community members.
---
Didi Ledohowski,
Coordinator, Office of Indigenous Education
dledohowski@tru.ca | 250-371-5995
---
Misty Antoine,
Divisional Secretary, Office of Indigenous Education
mantoine@tru.ca | 250-828-5227
---
Brad Bostock,
Director of Development Indigenous Education, Faculty of Arts, Faculty of Education & Social Work
bbostock@tru.ca | 250-319-6385