Current Students
Join us at Cplul'kw'ten — the gathering place
We would love meet you. We have people and resources to support your studies. Or you can just come and hang out.
» Learn More
---
Our team is here to support you
Email: aboriginal@tru.ca | Phone: 250-371-5508 | Fax: 250-377-6077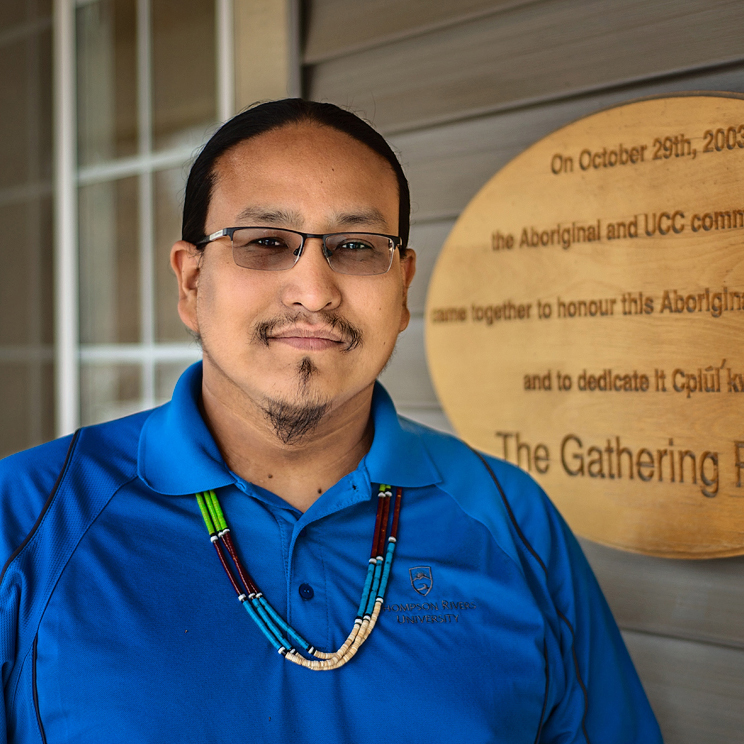 Vernie Clement
Supervisor
Bio and Contact
Vernie belongs to the Lhoosk'uz Dene and is Dakelh. He was raised by his grandmother first in Tl'esqox (a Tsilhqot'in community), and then moved to the isolated community of Lheyidli (Kluskus RR#14). After moving to Kamloops, he graduated from Norkam Secondary and continued on to University College of the Cariboo (now TRU).
Vernie is Supervisor of Indigenous Student Development, which serves First Nations (status/non-status), Inuit and Metis students. Vernie works with the team in Cplul'kw'ten and supports student retention activities. The supervisor oversees projects, maintains service levels, advocates, initiates programs, and acts as a liaison between on-campus and community partners with the goal of facilitating the personal, social and intellectual development of Indigenous students. Vernie also oversees practicum and work study students, and the Elder in the House program.
Note to students:
Dahooja! (Hello) I am honoured to live and work here on Secwepemcw ulcw and to be working with the Indigenous community here at TRU. I have been involved with TRU/UCC for a number of years both as a student (BBA) and as president for three years of the First Nations Student Association (vice-president for two years). I hope students will feel welcomed and have a positive experience with their educational journeys, and that the work we do will help in that way.
Please feel free come visit us at Cplul'kw'ten.
'Aw'et Zeh
Vernie Clement
250-371-5972
Cplul'kw'ten (House 5) Room GP 224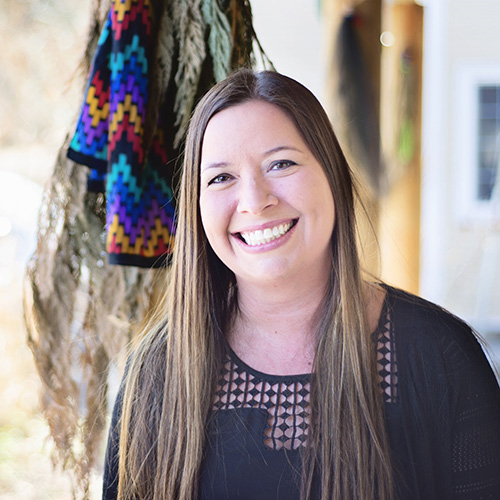 Shawna Walker
Learning Strategist - Indigenous Liaison
Bio and Contact
Shawna works alongside the amazing team at Cplul'kw'ten to support students by developing life skills programming, connecting students with community and off-campus resources, and coaching Indigenous students through their academic journey.
She has a Bachelor of Social Work from the University of Victoria and has been in the field since 2007. She has worked in a broad array of areas from School District #73 to Child and Family Services in Merritt, Lytton and Kamloops. Shawna's community connections, human services experience and cultural pride will serve her well.
Born and raised in Kamloops, Shawna is from the Peguis Band in Manitoba. Her kind, calm and caring nature; welcoming and warm smile; and professional demeanor has made her a hit with students in Cplul'kw'ten.
Shawna enjoys literature, cinema and theatre; she leads an active lifestyle and likes to hike, run, kayak, snowshoe, and enjoys playing hockey.
Shawna Walker
250-852-7838
Cplul'kw'ten (House 5)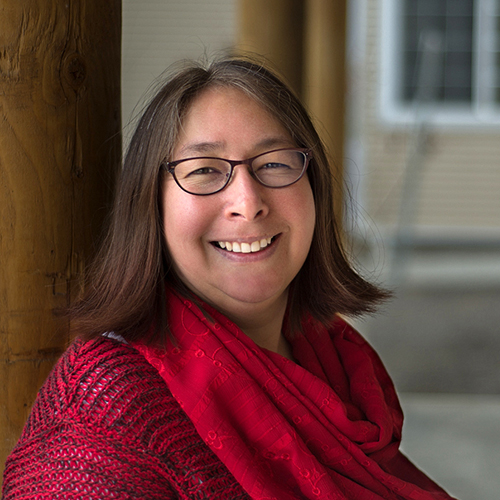 Denise Dunstan
Learning Strategist - Indigenous Transitions
Bio and Contact
From the Nlakapamux nation, Denise received her social work degree from TRU in 2010.
She has worked with youth programming for the past twenty-five years. Twelve years were spent working with Aboriginal students through the Kamloops School District. Denise was a First Nations worker for School District 83 for over three years. This is her first position at TRU.
Her hobbies include hot yoga and hiking, and Denise also enjoys watching television.
Denise Dunstan
250-371-5854
Cplul'kw'ten (House 5)
Jonathan Michel
Learning Strategist - Indigenous Transitions
Bio and Contact
Jonathan is a member of the Secwepemc Nation and grew up in Kamloops. He is an Adams Lake Indian band member. Jonathan graduated from South Kamloops Secondary School here in Kamloops, and continued on to Midland University in Fremont, Nebraska.
He has a Bachelor of Arts from Midland University. He was a student athlete at Midland, competing with the Midland Warriors football team. Since graduating in 2013, Jonathan has worked with Aboriginal students within School District 73 as an Aboriginal education worker, and now continues to work with Indigenous students at TRU as an Indigenous learning strategist.
Jonathan has stayed involved with football at all three levels in Kamloops, working with football players from age seven to 22. He is co-head coach of the Valleyview Vikings football team.
His hobbies include weight lifting, spending time with friends, reading and playing video games.
Jonathan Michel
250-371-5508
Cplul'kw'ten (House 5)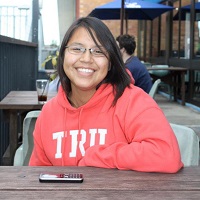 Mathilda Chillihitzia
Indigenous Mentor & Community Coordinator
Bio and Contact
Mathilda is from the Upper Nicola Band, Douglas Lake, in the Sylix (Okanagan) territory. Mathilda, also known as Matty, loves learning and meeting new people. Her outgoing nature means she's easy to get along with.
Mathilda graduated from TRU in October 2017 with a Bachelor of Arts Degree with a Major in Geography and a Minor in History. She plans on continuing her academic career by applying for her masters or possibly working toward a PhD.
As the Indigenous Mentor and Community Coordinator, Mathilda will work closely with Vernie and the Learning Strategists in Cplul'kw'ten to coordinate the Indigenous Mentor Program, and engage in community and on-campus events. She will oversee the recruitment, training, day-to-day tasks, and reporting of several mentors who are matched up with mentees. Mathilda will also build community connections and support on-campus Indigenous events.
Mathilda knows the Indigenous Mentor Program first-hand as she started as a mentee and then moved to being a mentor for several years. She also went to Australia on to study abroad and upon her return, became a Study Abroad Ambassador. Mathilda has worked extensively with youth in her home community as a Youth Coordinator, Teacher Assistant, and with the Youth Worker Experience Program.
Mathilda Chillihitzia
250-828-5188
Cplul'kw'ten (House 4)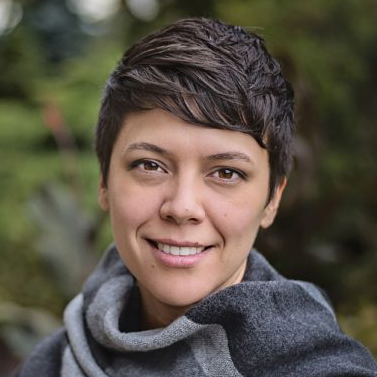 Skylar Sitka Sage
Registered Clinical Counsellor
Bio and Contact
Skylar has been dedicated to cultivating individual and community capacity for over 23 years as a counsellor, educator, and community psychology practitioner. She is a Registered Clinical Counsellor (RCC) with an MA from Adler University. Her interests lie in the relationship between social systems, the environment and individual well-being. Her practice is trauma/violence-informed, intentionally integrating therapies such as Accelerated Experiential Dynamic Psychotherapy (AEDP) and DBT/MBCT (Mindfulness-Based CBT) to address the unique circumstances of each individual and situation. Skylar supports the academic success and personal growth of TRU students through individual and group counselling as well as psycho-educational/experiential workshops. As a member of the Secwepemc Nation she grew up locally, but for the past few decades she lived on the unceded territories of the Coast Salish Peoples in Vancouver. As an Indigenous counsellor she values inclusivity and diversity — all ages, genders, sexual orientations, cultures, and abilities are welcome.
Transformation can be a revitalizing process, but that does not mean we need to be constantly making drastic changes. Building capacity means being able to imagine the life, work and community you want and taking a step towards that vision every day. Skylar's aim is to listen, ask questions, and offer what she can to support your goals. Learning is a lifelong journey. Let's walk together.
Skylar is located in the House of Learning within the community-oriented space of the All My Relations Research Network. Office: HL 146
All appointments can be made directly via email ssitkasage@tru.ca or to book a preferred spot ASAP, please call the counselling office front desk at 250-828-5023.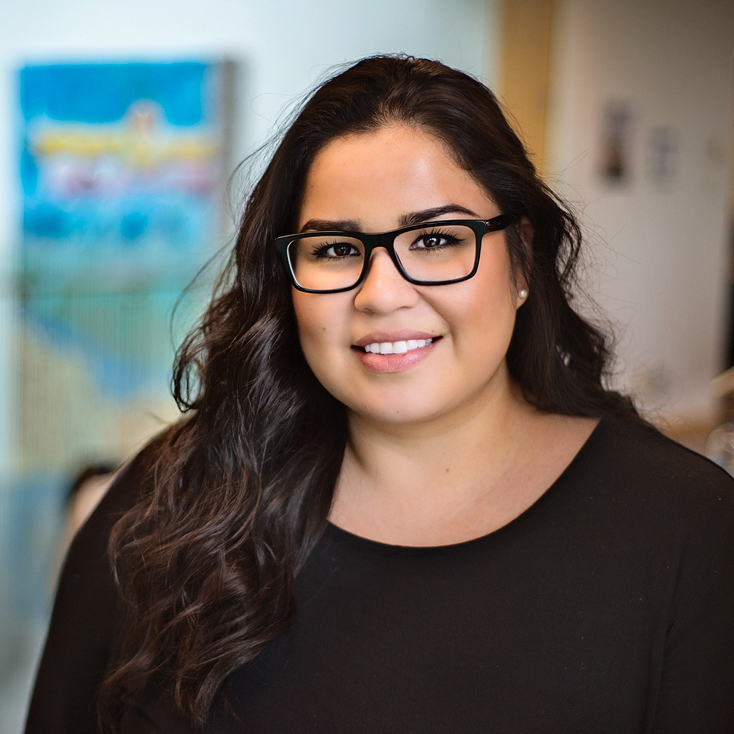 Cara Basil
Qelmúcw Student Recruiter - Advisor
Bio and Contact
Cara is a member of the Secwepemc Nation and grew up in Bonaparte—one of 17 communities in Secwepemcul'ecw. In 2017, Cara graduated from Thompson Rivers University, with a Bachelor of Arts in Sociology. She also completed an Indigenous Studies Certificate concurrent with her degree. Aside from her love of research, she is deeply passionate about continuing her learning of all Indigenous peoples.
Since 2015, Cara has served as an elected councillor for her community. As Indigenous Student Recruiter—Advisor, she is proud to work in her Nation and join an amazing team that encourages and guides students towards their educational pursuits. As the granddaughter of two Residential School survivors, Cara strives to share their legacy and empower individuals and communities in moving forward.
In her spare time, Cara enjoys being with family and friends, discovering new books, exploring Canada and participating in activities that support her love of lifelong learning.
You can do anything you set your mind and heart to.
Kukstsetsemc!
Cara Basil
250-828-5006
Old Main 1468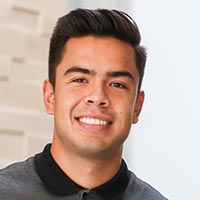 Marcus Scherer
Qelmúcw Student Recruiter - Advisor
Bio and Contact
Marcus is Anishinaabe from Lac des Mille Lacs and Secwepemc from Stswecem'c Xgat'tem First Nation. He was born in Vernon, and lived there until he was seven years old. He spends most of his time outdoors, and loves a good barbecue. He is very social and outgoing, and loves to meet new people.
Marcus graduated early from Norkam Secondary School in 2012 and went straight into TRU through the Aboriginal TRU Start program. He graduated from TRU with a Bachelor of Natural Resource Sciences and a Certificate in Aboriginal Studies in winter 2018. He plans on taking a master's degree and going to law school.
Marcus's work experience includes a co-op term at TRU and a job in the forestry sector as a silviculture technician and wildfire fighter.
He is currently a Future Students Qelmủcw Advisor-Recruiter, which involves helping prospective students in many of the processes leading up to the first day of classes. He works with all students, but his main focus is Indigenous students. Marcus enjoys this job because it allows him to empower other Indigenous people.
Marcus Scherer
250-371-5985
Old Main 1468