Arts Menu
What are you going to do with your degree?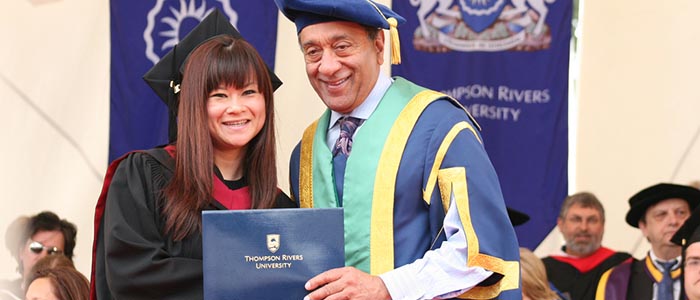 Rien Okawa received her Arts degree from TRU Chancellor Wally Oppal during convocation in 2011.
This is a question that is constantly asked of university students. You probably even ask yourself that once in a while.
First of all, don't panic: it's fine if you don't have your whole life figured out or a dream job in mind on your first day of class! As you progress through university you will discover what interests you and what jobs will suit you the best.
The important thing is to study something that intrigues you, inspires you, and that you are passionate about. Be assured that an Arts degree offers you endless opportunities.
One of our goals as Arts mentors is to provide you with answers to your questions. We have compiled lists for each area of study in Arts with examples of where an Arts degree can take you.
You will also find a degree information sheet that lists the academic requirements (the classes you need to take) to graduate with that major.