Arts Menu
Robin Nichol
In his 1889 essay The Decay of Lying, Oscar Wilde opined that life imitates art far more than art imitates life, meaning that what is found in life and nature is actually what artists have taught people to discover through art. An example is given by Wilde in how the fog in the city of London is often romanticized. While the fog has existed for centuries, one notices the beauty and wonder of the fog because "poets and painters have taught the loveliness of such effects".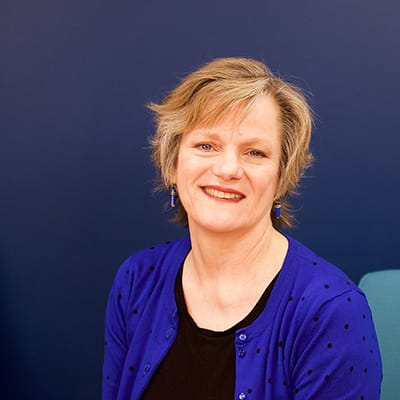 Such reflective thinking applies to the interpretation of many art forms, including how writing is translated into physical and emotional expression in theatre.
Even when written content mirrors real-life experiences, a filter of personal interpretation happens between the experience, composition and expression of ideas through acting; associate professor Robin Nichol, MFA, has extensive personal experience with this process and now shares it while teaching theatre at Thompson Rivers University.
After becoming a mother in 1995, Nichol met a group of five other actors who had also recently entered parenthood and were struggling with losing career momentum, just as she was. Together, they created a show about motherhood called Mom's the Word.
"At the time, the Women in View festival was running in Vancouver and it featured women's artistic work," says Nichol, TRU's theatre arts faculty program coordinator. "The festival had funding to develop arts so we applied as a group and got about $2500 to develop a show."
"We spent (the money) on babysitting so we could write. For the most part we sat around as a group and shared and talked about our various challenges as women trying to work and live as mothers. A month before the festival, we realized we needed to write something for the show, so we wrote the stories we'd told each other; we never could have imagined what would come of that story telling."
The show was wildly successful and has been produced in over a dozen other countries including Korea, Germany and Switzerland, and South Africa, and translated into as many other languages and has played to over 2 million people across Canada and internationally. Nichol has now acted in the show 850 times.
"We were talking about something that needed to be talked about that nobody else had talked about before," Nichol explains.
The same group created a sequel 10 years later, this time focused on parenting teenagers, which led to Mom's the Word Remix in 2009, which is a combination of the first productions. In 2011, when the group was commissioned to create Mom's the Word: Nest Half Empty, Nichol was teaching full time at TRU. She took a leave from the university to rehearse and perform in this production, which highlights the process of children leaving home.
"We've just been commissioned to write a Christmas Edition," says Nichol, who hopes the next production will open Christmas 2021.
The Canadian theatre community is relatively small and Nichol is thankful for these productions, which allowed her to stay active in the field and maintain a network in the industry.
"I love what theatre can do. I've never been interested in going towards film or TV; I love the live interaction between the audience and the show. I love standing up in front of an audience, but I also love directing which allows you to shape a show, see how it changes and how the audience changes with it."
For the last 16 years, Nichol has shared her passion for storytelling and theatre with the TRU community where she currently teaches full time. She produces and directs a play once a year towards her research requirements.
Research for Nichol isn't necessarily traditional, just as the Arts themselves do not always follow tradition. It is reading plays of all types to stay current, finding new and different ways to construct plays and intentionally gaining exposure to various writing and thinking styles. This stylistic research helps Nichol to bring new ideas and methods of practice to students while also actively watching what other programs are attempting when it comes to cast composition.
"Because actors are expensive, the professional scripts being produced now are for very small casts of five or less," says Nichol. "That's not really suitable for us so I spend a lot of time seeing what's out there and what's new."
One of these new ideas includes an initiative between the Playwright's Guild of Canada and the University of Toronto called The Pledge Project, which is a database of large-cast plays written by women. The goal of this project is to encourage schools and theatre companies to take the pledge to commit to gender parity in terms of playwrights and productions.
The Canada Council is a big funder of not-for-profit theatre and has also recently established a gender parity mandate where across the season a theatre company has to have gender parity across the entire crew to qualify for funding.
Nichol thinks these steps are shifts in the right direction and in alignment with the increasing interest in intimacy training which aims to create safety for actors by creating boundaries by looking at scenes of intimacy in film, TV and theatre and how they can be choreographed just like fights and dance. Part of Nichol's research is also staying current with best-practises to ensure TRU students are receiving the best training in a culturally relevant setting.
"Far too often, people are expected to actually be physically intimate with no discussion, no boundaries, no choreography," Nichol explains. "That's why there are now intimacy choreographers that can be hired for a production."
Nichol, who recently took a workshop with Canadian Intimacy for Stage and Screen, an affiliate of Intimacy Directors International, says that she is, "trying to bring an intimacy trainer to TRU next year so that we can adhere to the highest standards of safety and comfort for our students."
The theatre arts faculty at TRU has also adopted the Canadian Actors Equity Association's anti-harassment policy. The national policy, called ``Not in Our Space" was adapted to reflect the training environment of the university. The goal of the policy is to ensure healthy and productive working conditions for all professionals working in live performance.
"Being a successful actor can be emotionally dangerous because you are exposing yourself and are vulnerable," says Nichol. "It's possible for people to take advantage and then it becomes too dangerous. The whole movement and policy is about making things safe."
"Actors can't engage in their art unless someone gives them the opportunity. This leaves room for an abuse of power by those who are in a position to provide those opportunities. There's a huge imbalance of power, and especially so when you are in a school setting. We have a relationship with our students that is probably quite different than your average university professor", Nichol explains. "Out of necessity for the craft, we spend way more time with them and talk about personal things and get to know them better. The power imbalance can be subtle but dangerous." I want everybody to love theatre and I want theatre to be a safe place to be.
No matter the level at which you are engaging with theatre, you create a community out of necessity; it is part of the magic that you cannot help but do so.
"I can see that students love the art form--but they love the community too," says Nichol.
"I want to introduce my students to good theatre, at least what's good in my opinion- that's theatre that's challenging, theatrical, interesting and actually explores ideas," explains Nichol. "It's not predictable or stereotypical. It introduces us to characters and voices we haven't heard before."
One of Nichol's goals is to find new voices that are telling alternative stories that are still very accessible. While Nichol has engaged with and is drawn to a wide array of comedy, she also recognizes that any genre requires substance in order to be profound to an audience.
"I care a lot about how material is interacted with; I'm passionate about theatre and I expect my students to be too. I don't pander, and I don't believe that just because theatre often means dealing with feelings that anyone is allowed to slack off," said Nichol.
"I take it very seriously, but I also like to have a lot of fun. Every time I start rehearsal for a new production, I have to tell my students that I like to laugh a lot and we will have a lot of fun, but that they cannot take that as permission to not take it seriously and they're expected to do their job."
Nichol is also drawn to the larger community of TRU outside of her faculty. "It's not hard to connect in other areas compared to other universities; I get to work with a lot of great people," says Nichol of her colleagues.
"It's a tight community and there's autonomy with our programs. It's a freeing place to work and we're able to cater to individual student needs," said Nichol, who started teaching at TRU with no intention to remain permanently. She began with a four-month teaching term teaching full time Monday through Thursday, commuting back and forth from Vancouver where her family and children lived at the time.
"I really loved being able to articulate my passion for this art form and realized I knew more than I thought I knew, seeing the progression of a student and being able to provide real-time feedback that is then implemented," said Nichol. "Watching students get better and make clear progress is rewarding."
Nichol went to university because it was the natural path that had been demonstrated by her family. While she took a little of everything in her first year at the University of Victoria, a background in amateur theatre as a child led her towards a Bachelor of Fine Arts.
After completing her undergraduate degree, Nichol worked in Victoria as a stage manager for a few years, which helped her realize her goal of being creative for life.
"I then attended UBC and got a Master of Fine Arts in Directing so that I could establish myself somewhere else with the credentials I would need to make my craft my career," says Nichol.
Over the next few years, Nichol learned a lot about writing, play construction, writers, dramaturgy (the theory and practice of dramatic composition), and workshopping. By that point, Nichol knew she wanted to be a director and went on to direct four plays.
"It's an underappreciated but really important art form," says Nichol. "I want to pass along my love of theatre, but also instill in students a hunger for the art of sharing the great observations of the world through acting."
In this way, Nichol ensures that her students continue the "life imitates art far more than art imitates life" by teaching others to imitate it well.