Arts Menu
Student Success
Study of the past prepares for stories of present
They say journalism is the first draft of history. So with a history degree from TRU, Francesca Lucia was well prepared for a career in radio.
"As someone with a huge curiosity in the world, I knew I wanted to begin my post-secondary education by studying history. I also knew I wanted to end up working as a journalist, and that history would best prepare me for that career path."
A big opportunity in the program was the chance to take part in area history projects.
"I spent the summer before my final year participating in a local history project on the Tranquille Sanatorium. This opportunity furthered my research, analytical, and social skills. I conducted interviews, transcribed them, and then wrote an academic paper based on my findings."
Francesca also benefitted from taking part in the Philosophy, History and Politics conference.
"I became more comfortable with speaking and presenting my work in front of a crowd, which prepared me for my career today."
As a history student, she would interpret the past — laying the ground work for her reporting on today's ideas and events.
"TRU's program prepared me to be the best storyteller possible by helping me with writing, research, and critical thinking. I also acquired a great respect for people's personal histories, which prepared me to share their stories every day in my job."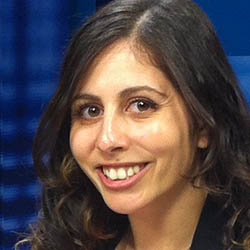 TRU's program prepared me to be the best storyteller possible by helping me with writing, research, and critical thinking. Francesca Lucia
---
Second choice was the best choice
History was not Shelley Gentry's first choice as a major. But two courses in British history turned out to be so interesting that English — her original choice — was pushed aside and she soon found herself spending a semester in the United Kingdom to explore the places she had studied.
"I excelled and enjoyed these classes so much that slowly my English courses were replaced with history ones."
It wasn't just the history itself that hooked Shelley. It was the way the subject is taught at TRU — with small classes and dedicated teachers.
"Students and teachers get to know one another personally; this helps students feel as though their teachers care about their success and well-being. My professors' reassurance and willingness to help during office hours helped me succeed and achieve my academic goals."
Their letters of recommendation encouraged Shelley to pursue a master's degree in England and she has gone on to work for BBC History Magazine as a fact checker.
"My undergraduate degree at TRU has helped me to build a solid foundation in my academic career, that has allowed me to pursue further opportunities that I had not previously considered. I love my part-time job with BBC and hope this will only lead to further options in a history based career."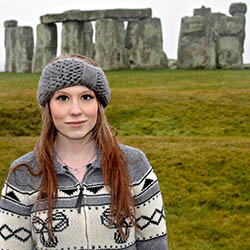 My professors' reassurance and willingness to help during office hours helped me succeed and achieve my academic goals. Shelley Gentry