Arts Menu
Theatre Arts Discipline and Opportunities
The Theatre Arts Program at TRU is committed to student artistic development. Dedicated theatre students are eligible for several monetary awards for both junior and senior levels of study to encourage and reward technical and acting excellence. For more information on awards and bursaries, please contact the Financial Aid and Awards Office.
University enrolled students can also take advantage of the on-campus TRU Drama and Theatre (TRUDAT) club that typically features original and alternative material. TRUDAT typically performs in the Theatre Program's former home, the Alumni Theatre, or in our new facilities, the Black Box Theatre. This club offers opportunities for students as writers, directors, actors, technicians and stage managers.
Technical theatre
The Theatre Arts program also offers extensive technical theatre training for students interested in pursuing a career in the behind the scenes aspect of the Theatre world. The courses available offer diverse training that includes: lighting and sound design, stage management, technical theatre direction and coordination, set design and construction, making and designing costumes and props, scenic design and painting, as well as preparing students to enter the work force as a theatre technician. Technical theatre students at TRU are also very fortunate to be able to participate in workshops conducted by professionals in the community as part of their classes. These professionals have included set and light designers, costume designers and coordinators, technical directors and many others. The Theatre Arts program also works closely with Western Canada Theatre, Kamloops' professional theatre company, to offer students opportunities to further their training and practical experience.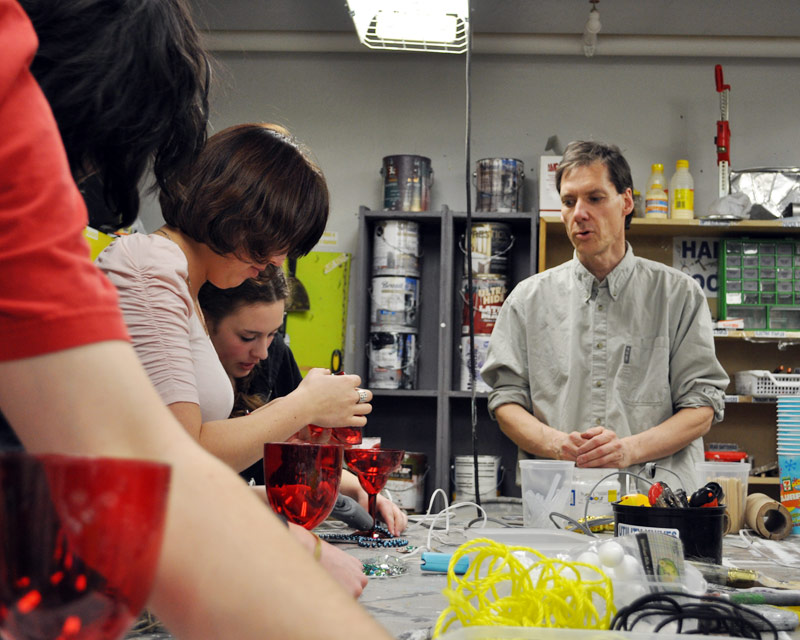 Thompson Rivers University Actors Workshop Theatre
The TRU Actors Workshop is the live stage element of TRU's Visual and Performing Arts Department. All stage productions primarily students enrolled in various acting and technical theatre courses and are directed by program faculty. Students in other programs, alumni and faculty are also featured. Students may acquire course credit for their participation during the four productions that occur during the Actor Workshop Theatre season from September to April. Information concerning auditioning for Actors Workshop Theatre's productions can be found at our Auditions page.
The TRU Actors Workshop Theatre continues to partner with the professional theatre company in Kamloops, Western Canada Theatre, to create opportunities to further students' practical experience. Onstage and offstage, many past and present theatre students have contributed to this equity houses' season of theatricals. Many TRU Theatre graduates continue to perform and train in professional and community capacities long after finishing their Theatre Arts Major.