Arts Menu
Heather Price
Picture a child, five or six years old — peeking from behind the witness stand in a courtroom, her feet swing back and forth because they don't yet reach the floor.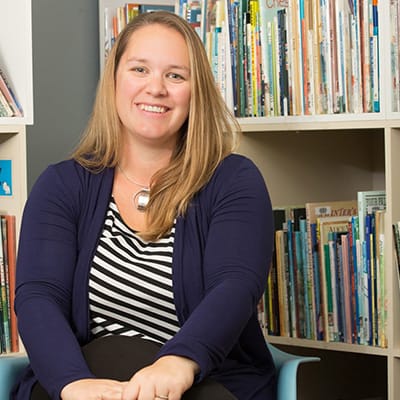 After the repeated abuse she has sustained, the life disruptions she is coping with and the retraumatization she has endured, she will now try to satisfy the arbitrary questions of adults with the responses she believes they want to hear. Although she answers to the best of her ability, she is now at the mercy of a justice system that was not intended to meet the needs and limitations of a child; it's a system designed for adults by adults.
Without significant changes, the likelihood of consistent justice being delivered for the people involved in legal circumstances that depend on the critical evidence of a child seem tenuous.
"The legal system isn't structured to accommodate the needs of children," says Heather Price, Tier 2 Canada Research Chair in the department of psychology at Thompson Rivers University. "In order for the justice system to be able to accommodate the needs of children we first have to understand what children's capabilities are; that way we can learn what needs to be adapted to improve a child's ability to provide legal evidence."
Price's research, designed to facilitate children's participation in the justice system by better understanding how children remember and report their experiences, was first sparked while completing her undergraduate degree at the University of Victoria, and continued during her Masters and PhD work through Simon Fraser University's Law and Psychology program. Her passion for the critical link between children's memory as victims of and/or witnesses to crime and how they are processed in the justice system, led to Price's two postdoctoral research fellowships focused on childhood development and the investigative interviewing of children.
Following nine years as an Associate Professor at the University of Regina, Price came to TRU to take up the Canada Research Chair position in 2016 to focus on her research as one of only a handful of people in Canada with her level of expertise concerning children's involvement in the justice system.
"Basic memory research teaches us how memories are encoded, stored, and retrieved, and how we can construct questions in such a way that they elicit children's accurate memory reports," says Price. "The onus is on adults to facilitate provision of evidence, so we need to be able to ask questions in a way that best accesses the memories that they have while understanding the parameters of what children are able to recall. Once you understand the basic structure of memory you can understand the challenges of eliciting and interpreting evidence, and that's when you can begin to improve the process."
The ultimate goal of Price's work is to establish best practises for improving how children provide quality evidence while also bettering their experience throughout the justice process. One of the primary ways that Price is working toward that end is through her long-term research on memory for instances of repeated events.
"A critical part of my research looks at how we remember things that have happened to us multiple times, also known as instances of repeated events," explains Price. "For example, most children who are sexually abused are abused repeatedly. One of the requirements in many legal systems in Commonwealth countries is that a child must pull one instance from a series of memories (which often extend over years) and talk specifically about that occurrence. That is exceptionally difficult, to say the least. So structurally, in terms of memory, the question becomes 'Is that even possible?'"
After almost 20 years of exploring that question Price and her fellow researchers have concluded that it does not appear to be. The result of that research is the determination that there is an inconsistency between what a child is capable of remembering and what the law may require them to.
"This allows us to come to the legal system and say 'What you're asking for is impossible, which means, in the extreme interpretation of the law, that no child who has experienced repeated abuse can take their case forward. Is that an acceptable outcome?'" explains Price. "That means the legal system has to budge."
Although some countries have made progress and implemented continuous abuse statutes, that change has not yet been achieved in Canada, even if research like Price and her colleagues' has seen some different practical success here. For example, the circumstances under which a child is allowed to give evidence (I.e. on a video feed from a "child friendly" room instead of from behind a witness stand) has changed. Such seemingly small but important amendments to the law have begun to acclimatize legal proceedings to the unique needs and circumstances of children, which have previously been largely overlooked by an adult-oriented process.
"It's important that we understand what children typically experience in the justice system and what that means for how they are likely to give evidence That also reveals the barriers they are likely to face in light of their capabilities and what the legal system is capable of doing to accommodate them."
After studying thousands of children within the context of the judicial system and reviewing countless archival legal cases of child maltreatment, the few leading experts in the world on children's memory for repeated events are now coming together to compile their findings, interpret the data's patterns and develop a theory for how instances of repeated events works in children. The group plans to test the parameters of that theory with the intention of informing the legal system of the reasonable limitations for what children are able to recall so that the provision of children's evidence can be elicited and interpreted in accordance with their abilities based on a plethora of research and evidence.
"In the case of a sexual assault of a child, the victim often doesn't understand what has happened, there is a violation of trust and they might not have the family system in place to help protect them effectively," expands Price. "Children also may not have the language to express what has happened to them, so unless you have very clear guidelines for what is and is not acceptable to ask a child, you risk inadvertently leading them which does not result in accurate information."
In the Children and the Law Laboratory at TRU, Price and her students are furthering this effort by performing various studies, over the course of years, to gather information about how best to ask questions of children. This work, funded by the Natural Sciences and Engineering Research Council and the Social Sciences and Humanities Research Council, allows researchers to examine memory and improve methods for accurate information recall: asking questions in various ways, discovering the implications of how a question is asked, studying how children sequence events, finding what should be avoided when questioning a child, observing social behaviour, and examining how to get the most accurate responses by asking the most appropriate questions.
Price hopes that her research will aid the law in working for both parties when a child becomes involved in the legal system, and that begins with accurate information gathering that is not influenced, even unintentionally, by undue bias. One way that this is accomplished is by training front-line law enforcement.
"We want people to be able to appropriately defend themselves," says Price, "and one of the best ways we can do that is to train police and social workers about how to conduct investigative interviews with kids. It's not about talking to them in a therapeutic context; it's about getting information from them. I do a lot of training on cognitive, memory and social development and how that should apply when interviewing a child. Because children have unique needs compared to other people who come in contact with the justice system, training for best practices when interviewing a child becomes critical for a person who is now in a position of trust with very vulnerable children."
That research-based training extends from teaching appropriate methods for questioning, to conducting eyewitness identification lineups for children, to enhancing long-term memory recall and beyond. This training not only allows frontline workers to perform their job to a much more effective degree, but also helps to enhance credibility for children who are the primary witnesses to their own abuse.
"The work my colleagues and I do isn't just for the child on the stand; it's for all of the children who will come after as well," says Price. "Our work can't change how many kids are abused, but we can help change the experience of kids in the justice system, to make it smoother, so that reporting and intervention happens sooner and offenders know that their likelihood of being caught is greater and justice is served more effectively."
One significant barrier to Price's ultimate goal of successfully improving the experiences of children in the legal system is the profound lack of trained personnel equipped to work with the children who present with a need.
"There are some outstanding interviewers out there. But there aren't enough. If we can train more people to elicit information from traumatized children more accurately and effectively we would change the trajectory of lives after abuse while also seeing proper justice served,'' says Price. "I know that kids are capable of providing more and better information if people were better trained when extracting it. Change can't happen without the basic research that lays the foundation for understanding the 'how' of this enormous challenge; that's only accomplished through consistent research of the whole concept."
In the years to come, Price hopes that her research will make significant strides in advancing the justice system's understanding of the boundaries of children's abilities, which will increase awareness of how children are handled when presenting evidence.
"In the simplest terms, I hope that my work helps kids. I want my research to provide an understanding of kids' capabilities, and I want that to improve the experiences of children in the justice system because the legal system changed to accommodate their specific needs."