Arts Menu
Jennifer Shaw
Parents who make the difficult choice to be separated from their families in order to gain employment in another country do so in the hopes that they can build a better life for those they love, but what are the effects on a family when this difficult separation and sacrifice occurs?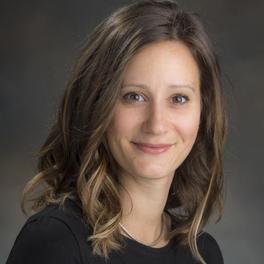 Jennifer Shaw is an interdisciplinary scholar. She was trained as a cultural anthropologist and ethnographer and recently hired as an Assistant Teaching Professor in Sociology and Politics in the Faculty of Arts at Thompson Rivers University. In her research, Shaw focuses on questions specific to immigrated labour forces and explores the structural causes that lead to precarity and inequality in Canada.
"What is it about our labour systems, immigration systems and our society in general in Canada that creates such enormous challenges for racialized migrant families?" asks Shaw. "How do we better our systems so those families have an equal amount of possibility and opportunity to live a good life?"
"For me, it's important to not just point out the inequality and despair but also the places of creativity and hope. I'm working to amplify their experiences, perspectives and responses not just to the injustices, but also the opportunities."
After completing her Master of Arts at the University of Victoria, Shaw also worked as an Employment Counsellor and Youth Programs and Workshop Facilitator for the Victoria Immigrant and Refugee Centre Society and the Northshore Multicultural Society. During that time she began to notice a disproportionate number of youth from the Philippines represented, which led to her focused field of interest - sociocultural issues pertaining to the families of migrant workers.
"As an employment counsellor for migrant and refugee youth, I started to notice the particular struggles of Filipino youth," says Shaw. "They were facing specific barriers because of the migration routes available to them and their families, which make family life and immigration to and settlement in Canada particularly challenging."
After working closely with migrant Filipino youth, Shaw was inspired to pursue her PhD through Simon Fraser University. With generous funding support through a prestigious Vanier Canada Graduate Scholarship, Shaw was able to concentrate on her research and complete her PhD in five and a half years. Vanier Canada Graduate Scholarships aim to attract and retain world-class doctoral researchers who study in Canada. Valued at $150,000 over three years, this scholarship competition equally weighs academic excellence, research potential, and leadership.
Shaw's PhD work involved ethnographic, life story, and visual methods conducted over 15 months with ten young people. These young people lived apart from, and were later reunited with, their migrant mothers who moved to Canada to perform domestic work.
In her dissertation To Live My Life: An ethnography of cross-border life and kinship from the perspectives of Filipina/o-Canadian youths, Shaw examined the role of youth in their families as they navigate transnational family life between Canada and the Philippines.
"I really wanted to focus on the sociocultural aspects of research and life and the issues that arise in those areas," Shaw explains. "My supervisor, Dr. Parin Dossa, was tremendously supportive and inspired me through her own research and writing to centre my work on Filipino young people. What not everyone realizes is that at any given time there are a quarter million Filipino temporary migrant workers in Canada, making them the largest temporary migrant group in this country. How their lives are affected through the migration processes is worthwhile examining."
Since the 1970s the Philippine government has had a robust labour export program that encourages people to leave the country in order to earn money elsewhere and send it back to support their families, communities and the national economy.
"Filipinas constitute about 90% of those who come to Canada through our caregiver programs and that's because we don't have enough caregivers, we don't pay caregivers enough and so we rely on migrants to do that work, often under very difficult working conditions," explains Shaw.
Canada is an attractive immigration destination as the government offers permanent residency status to migrant domestic workers after the completion of two years of work under our caregiver programs, but the result of many complex regulations concerning migrant workers is that children and their parents are forced to be separated for extended amounts of time – restructuring and reordering families. Shaw's research focused on the experiences of the young people who were coming to Canada to reunite with their mothers after years apart.
"Worldwide, the change in our global economy means that labour opportunities are more service-oriented. There are more of these types of jobs for women than there is for men due to the feminization of the labour market. This means women increasingly have the opportunity to go overseas as domestic workers while men are displaced from their role as a breadwinner, which in terms of gender ideologies in the Philippines is an important convention," explains Shaw. "How kids fared often depended on what age they were when mom emigrated, how close they remained while she was away, the other kind of family support remaining and how dad was doing amid the time the family spent apart from mom."
In a peer-reviewed article being published this summer by the Anthropology of Work Review, Shaw discusses how domestic labour frequently shifts to children, often the oldest female child. In addition to domestic tasks, these children often take on the caregiving responsibilities for younger siblings and provide emotional support to their parents. Shaw refers to this type of labour as "tender labour".
"The article is about an intervention I'm offering in the thinking around labour and the idea of the more affective and emotional kind of labour that young people contribute towards their families because of the structures that pull their families apart. That puts a lot of strain and pressure on these children," says Shaw. "Illuminating the work that migrant young people do to hold their families together is a really important contribution to conversations around what our labour systems demand of families that may not be very visible."
Shaw points to the structural circumstances and inequality between Canada and the Philippines and how drawing feminized labour ultimately impacts the children who live at the crux of these global inequalities that seep into and pull apart their families.
"The young people I spent time with showed lots of persistence and perseverance. They're able to critically identify the issues that are oppressive to them and their families but they also are able to imagine worlds and lives otherwise — which I think is really inspiring and a lot of the answers to systemic inequalities in our world lie there," explains Shaw.
In a peer-reviewed article published by the journal Children & Society in 2018, Shaw also considers the ethical imperative of including young people in research, and the ways that procedural ethics differ from situational ethics. "In the case of young people who have lived difficult and somewhat autonomous lives from their parents, respecting their right to participate in research is important. How can we, as children and youth researchers, better consider the complicated circumstances migrant youth endure and respond ethically to their calls for justice, in whatever ways that might come through?" asks Shaw. "Ethnography is particularly useful in these circumstances," says Shaw, "since ethnographers are trained to consider the specific and emergent situations within research."
The stories Shaw retells through her research also provide glimpses of hope and opportunity. She brings her research and experience into her classroom, facilitating the connection between the learning opportunities through the stories and experiences of research participants and academic learning.
Coming to the close of her first semester teaching at TRU, Shaw is appreciating the ability to offer small classes and courses with current and relevant content. She previously taught in the Department of Sociology and Anthropology and the Labour Studies Program at SFU, and also taught at the University of the Fraser Valley and Kwantlen Polytechnic University.
Shaw currently has grant applications submitted for two research projects. The smaller of the two is focused on helping first-generation university students at TRU access the hidden curriculum. Shaw is hoping to work with a few focus groups of first-generation university students who may not have the social network or support to understand or know the hidden curriculum, which Shaw defines as the implied or unspoken knowledge around how to navigate the university life and how to access the ordinary things instructors assume students already know.
The larger project is a collaboration with SFU and the Canadian Centre for Policy Alternatives and aims to do a variety of investigations into different kinds of precarity that people in BC experience.
"My contribution to that would be focused on multi-generational migrant families in the Kamloops area," explains Shaw. "I'd like to look at how employment and education opportunities are navigated by family members who occupy different social and generational positions within their families and as newcomers. I'd like explore how aspects of one's identity, such as generation, age, country of origin, ties to social networks, and education and experience, inform settlement processes for families and individuals."
Shaw is an active advocate for open access to knowledge. She co-led the Society for Cultural Anthropology (SCA)'s social media team for five years. Shaw and her team built the second-largest anthropology Twitter account in the world, with over 32,000 followers. This social media work helped to pave the way for what has become the lively digital space of #AnthroTwitter.
"It's important because the flagship journal of the SCA, Cultural Anthropology, has been open access since 2014 with no paywalls. The SCA and the journal are both huge advocates for access to free information in the discipline and not having to pay for knowledge," says Shaw. The SCA promotes scholarly pieces that grapple with pressing issues of our times. Shaw and her colleague Darren Byler curated a collection of Cultural Anthropology articles called Precarity, which highlight the ways that people from diverse cultural contexts experience and contend with social, economic, and political uncertainty and even abandonment.
Shaw's passion for knowledge sharing extends to her promotion of youth voices in research, challenging the myth that young people aren't reliable as research participants, as knowledge producers or as competent people. She believes more equitable inclusion of young people is key to informing larger policy and structural changes at the national and international level. "Paying attention to the perspectives of young people also makes us more attuned, compassionate and caring in terms of thinking about children and youth as people who have economic, political and social lives and interests, perhaps not so different from adults," says Shaw.
"There's so much we can learn from young people that is valuable — especially young people that have lived through challenging life circumstances. Their perspectives can open up new windows towards understanding, resolution and justice. We just need to listen."