Law Menu
Awards and Prizes
TRU Law offers entrance scholarships funded by the Canadian Bar Association, BC Branch, the Law Foundation of British Columbia, Fulton Law, and Gregory S. Pun Q.C..
Course Prizes are mostly funded by law firms and individuals. We also have a variety of Bursaries available.
More information about TRU Law bursaries, including information on the application process, may be found here. For all other law awards, the application page can be found here.
The Gold Medal is awarded by the Law Society of British Columbia to the graduating student with the highest cumulative grade point average. Past Gold Medalists: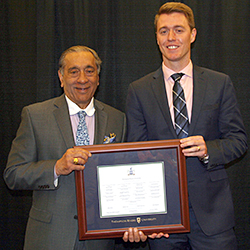 Gold medalist Cole Rodocker (JD 2016) received a plaque from the Honourable Wally Oppal, Q.C., Chancellor of TRU, at the 2016 Chancellor's Convocation Banquet.