Law Menu
Awards and Prizes
TRU Law offers entrance scholarships funded by the Canadian Bar Association, BC Branch, and the Law Foundation of British Columbia. A generous continuing scholarship is awarded to the top student completing first year studies, and returning to TRU for second year studies, in memory of Neill and Margaret MacGregor.
Course prizes are funded by Roper Greyell LLP, Scotiabank - Sahali branch, and Thorsteinssons LLP. The Cowichan Valley, Fraser Valley, Kamloops and Kootenay Bar Associations provide bursary support along with the BC Superior Courts Judiciary and memorial funds for Bill W. Eremenko and George Lamperson.
More information about TRU Law awards and prizes, including information on the application process, may be found online in the TRU Awards Application.
The Gold Medal is awarded by the Law Society of British Columbia to the graduating student with the highest cumulative grade point average. Past Gold Medalists: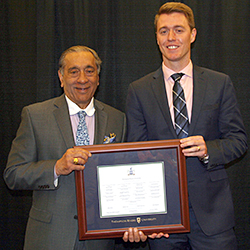 Gold medalist Cole Rodocker (JD 2016) received a plaque from the Honourable Wally Oppal, Q.C., Chancellor of TRU, at the 2016 Chancellor's Convocation Banquet.