Law Menu
Awards and Prizes
Fall Awards
Applications for Fall awards open September 1 and close October 31. Award Disbursement at the end of the term.
Winter Awards
Applications for Winter awards open December 20 and close January 23. Award Disbursement is in March.
All TRU Awards

opens in new window
Emergency Funds
Applications for TRU Law Emergency Funds are open year-round.
Entrance Scholarships
Applications open June 15 and close August 1. Funds will be applied to your tuition in September.
TRU has a variety of entrance scholarships. For most, awards are offered with your offer of admission, so there is no need to apply. For others, an application is necessary. A call for applications will be sent out in the summer for any entrance awards requiring an application. The funds will be applied to your Fall tuition.
Bursaries
More information about TRU Law bursaries, including information on the application process, may be found . Bursaries can only be applied for through your myTRU account.
Gold Medal
The Gold Medal is awarded by the Law Society of British Columbia to the graduating student with the highest cumulative grade point average.
TRU Law Awards Application Form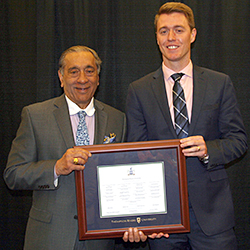 Gold medalist Cole Rodocker (JD 2016) received a plaque from the Honourable Wally Oppal, Q.C., Chancellor of TRU, at the 2016 Chancellor's Convocation Banquet.