Law Menu
Michelle Terriss
Law Librarian
BA Hon Religious Studies (St. Francis Xavier University), JD (University of Alberta), MLIS (University of Alberta)
Michelle became a member of the Alberta bar in 2016, spending much of her time practicing in rural areas of the province with a developing interest in access to justice for people living outside of urban centres. After receiving her MLIS, Michelle went on to work in knowledge management and research at McLennan Ross LLP, developing and implementing projects to increase the re-use value of internal outputs and integrating machine learning technologies into the research process.
Returning to her interest in improving rural services, she acted as a consultant for the Northern Lights Library System in Northeastern Alberta during much of the COVID closures, assisting libraries with continuing to provide essential educational and social services for their communities. Here she initiated a partnership with Niantic to bring local history to life through augmented reality, and designed a pilot project to allow for 24/7 access to literacy tools in communities with limited funds for library staffing.
Michelle has published in the area of anti-propaganda education, and often reviews books for The Journal of Information Ethics. She enjoys solving unusual problems in unusual ways and complaining about obscure points of copyright law over tea.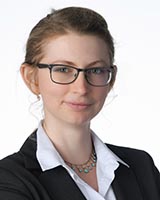 Contact
Office:
OM 3665
Email:
mterriss@tru.ca
Phone:
778-471-8453