Law Menu
Ted Murray
BA (SFU), JD (UBC)
Ted Murray has taught labour law, privacy law, insurance law, and employment law in the upper year curriculum. He is also the supervising lawyer for the TRU Community Legal Clinic.
Ted graduated from the Faculty of Law at UBC in 2010 and was selected by a committee of his peers as the winner of the Ray Herbert Award for best all-round graduating student. After law school Ted clerked for six judges of the Supreme Court of British Columbia from 2010 to 2011 and practised civil litigation at Farris, Vaughan, Wills & Murphy LLP in Vancouver from 2012 to 2015. In 2014, he was seconded as legal counsel to the Vancouver Whitecaps for one day per week.
In 2015, Ted moved to Kamloops and established his own civil litigation practice. He is also an instructor for the Law Society of British Columbia's Professional Legal Training Course and an assistant coach with TRU's men's basketball team.
Prior to law school, Ted had careers as a software developer with Electronic Arts Canada and as a high school teacher and basketball coach.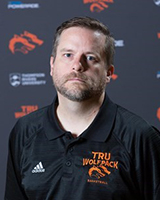 Contact
Office:
OM 4733
Email:
temurray@tru.ca
Phone:
778-471-8495
Course
Insurance Law
(LAWF 3500)
Employment Law
(LAWF 3850)