Law Menu
Greg Koturbash, Hon.
Judge Greg Koturbash grew up in Kamsack, Saskatchewan. He worked as a Crown attorney in Regina, Prince George and Salmon Arm. He represented the Crown in all levels of court, including the Supreme Court of Canada. In 2012, Judge Koturbash was appointed to the Provincial Court of British Columbia and currently sits in Penticton.
Judge Koturbash is chair of the Provincial Court Criminal Law Committee. He is passionate about teaching criminal law. In addition to the courses he teaches at TRU, he is involved in providing education programs for judges. His work in this field was featured in the The Lawyer's Daily. Judge Koturbash has also authored two texts on criminal law issues.
In his spare time, Judge Koturbash can be found either putting paintbrush to canvas, or on downhill skis or a wake surfboard.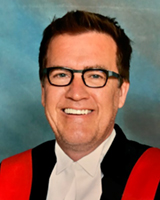 Contact
Email:
gkoturbash@tru.ca