Language and Culture Summer Programs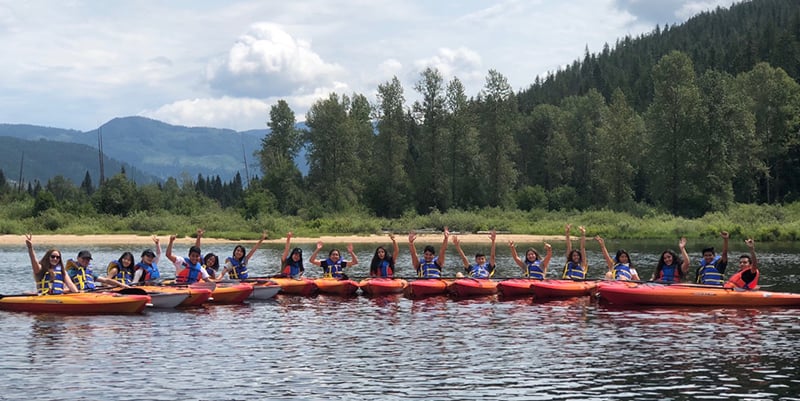 Program dates:
4 week Language and Culture - July 5 - 28, 2023
3 week Language and Culture - August 9 - 25, 2023
Program fees:
4 week Language and Culture $3,450
3 week Language and Culture $3,075
Our language and culture programs provide students, ages 16 and up, with the English skills needed to fully participate in all activities, with an emphasis placed on the core areas: speaking, listening, writing, reading, vocabulary and grammar.
All students participate in hands-on workshops that enable them to develop and expand their intercultural communication skills. In addition, we offer a series of practical and relevant electives designed to boost your learning opportunities. These programs include an orientation to TRU's campus, the city of Kamloops, as well as participation in thoughtfully selected activities.
Language and Culture Summer Programs flyer
Intercultural Communication Skills Workshops
We include four thought-provoking workshops at the beginning of all language and culture programs. Participants explore the meaning and basic elements of culture, experiment with key concepts in verbal and non-verbal communication, and reflect on their strengths and weaknesses so they can develop deeper cultural awareness. During the workshops, we also assess each student's level of English ability for group placement for the remainder of the program.
Electives
We offer students the choice of one elective from the options below. Every effort will be made to ensure each student gets their first choice, but this may not always be possible. In these cases, second and third preferences will be taken into consideration.
Applied English
Work with a partner to choose an interesting topic, research it, and create and present an interesting display in a poster format.
Global Citizenship
Gain a deeper understanding of your rights and responsibilities as a global citizen and explore key concepts, such as diversity and privilege.
Healthy Choices
Increase your understanding of healthy eating, exercise and maintaining a healthy mind, while expanding your English vocabulary.
Leadership Skills
Explore basic leadership theory, identify your leadership style, and learn about effective communication techniques.
STEM Skills
If your career goals are in science, technology, engineering or mathematics, you can learn field-specific terminology, develop functional language, and practise working with numbers in English.
Study Skills
Explore strategies for improving study skills, including setting realistic goals and using study time effectively, as well as experimenting with a variety of effective study techniques.
Sustainability
Learn how to make smart choices that will make the world a safer and cleaner place, learn about zero-waste living and explore sustainability projects on campus.
Workplace English
This elective guides you through all the important aspects of a job search, including an individualized labour market survey, resumé preparation, cover letter writing and job interview skills.