Study Abroad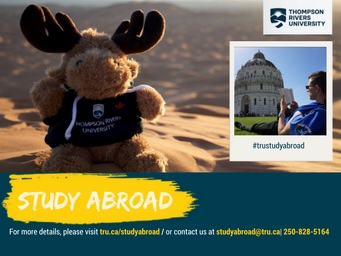 Studying abroad is the act of a student pursuing educational opportunities in a country other than one's own.
At TRU, the words study abroad refer to all student opportunities in countries other than Canada, including exchanges, field schools, practica and internships.
Learn more by visiting our student driven TRU Study Abroad website for:
Student blogs, frequently asked questions, and see who our Study Abroad Ambassadors are!
Be safe while you travel, study or work abroad
---
The benefits of studying abroad
Courses you take overseas will be counted towards your degree.
A study abroad term can be around the same price, or cheaper, than a semester at TRU.
Living abroad can change your life! Discover new countries, opportunities and cultures.
Non-competitive application process.
Showcase international experience on your resumé.