Welcome and Registration Centre
Summer Orientation had been cancelled due to COVID-19 outbreak. If you are already in Canada, please let us know and we will conduct an online one-on-one orientation session at your convenience.
Next steps for new students:
If you have received a final letter of acceptance for the summer semester, you will be automatically deferred to Fall 2020, and will receive a new letter from TRU's international admissions team.
If you have received a Conditional Letter of Acceptance for the Summer Semester and you would like to defer to Fall 2020, please complete this form.
If you are already in Canada, please contact your International Student Advisor at isa@tru.ca to discuss your options.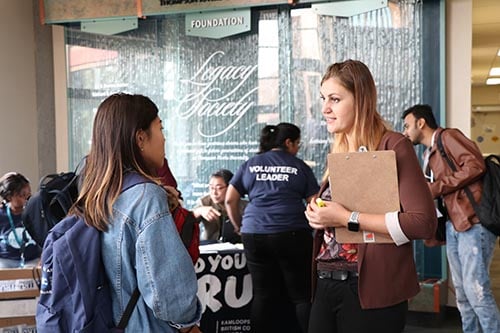 Please check back for Fall semester dates.
Location: TBD
Time: TBD
New international students should bring
(if applicable):
letter of acceptance
study permit
medical insurance
any requested original copy of documents such as transcript
English testing scores
Please make sure you have a digital copy of all your important documents prior to your travel, including the main page of your passport (the page with your photo on it). You may be asked for the documents at your port of entry.
Early Arrival
If you arrive early for your studies, there is no need to wait for the Welcome Centre. We have an Early Arrival Check-In Sessions. Click HERE for Early Arrival Check-In Sessions schedule.
Orientation
All students, including those who arrive early, are required to attend International Student Orientation.