TRU International Social Media Ambassador Awards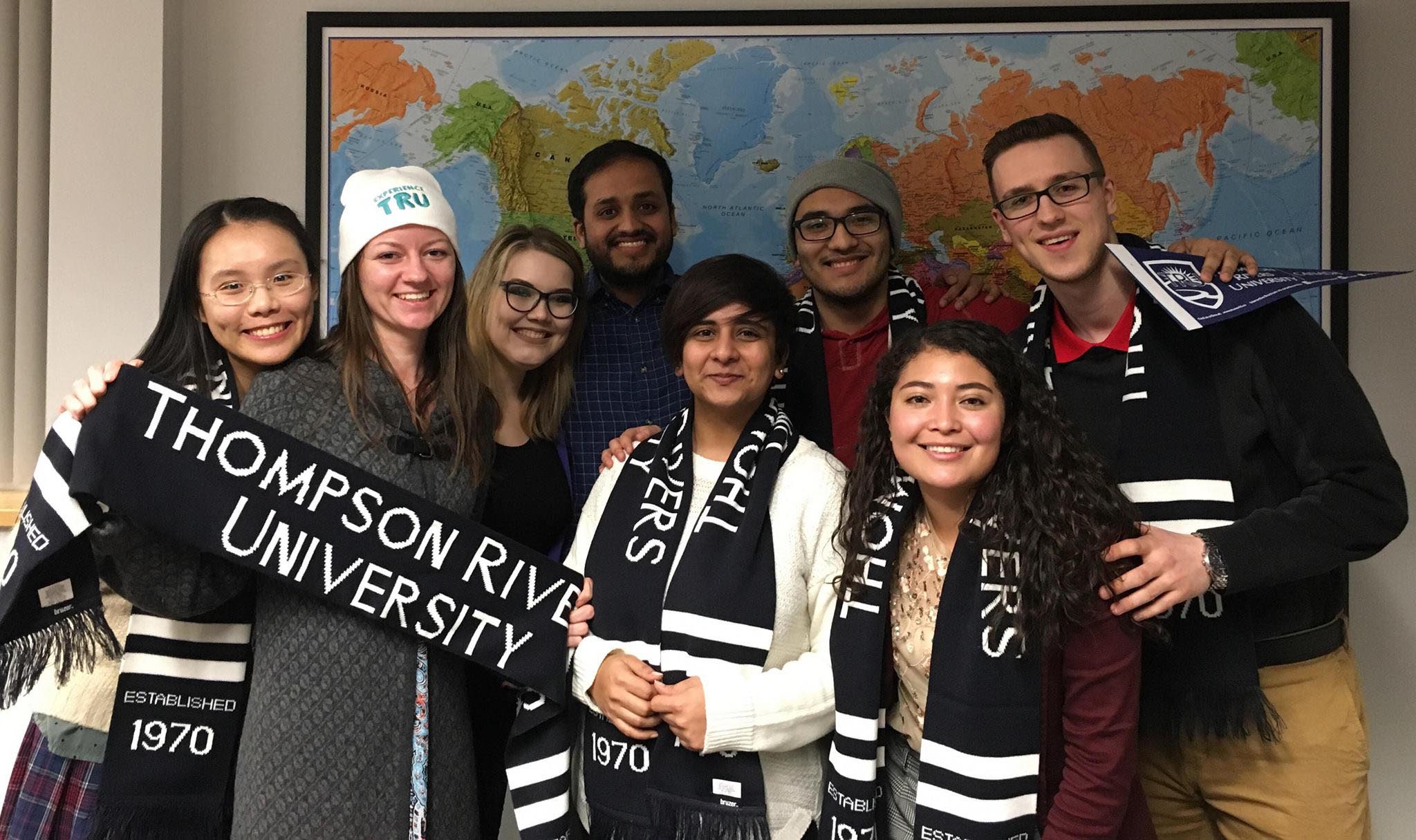 A limited number of awards of $1,000 each are available for Canadian and international students who are interested in promoting TRU worldwide as a study destination. Awards are intended to offer an incentive to second, third, and fourth year students to act as ambassadors for TRU World International Marketing. The award is competitive, and assessments will consider several key criteria: the enthusiasm, the student's academic transcript at TRU, and the written statement submitted by the student.
Successful applicants will have the value of their award credited to their tuition account.
Application deadline: April 15, 2018
Ambassador duties:
Working with the International Marketing Coordinator, Social Media to promote TRU as a study destination through social media channels
Attending and promoting events through social media: international student welcome receptions, orientations, Back to School BBQ, convocations, job fairs, guest lectures, WolfPack games, LEAP activities
Training and working with special events volunteers in promoting International Days
Being part of a smaller ambassador sub-group that concentrates on a specific objective (i.e. event planning, Study Abroad promotions, International Days, presentations, or administrative duties)
Attending regular meetings
Blogging on a variety of topics relevant to each ambassador to showcase TRU on ourTRU.ca
Participate in or help promote cooking and athletic videos (see our YouTube channel "mytruworld" for cooking videos)
Brainstorming and executing social media contests (online and campus-wide)
Contributing to the development of the International Social Media Ambassador Program by maintaining and updating the Social Media Ambassadors' Handbook
Each semester there will be team leaders with approprate duties to build leadership skills development
Maintaining a log of time spent on each project/event, including meetings
Education/experience:
Must be a full-time student (minimum nine credits) at TRU for the semester appointed as a Social Media Ambassador
Must have a minimum Cumulative Grade Point Average at TRU of 2.50
Qualifications:
Able to commit to 10 hours per week in the semester term
A desire to work with other students, groups on campus, and the community
An enthusiasm for sharing the TRU experience
Strong interpersonal, verbal, written, and cross-cultural communication skills
Comfortable with public speaking
Punctual and reliable
Able to work with minimal supervision, in small groups, or in a team environment
Leadership experience and a positive attitude
Computer skills including Microsoft Office, internet, and social media
Project management skills such as organization, attention to detail and event planning
Conflict resolution and problem solving abilities
How to apply
Submissions should be sent to hello@tru.ca.
Submit the Social Media Ambassador application form.
Submit a written statement of 750 words that covers three key concepts.

The impact of studying at TRU on your life.
Why you feel you are suited to be a social media ambassador.
A list of ideas describing what you will do upon becoming an ambassador.

Attend ambassador training events, as determined by the International Marketing Coordinator, Social Media.
Submit a storytelling media piece in the form of a video, presentation, montage or a collage illustrating your TRU experience.
Benefits:
Financial award
Social media training
Event planning and promotion experience
Cross-cultural communication skills
Working with individuals around campus
Opportunity to share international experiences with others
Teamwork skills
Project management skills
Leadership skills
Public speaking skills
Experience for resume
We thank everyone for applying. Only successful applicants, however, will be contacted for interviews.