Mind the Gap: Forming a sustainable K-16 university-community partnership
The Centre for Excellence in Learning and Teaching, along with the Faculty of Education and Social Work, has been working in partnership with School District #73 (Kamloops/Thompson) to support idea sharing between faculty and teachers, and in the development of collaborative projects.
In the past, activities have taken the form of joint projects and information sharing/networking sessions. Established in June 2015, the K-16 Research and Development Network brings together teachers from TRU and teachers from SD73 to provide engaging opportunities for K-12 students to extend their learning beyond school and for post-secondary students and instructors to work with school-age students in research and pedagogical initiatives. Five short videos were created by TRU Marketing and Communications that outline the nature of some of the projects.
As this project has grown, we have added additional initiatives. In November 2017, we co-hosted a workshop for teachers and faculty. This event, called the K-16 Innovation Mixer brought together 30 faculty from TRU and SD73 teachers to brainstorm partnerships and goals for the group moving forward.
On Feb. 19, 2018, we presented at the Teaching Practices Colloquium, our campus teaching conference, to TRU faculty as part of a panel with SD73 teachers and administrators. The panel members discussed the changes coming to the BC curriculum and shared ideas about what faculty might notice and expect from incoming students.
We then co-hosted a second workshop at the Kamloops Thompson Teachers' Association Professional Development day on April 23, 2018, which was also well-attended by TRU faculty.
On May 9, 2018, the project team presented to the BC Biology Conference for Science Educators, and May 10 to the BCCAT Biology Curriculum Committee. In June 2018 we presented on this project at the Society for Teaching and Learning in Higher Education (STLHE) annual conference in Sherbrooke, Que.
The goals of the project are to increase knowledge transfer between secondary school teachers and university faculty members with respect to curricula and pedagogical practices in each sector, to ease transitions for students between Grade 12 and first year, and improve retention into second year, and to spread awareness and practice of research-based assessment strategies for both secondary teachers and university faculty members, and instructional practices that use these assessment strategies.
Handout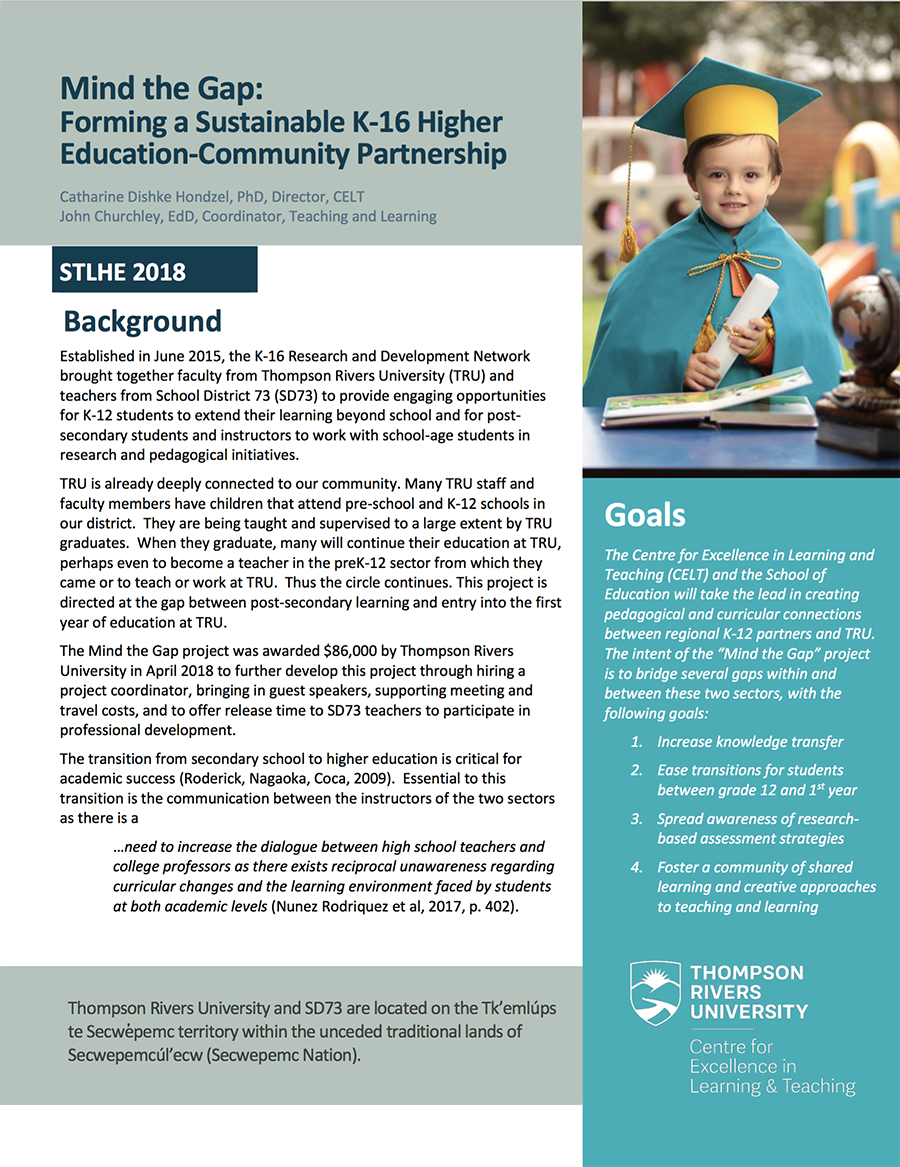 More Info
K-16 Research and Development Network
BCCampus Creating Connections