Flags of TRU
At TRU, we proudly wave the banners of our international students from 100-plus countries. Learners from around the globe have grown to represent 15 percent of the total on campus. Most are from China and India, but we welcome students from virtually every corner of the world.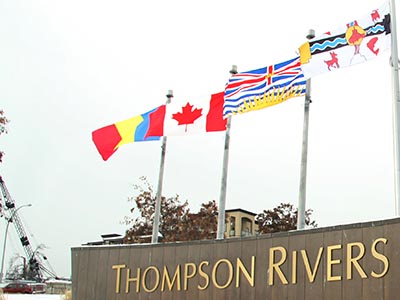 Where international flags fly
Five flags of the world fly in two clusters of three in front of the International Building along with the flag of Canada. They are changed in alphabetical order every week. A group of three flags behind the building includes Canada, British Columbia and the country of a visiting dignitary. Another world flag is at the entrance by the corner of Summit Drive and McGill Road, along with flags of Canada, British Columbia and Kamloops.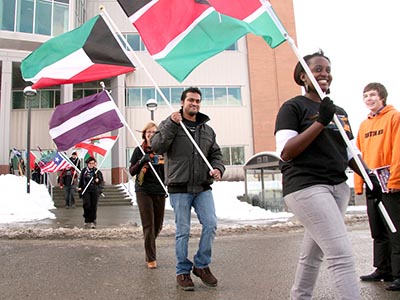 Flags at IDays
One of the highlights of IDays is the parade of flags where students representing dozens of countries march around campus while holding their nation's standard. These are smaller versions of the banners hoisted around campus.
Where students are from
Together, China and India make up about half the international students at TRU. We also have many students from Nigeria, Russia, Ukraine, Bangladesh, Japan, Taiwan and Vietnam.
Lowering the flags
The Office of the President and Vice-Chancellor arranges for the lowering of all flags at the passing of a member of the campus community in accordance with Policy ADM1-6. When this occurs, the information is distributed campus-wide by email and posted on this site.
The flag of TRU
The flag is taken from the central element of the TRU coat of arms.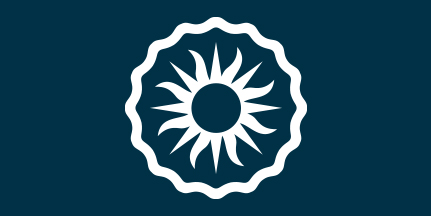 The blue field refers to the brilliant skies, lakes and rivers that envelope the region where Thompson Rivers University is located. The wavy circle around the sun represents the sacred circle of life, a central tenet in the First Nations' belief systems. It also stands for the never-ending character of learning. Lastly, the wavy feature of the circle recalls that the university is located near a junction of several water sources vital to the First Nations in the region. The sun is a symbol of light and learning, a principal endeavour behind academic institutions.
Top 10 countries of origin for TRU international students (in alphabetical order)
Bangladesh

China

India

Iran

Japan

Kazakhstan

Kenya

Nigeria

Vietnam

Zimbabwe