Student Loan General Information
Confirming enrolment and receiving your student loan
The National Student Loans Service Centre (NSLSC) administers your loan on behalf of the Government of Canada and the Government of British Columbia. Once your application has been assessed, notifications will be sent from StudentAid BC to your email account to check the status of your loan.
Master Student Financial Assistance Agreement (MSFAA)
This will be sent to you in the mail. As soon as you receive your MSFAA, you need to sign it and bring it along with valid government identification and your Social Insurance Number (SIN), to a designated Canada Post outlet.
If studying outside Canada, or if you cannot access a designated Canada Post outlet, mail your documents along with copies of your government-issued identification to the National Student Loans Service Centre.
Once your loan agreement has been processed, the government will confirm your enrolment electronically with the university.
Student Aid BC loan application process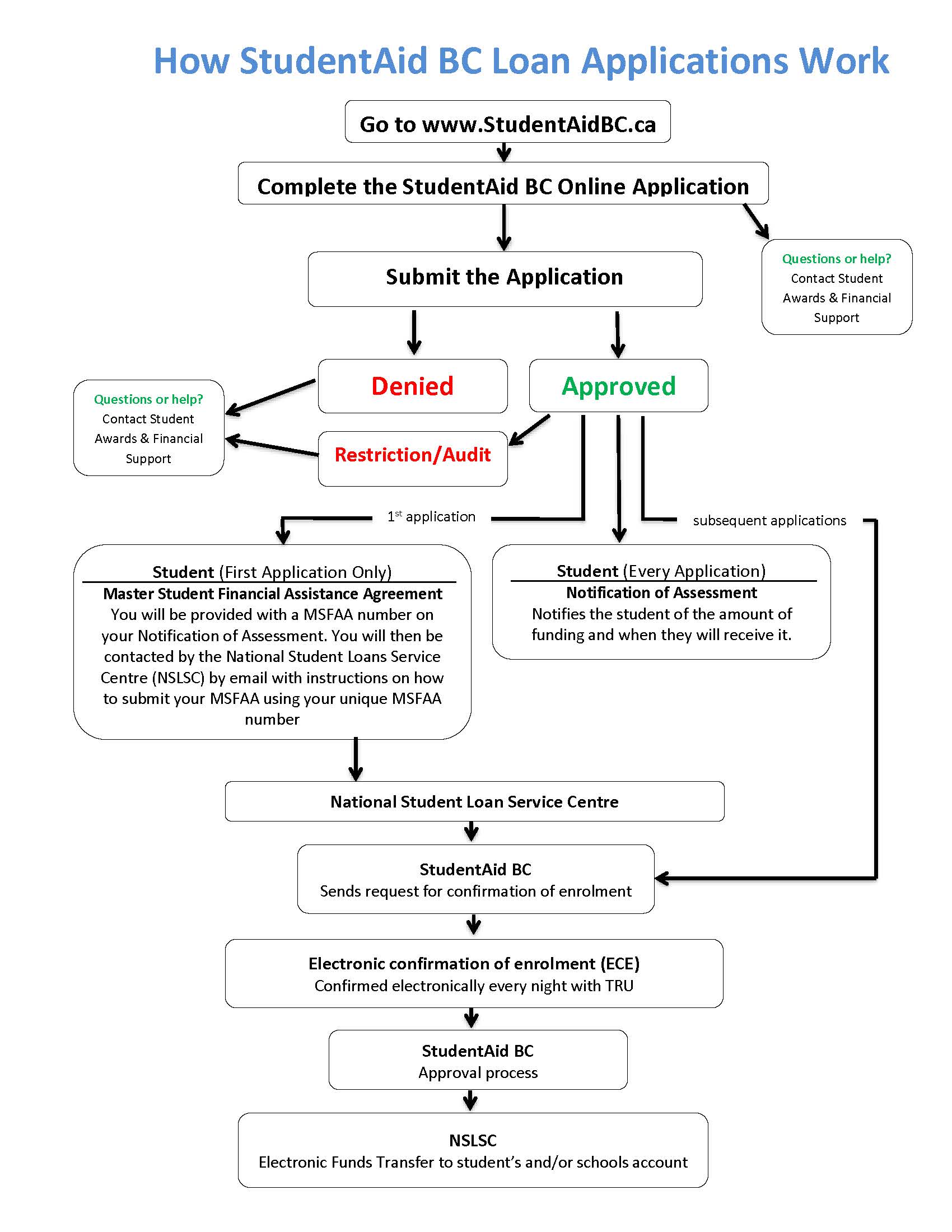 StudentAid BC funding and split enrolment
If you are taking credit courses from more than one institution at the same time, this is referred to as split enrolment. You may be considered for StudentAid BC funding only if the course(s)
is offered with the same start and end dates as those at your home school;
is being taken from an officially designated school;
is an essential element of your program;
will count for credit towards your certificate, diploma or degree at your home school;
is not offered by the home school, or is oversubscribed (full); and
the Financial Aid Advisor at your home school has approved your course(s) for split enrollment.
Withdrawals, technical and unofficial withdrawals and drop below 60 percent* withdrawal
*40% for students with recognized permanent disabilities, 80% for students receiving Quebec or Newfoundland loans.
If you intend to drop courses or to switch from credit to audit, it is advisable to check with the Student Awards & Financial Support Office to ensure it will not affect your student aid.
Important: University Prep courses do not count for student loan purposes - only post-secondary credits count.
Know what makes up 60 percent of a full program load. It is 60 percent of the credits, not the courses. For academic undergraduate programs, this is a minimum of nine credits completed per four-month period.
Make sure you hand in your assignments, attend classes and seminars and write all quizzes and exams; otherwise you may be considered to have technically withdrawn from the course, which could drop you below the required 60 percent program load.
All withdrawals (regular and extenuating circumstances) which drop a student below the required 60 percent program load result in reassessment and generally disentitlement to funds. Future student aid could be affected by an overaward (see below).
Scholastic standing can be appealed when a student is otherwise on track to successfully complete their program and one of the following criteria has impacted their ability to study:
medical illness or injury
family emergency (e.g. death, injury, etc.) or natural disaster; or
other extraordinary circumstances.
Important: Do not rely on anyone other than Student Awards & Financial Support staff any time you have questions concerning your loan. Student aid programs and policies change frequently and people who do not work directly with the programs are likely to have outdated information.
Academic advice may conflict with student financial aid requirements. It is your responsibility to ensure your financial aid is not affected by academic decisions you may make or are advised to make.
Overawards
When a student receives more assistance than he or she is eligible to receive, an overaward is created. This may be caused by a reassessment on an application due to new information received, an audit being conducted by StudentAid BC, a withdrawal from full-time studies or other reasons. In most circumstances, students will have a loan overaward deducted from any future loan entitlement.
Interest free status
Students eligible for interest-free status are not required to make interest or principal payments on their outstanding Canada-B.C. integrated student loan.
In order to be eligible, students must submit an Interest Free application online, and be enrolled full time in a program of study which has been designated eligible for StudentAid BC funding. Most academic programs require a separate Interest Free application each semester., however you can submit an application for both fall and winter semesters at the same time. Students who are in interest-free status are in a "funded term" whether they have new loans or not; therefore, withdrawals and unsuccessful terms during this time may affect their eligibility for further assistance
Please note that normal processing time for Interest Free requests is 2-3 days. In addition, files may take two additional days to pass from StudentAid BC to NSLSC. Therefore please submit your online application at least two weeks prior to when you will enter repayment, but preferably far before that.
Planning for repayment
Do you understand what happens when your student loans go into repayment? Do you want to know what your repayment options are? We recommend signing up for a free webinar from the National Student Loan Service Centre
Student Loan Repayment
Repayment assistance plan
The Governments of Canada and B.C. offer the Repayment Assistance Plan (RAP). The RAP helps eligible borrower who are having financial difficulty repaying their student loans by allowing them to pay back what they can reasonably afford. Borrowers must reapply for subsequent periods of RAP. For further information visit the Government of Canada

website.
Repayment Assistance Plan for Borrowers with Permanent Disability
The Governments of Canada and B.C. offer the Repayment Assistance Plan for Borrowers with a Permanent Disability (RAP-PD). The RAP-PD helps eligible borrower with permanent disabilities that are having difficulty repaying their student loans by allowing them to pay back what they can reasonably afford.
TRU emergency bridging loan
Emergency Loans are intended to assist students who are experiencing unforeseen financial difficulty and have no available options for securing short term funds. Student must be in receipt of government student financial assistance, have a positive history of tuition payment at TRU, be able to demonstrate reasonable financial need (unreasonable financial need is greater than $5,000 with no other resources) and may have to suspend study due to financial need. Typically these loans are reserved for students whose government student aid has been delayed to assist in meeting short term living costs.
Students are required to have an interview with a Student Awards Advisor. Applications are available at the Student Awards & Financial Support office.
Aboriginal emergency aid fund
Funding has been provided by the Province of British Columbia for emergency relief funds to Aboriginal learners attending British Columbia public post-secondary institutions in order to have a positive impact on retention and completion.
Bursaries valued up to $700 per qualified individual are intended to assist students at any stage in their TRU program with specific unforeseen costs (e.g. replacement eyeglasses, emergency travel, etc). To apply please contact Aboriginal Services
Fee deferrals
A fee deferral is an extension of the deadline to pay fees owing to Thompson Rivers University.
It is the student's responsibility to ensure that all fees and deposits are paid in full by Fee Payment Deadlines established by Thompson Rivers University, or for obtaining an approved fee deferral in advance of these deadlines. Payment in full must be made by fee payment deadlines to avoid de-registration from your courses due to unpaid fees.
Students who meet all of the following conditions will have their fees deferred automatically:
Cannot pay the balance of their fees by the deadline dates and
Who have been approved for government student loan funding or a TRU scholarship/award or an award from a donor outside of Thompson Rivers University whereby the funding is directly payable to Thompson Rivers University and
The approved funding amount is greater than the total fees owing.
Students who do not meet the eligibility requirement listed above are not eligible to apply for a fee deferral.
Sponsorship recipients (e.g. aboriginal band funding) who do not meet the eligibility requirements listed above should contact the Thompson Rivers University Finance Division.
Student Awards & Financial Support does not offer payment plans of any kind.
Study Abroad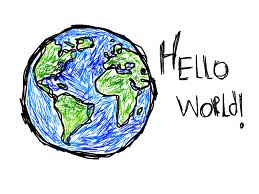 Have you been accepted to Study Abroad by TRU World?
Will you be applying for a student loan?
If yes to both, please read our Study Abroad Fact Sheet Study Abroad Fact Sheet.
Also visit the Study Abroad website for more information.
International students
Student Awards & Financial Support doesn't offer access to loan program for international students who don't fall into an eligible citizenship category. However, this doesn't mean there aren't loan options available to you in your home country. It's worth checking with your government representative to find out if there are any options you can benefit from.