Students Share Their Experiences
Follow:
---
University of Salford
England
So much has happened in this past month, and things took a while to get adjusted to. Now that I have learned to look the correct way before crossing the street and know that when a roast is being made for "tea" I'm actually getting dinner, my routine and newly-learned vocabulary is starting to make sense to me ...
---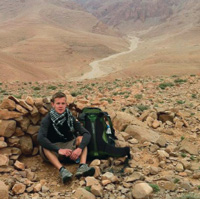 Seth Gehring
Al Akhawayn University
Morocco
I have traveled quite extensively throughout my life so far, but having had the opportunity to complete a semester of Study Abroad in another country was a whole new experience for me.
My Study Abroad experience has already had so many far-reaching results in my life and I learned so many things about myself that I had not necessarily known before. I became more confident in life, more independent, exploring things that were new to me, and expanding my horizons to include things that had previously been foreign to me. I realized how important people are in my life and came to appreciate the friendships that I made during my time there, some of which I am sure will last for a long time into my future.