Undergraduate Research Opportunities
Engaging in undergraduate research will increase your academic and professional success, and enhance your ability to think critically, ask tough questions and search for compelling answers. Research also acts as service to the community, so get involved. This is your education journey, make the most of it!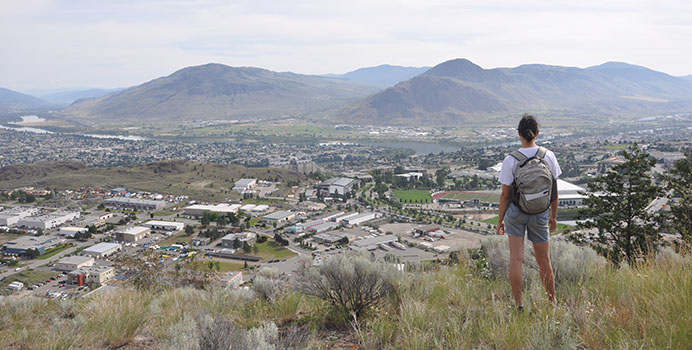 Funding Opportunities
Undergraduate Research Ambassadors Program
This capstone experience will strengthen students' undergraduate research understanding and provide training to enhance skills as TRU Ambassadors. This initiative is open to students who have at least 60 completed credits, and have engaged in or are currently engaged in research or creative activities under the guidance of a TRU faculty member. Ambassadors will work with the Research Office on a range of projects related to undergraduate research. Successful ambassadors receive a $3,000 award.
Undergraduate Research Ambassadors Program
Application deadline: March 23
Mapping of Equity, Diversity and Inclusion (EDI)
Mapping of EDI at TRU will provide important groundwork necessary to assess the current landscape on campus, and furthermore, to use stakeholders' perspectives to identify gaps in what belonging looks like at our university. This exciting project has funding to support a small team of students.
Deadline: Students needed immediately
Timeframe: May – August 2022 (with opportunity for early start)
Value: $18/hr x 20 hr/week x 16 weeks
Xchange Community-Engaged Student Research Fellowship Program
In alignment with TRU's commitment to community-engaged research and partnership development, this interdisciplinary fellowship will provide students with opportunities to bridge relationships with community, enhance the quality and impact of research, and build capacity for community-engaged research by applying disciplinary methods and training to addressing and resolving community issues. Designed around a collaborative research space, the Xchange Lab, students will engage respectfully and ethically with community members in meaningful and productive research partnerships that are capable of making a positive difference in communities throughout our region.
Application deadline: March 23, 2022

Value: $6,000/each
This award provides $7,500 for undergraduate students in the natural sciences and engineering to engage in research over a 16-week period over the summer (May to August). These are competitive national-level awards. Students must discuss this opportunity with a faculty member you would like to work with. Faculty members who are authorized to independently supervise students may mentor.
To apply:
Students: Submit a personal essay (250-words max) providing examples of research strength (i.e. prior research experience, academic acheivement, volunteer experiences) directly to the Office of Research and Graduate Studies, studentresearch@tru.ca, with the subject line USRA - Student Research Aptitude.
Students: Complete the application process in NSERC's research portal
Faculty: In form 202 under "Expected Quality of Training to be Received," please include the following information:
Mentorship: Include a summary of current research, past or current funding and supporting projects, and past supervision successes
Identify the available equipment/space
Identify how you will provide the required 25% ($1,500) supplementary funding for the student.
Deadline is Jan. 29 annually
Members of the TRU faculty often require students to assist in their own research. If you are interested in this opportunity, please speak with your professors.
Workshop dates TBD
This program is designed to encourage undergraduate Indigenous students to pursue research programs. Students will attend workshops that are designed to introduce them to research, enable them to contribute to a research publication and its dissemination, and also provide them with Indigenous research mentors. Upon completion of the program students receive a $1,000 award.
Application deadline: TBD
Environmental Science and Natural Resource Science
Enviro Science Fellowship Award
The fellowship was generously created by an anonymous donor for the development of two awards; one for Environmental Sciences and one for Natural Resource Sciences. Recipients — either senior undergraduate or graduate students — will be selected based on their scholarly achievements, their commitment to research and their demonstrated potential for future contributions to our understanding of the environment. The fellowship is a prestigious award with a value of $7,500 for each recipient.
Application deadline: Nov. 15 (annually)
Mitacs Research Training
Competition closed
Value: $6,000, two awards available
Terms of Reference
Award Application
This is an immediate and short-term opportunity for undergradaute and graduate students to undertake a 12-16-week paid research training internship. Mitacs and TRU have contributed equally toward this opportunity. The timing of this award is intended to address the effects of the COVID-19 pandemic by providing opportunities for students to conduct research over the summer months. These student-led projects are designed to enhance student research skills through interaction with faculty and hands-on research and training experience. Projects must begin no later than August 31.
Globalink Research
Mitacs: Globalink Research Award
Application Deadline: January and June, dates TBD
This award provides $5,000 in funding to support senior undergraduate and graduate student research project abroad. This is for joint research projects with academic collaborators for a minimum of 12 weeks to a maximum of 24 weeks abroad. Partner countries include Brazil, mainland China, India, Mexico and Vietnam.
Environment Canada Atmospheric and Meteorological Undergraduate
Environment Canada Atmospheric and Meteorological Undergraduate Supplements
This award provides a $1,000 supplement to high-calibre students who have been awarded a USRA to complete studies in atmospheric or meteorological sciences.
Application deadline: June 1
---
Share your research
The Student's Union, through the Comprehensive University Enhancement Fund (CUEF) provides students with grant funding to attend conferences and competitions to enhance opportunities for learning outside the classroom.
An on-campus conference where students can present the findings of their research through posters, oral presentations and performance. This conference takes place in the spring each year, and is open to all undergraduate students to present or participate as volunteers.
Conference dates TBD
The Department of Philosophy, History and Politics at TRU offers a unique opportunity for undergraduate students. Participate in the student-organized undergraduate conference which is held each January, and explore the past and present through presentations in philosophy, history and politics.
Conference dates TBD
---
Further Funding
TRU's Financial Aid and Awards office provides up to date information on funding opportunities for undergraduate students.
---
Application Assistance
Please contact us if you require any guidance in the application process for these awards.