What is the Research Support Fund?
The Research Support Fund (RSF) assists Canadian universities with the expenses associated with managing the research funded by the three federal research granting agencies, SSHRC, NSERC, and CIHR. The RSF reinforces the federal government's research investment by helping institutions ensure that their funded research projects are conducted in world-class facilities with the best equipment and administrative support available.
Direct costs — equipment, research assistant salaries and research travel, for example — are borne by funding agencies, but to establish successful research programs, there are many indirect costs, including maintenance to labs and equipment, access to up-to-date knowledge and information, research management and administrative support, and knowledge transfer from academia to the private, public and not-for-profit sectors.
To maintain transparency, and to demonstrate the importance of the RSF program to our researchers, students, community members and elected officials, this report is prepared and made public annually.
The federal government requests that we report the use of funds in five areas of priority:
Facilities: The RSF grant is used to employ a technician to upgrade and maintain research equipment and other devices located in TRU's research labs. TRU's research equipment (including an NMR, mass spectrometer, and a gene sequencer) enable faculty and students to undertake world-class research.
Research Resources: The RSF grant creates additional capacity within the TRU Library, ensuring it provides effective research services for faculty and students.
Management & Administrative Costs: The fund provides researchers with grant-writing assistance, research accounting services, promotional expenses including the Annual Report on Research, and the software used by faculty to manage their grants.
Regulatory Requirements: The RSF grant commits resources to the Research Ethics Board, the Animal Care Committee and the Biosafety Committee; in turn, the RSF provides resources that cover the costs associated with membership in regulatory bodies necessary to maintain research in these areas. The RSF enables TRU's research compliance coordinator and other staff to provide training and support to our animal care, human ethics, and biohazards committees.
Intellectual Property Expenses: The RSF supports the university-industry liaison and enterprise creation office, the role of which is to administer agreements, including contracts and memorandums of understanding, with industry and the private sector.
In the 2016-17 fiscal year, TRU was awarded $368,399, which was allocated based on the following areas of priority:
Facilities — 6%
Resources — 7.5%
Management and Administration — 65%
Regulatory Requirements and Accreditation — 15%
Intellectual Property — 6.5%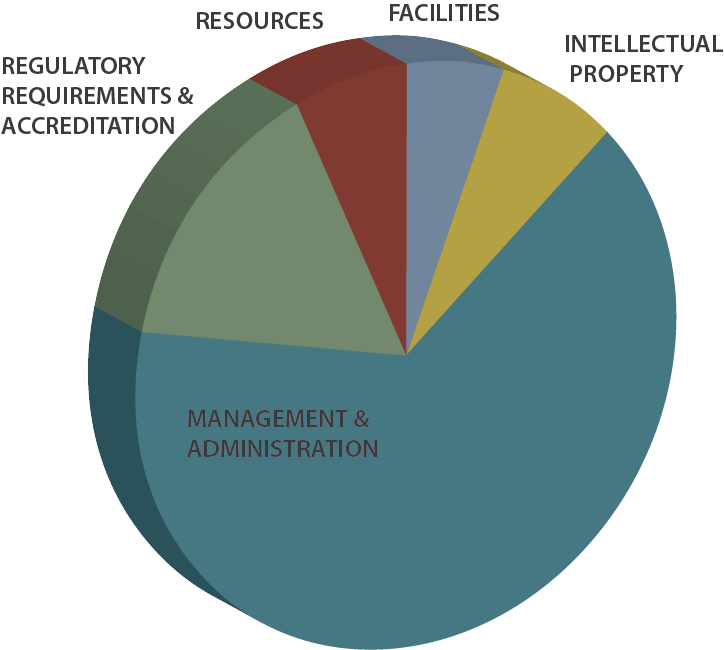 In the 2017-18 fiscal year, TRU has applied for $405,969, which will be allocated based on the following areas of priority:
Facilities — 12.8%
Resources — 18%
Management and Administration — 49%
Regulatory Requirements and Accreditation — 13.5%
Intellectual Property — 6.7%