Education and Social Work Menu
How to Apply
NOTE: We are pleased to announce that the ESTR's Fall 2022 intake is complete for those who applied on or before the May 1st deadline. Congratulations to those who have been accepted into the ESTR Program! We look forward to seeing you in the fall semester. Any new, complete applications received in June, July or August 2022 will receive an ESTR interview at the end of August 2022. Acceptance for the 22-23 school year depends on readiness as assessed through the completed application and ESTR interview as well as space in the program.
-------
The ESTR programs have limited enrollment and the deadline for applications is May 1 for the 2022–23 academic year. Applicants who have completed Steps 1 to 3 below will be scheduled for an interview. ESTR interviews take place in April, May, early June. Late applications will be considered if there is space. There could be a delay in receiving an interview for late applicants.
Application checklist
Application form
Reference letter
Work and volunteer form
High school/post-secondary transcript(s) ordered to be sent to TRU
Step 1
Complete a TRU application through EducationPlannerBC. Please note: A credit card is required to pay for the application fee.
TRU Future Students can help with the online application process. Connect with them by email futurestudents@tru.ca or call 250-828-5006
Sign up for an EducationPlannerBC account or login.
Under Program Selection - Program Choice, When do you want to start your program, select - Fall 2022.
Under Select Your Program Level, choose Adult Basic Education & University Preparation.
Under Select Your Program, choose one of:

Educ & Skills Training - Kitchen (if interested in ESTR Kitchen Assistant program)
Educ & Skills Training - Retail (if interested in ESTR Retail Worker program)
Education and Skills Training (if interested in ESTR Career Exploration program)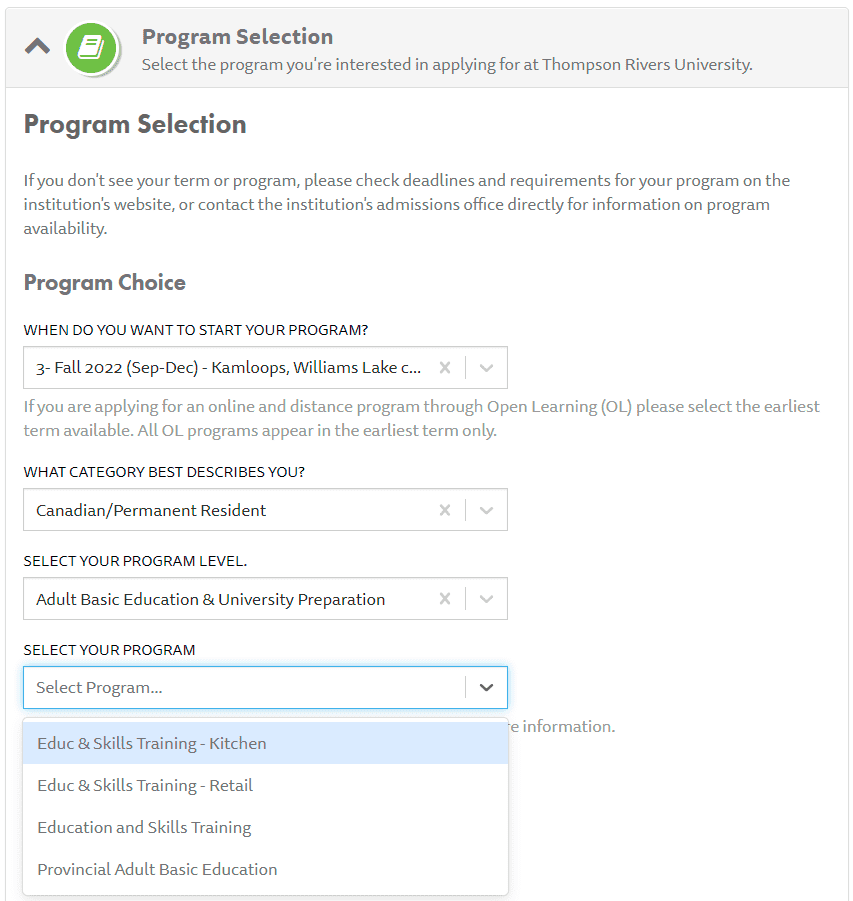 Complete the application form and submit.
Step 2
TRU Admissions will send an email within five business days of applying through EducationPlannerBC to request the following documents:
Reference letter
This is for your reference to fill out.
References can be a teacher, a previous employer, an agency representative where you may have volunteered. The reference person cannot be a family member.
Work and volunteer experience form
This is for you to fill out.
In the email from TRU Admissions, you will receive these forms as fillable PDFs in attachments. Please ask your reference to complete the reference form and return to you. Complete the work and volunteer experience form and save both to your computer. Alternatively, the form(s) can be printed, filled in by hand by you and your reference person, then scanned and saved. Email the completed forms to admissions@tru.ca.
Step 3
All official high school and post-secondary transcripts from your earlier or current studies must be sent to Thompson Rivers University from the issuing institution(s). Current TRU students do not need to provide their TRU transcript.
Current high school students
Submit an official interim transcript showing completed courses and any courses in currently in progress. We will require the final transcript when your courses are completed.
BC high school students
You may request a transcript from the Ministry of Education: Student Transcripts Service (STS). More than one download must be requested to ensure we receive final grades before the start of classes. To match your official downloaded high school transcript to your application, TRU will require your Provincial Education Number (PEN). If you did not include your PEN on your application, contact admissions@tru.ca to provide it.
A UEPrep Program Advisor can help with steps 2 and 3. Connect by email at ueprepadvising@tru.ca or call 250-377-6048.
Step 4
ESTR interview — our primary considerations are:
Attitude and a desire to work.
Independence and previous work or volunteer experience.
Literacy level and reading comprehension.
Ability to communicate effectively.
Ability to manage own transportation to and from TRU work placements off campus.