TRU
Education and Social Work
Education and Social Work Menu
Playback Theatre
We are extremely fortunate to be able to offer a special learning/professional development opportunity to students faculty and community members with an interest in theatre as a tool for community engagement, personal empowerment and healing. This is an opportunity for actors and non-actors alike.
What is Playback Theatre?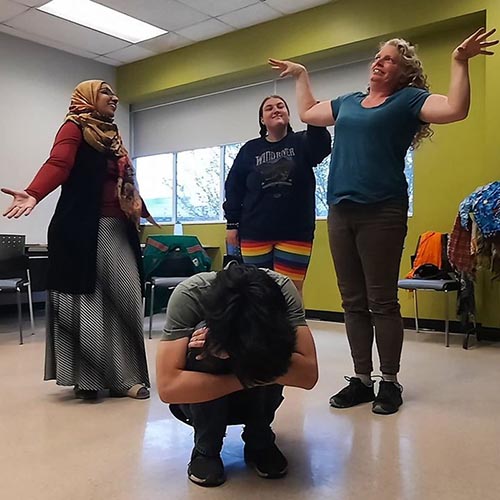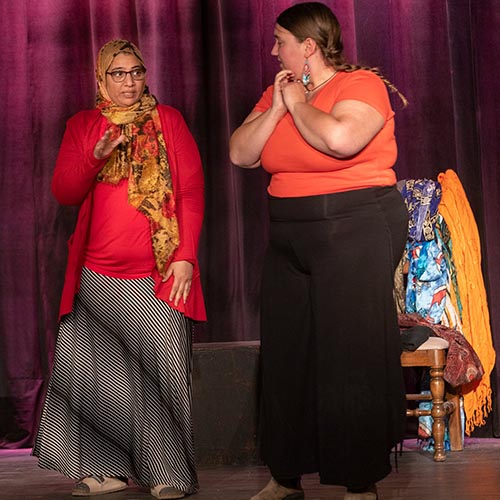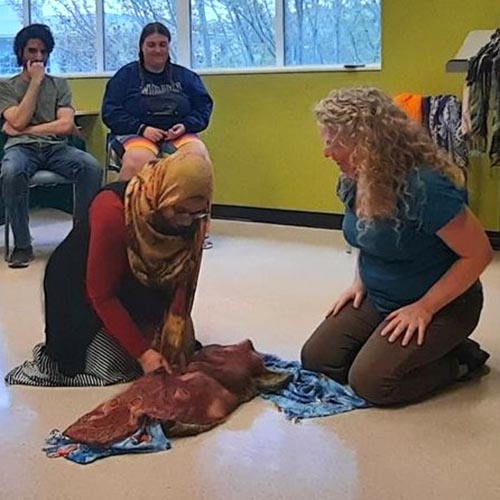 Playback Theatre is a form of applied and improvisational theatre. Audience members share moments from their lives and watch them enacted on the spot by trained actors using music, movement and dialogue, embodying the heart of the story. Welcoming laughter, tears, curiosity — the full range of emotions. There is no story too big or small to be told and honoured. Performances privilege many voices, and clearly demonstrate and remind us of our common humanity.
Versatile in its approach, playback can be used with any population. Settings can encompass schools and universities, organizations and community groups, or specific groups like hospice care workers, refugees and immigrants, formerly incarcerated people, and many others.
Core training
Getting a strong start in Playback Theatre means taking enough time to immerse yourself in the rich atmosphere and dynamics of the playback experience. In this four-day intensive, you'll learn the basics with lots of opportunities to practice.
The fundamental playback forms will be taught — fluid sculptures, pairs, stories, tableaus and more. Each student will have a chance to try the roles of conductor and musician as well as actor. Everyone will tell and enact stories together, in the spirit of fun and fellowship. Designed for new and relatively new students.
Instructor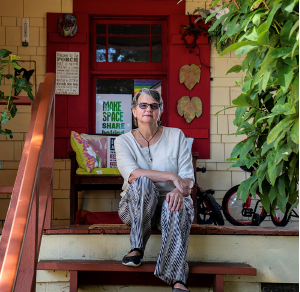 Debe looks forward to sharing her deep love and extensive experience of Playback Theatre with Thompson Rivers University students, faculty and staff as well as with community members.
Her philosophy of playback honours the unique gifts of each performer and encourages the witnessing of shared humanity through personal stories. She has been practising the craft of playback for 32 years. As an accredited playback trainer, she has taught nationally and internationally with diverse communities.
This spring she collaborated with Seattle Pacific University in a research project, Building resilience through improvised lived stories: Impact of playback theatre on college students. She also led in-person and online workshops for adults who are on the ability/disability spectrum.
Paid opportunities for students after the workshop
TRU students will have the opportunity to join a troupe of performers and take part in playback performances within TRU and the community after the workshop, for which they will be compensated. Students can earn back the fee of the workshop and more!
Course credit
Students may be able to use this workshop and performance experience as partial completion of a directed studies course in some programs. Contact your program co-ordinator or chair to find out more about directed studies options.
Registration