TRU Libraries
Find TRU Library's books, e-books, government documents, DVDs, maps, and more in the TRU Library Catalogue.
Advanced Catalogue Search
***As of Feb. 20, 2017, ALL reserve items are now located in the Main Library.***
Course Reserves are a short-term collection of books, articles, and audio-visual materials with a reduced loan length are available at the Reserves shelves, which are located behind the Circulation desks of the Main and HoL libraries.
Indexes and databases contain sources from scholarly journals, popular magazines, newspapers, conference proceedings, etc., and in some cases, include chapters of books. Follow the links to full text online, print copies or when you are prompted to fill out an Interlibrary Loan request form.
To search or browse a list of journals (print or electronic) to which TRU Library subscribes.
Discover specialized resources by subject
Citation guides
Other help guides, including how-to and writing support
---
---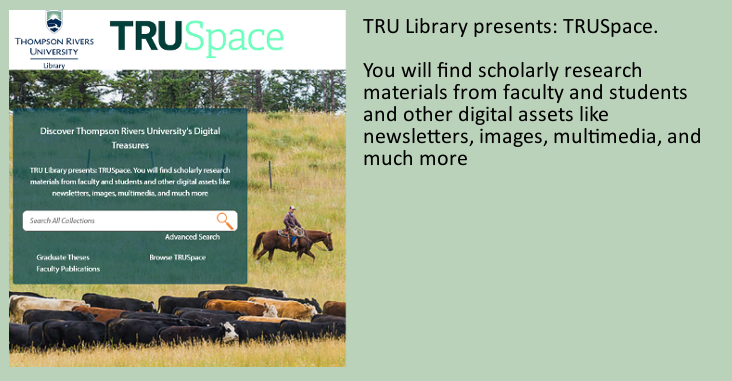 ---
Library News
Looking for a place to study when most of the campus is closed for Easter Monday, April 17? Come to Main Library! We'll be open 12pm – 8pm. Main Library is also open Saturday, April 15, 9am-5pm, and Sunday, April 16, noon to 8pm. Get a head start on studying for exams.
Read more
Until the end of April, TRU Library has trial access to LexisNexis. LexisNexis Academic is a full text database, focusing primarily on Business, Legal, and News resources. Included in the database are company filings, journal and newspaper articles, broadcast transcripts, and law reports. Coverage is international in scope. Access LexisNexis at any time during the...
Read more
Internationally-acclaimed chronicler of the Thompson Shuswap region returns to TRU Award-winning author (and former TRU student!) Gail Anderson-Dargatz will read from and discuss her first novel, The Cure for Death by Lightning, and her latest novel, The Spawning Grounds, on Tuesday, April 4 from 11AM to noon on the third floor of TRU's House of...
Read more
Read more Library news