English Teacher Training
TRU delivers customized programs for several hundred trainees each year, often in cooperation with local school districts and/or other educational partners. As a result, Thompson Rivers has emerged as an international centre for educational leadership and teacher training.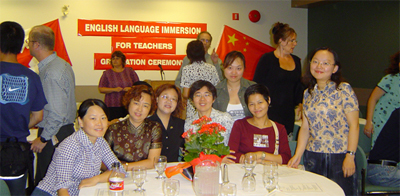 These programs are designed for overseas teachers of English to meet two objectives:
Develop communication skills and confidence in English usage
Introduce participants to advanced methodologies for Teaching English as a Second Language
Our teacher training programs comprise four major components:
Classroom instruction
Guest lectures
Activities
Site visits to Kamloops-area schools
For more information, please download our program brochure - also available in Chinese.
Testimonials
Many things were very impressive to me and I think I'll make good use of them in my teaching. This program was excellent and I want to recommend it for other students. Chinese teacher, 2007
The aim for us to come here is learning teaching methodologies, so we had high expectation about this. We learned many techniques and a lot of useful activities. Korean teacher, 2009
What we learned will change my teaching in the future. This program is very helpful and I learned many useful classroom activities. Chilean teacher, 2009
This program is very necessary for us because it is a tool for us to know about other cultures. TRU created a very good environment for us both in language and culture learning. Chinese teacher, 2009