The Jorge Campos Award for Studies in Canada
Jorge Campos y Thompson Rivers University se han unido para crear un nuevo programa de becas para estudiantes mexicanos. La Beca Jorge Campos le brinda a los estudiantes de alto nivel académico, la oportunidad de estudiar durante un año en Thompson Rivers University, un destacado centro de estudios en Canadá para estudiantes de todo el mundo.
$12,000 CAD | Beca para cualquier licenciatura ($3,000 CAD x 4 semestres)
Para ser considerado para las Becas Jorge Campos, el estudiante debe:
Ser un ciudadano mexicano
Estar aplicando para el primer año de universidad
Tener un promedio mínimo de 85% en el último o últimos 2 años de estudio
Mantener un promedio mínimo de 70% durante los estudios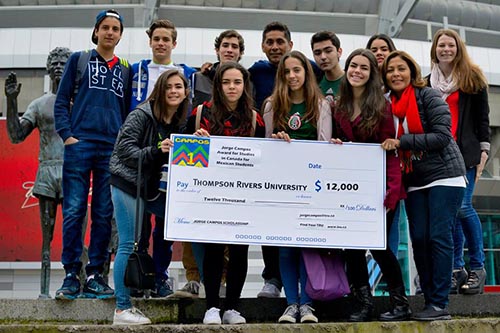 Legendary Mexican football star Jorge Campos and Thompson Rivers University have teamed up to create a new scholarship program for students from Mexico.
The Jorge Campos Award provides outstanding students with full tuition for a year of study at Thompson Rivers, a leading study destination in Canada for students from around the world.
The scholarship is open only to Mexican citizens currently enrolled in a full-time program of studies in Mexico. In addition, applicants must:
Be at least 17 years of age
Have graduated from secondary school
Have a minimum average of 85% in the last year or last two years of study
Maintain a minimum average of 70% during your studies at TRU
To apply, please download the application form for the Jorge Campos Award, complete it, and return it to TRU along with the required supporting documents.
Contact jorgecampos@tru.ca with any questions or for further information on TRU's programs and services for international students.