Language and Culture Winter Program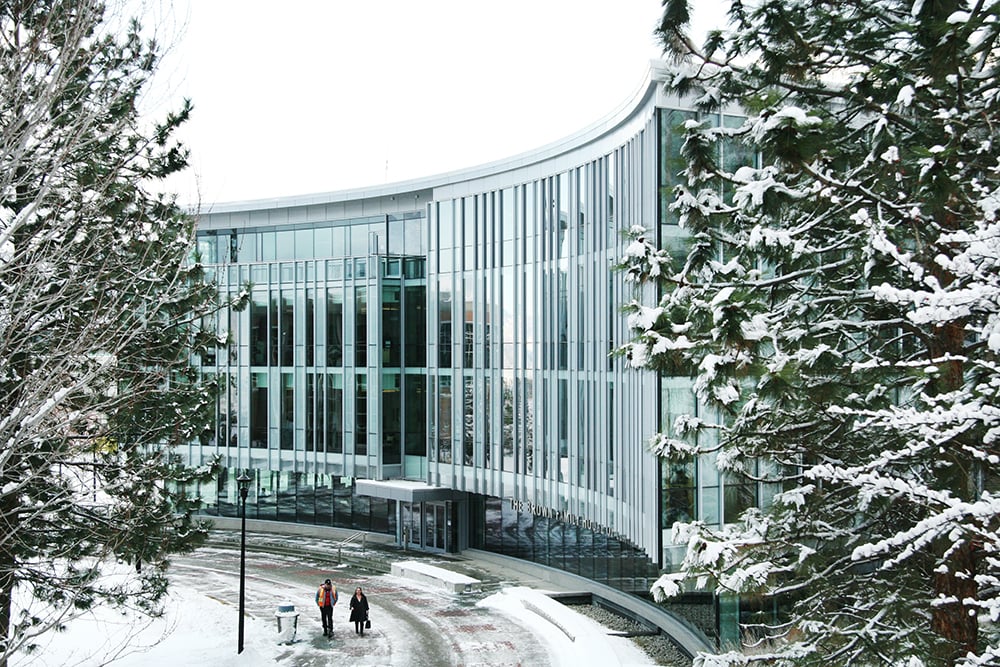 Program dates:
4 week - January 8 - February 2, 2024
3 week - February 20 - March 8, 2024
Program fees:
4 week - $3,765
3 week - $3,365
Our language and culture programs provide students, ages 16 and up, with the English skills needed to fully participate in all activities, with an emphasis placed on the core areas: speaking, listening, writing, reading, vocabulary and grammar.
All students participate in hands-on workshops that enable them to develop and expand their intercultural communication skills. In addition, we offer a series of practical and relevant electives designed to boost your learning opportunities. These programs include an orientation to TRU's campus and the city of Kamloops.
The 3-Week Winter Language and Culture Program offers the same instructional experience as our 3-week Summer Language and Culture Program but cultural and recreational activities will represent traditional winter season activities such as the sport of curling and attending a hockey game. This session includes a daytrip to Sun Peaks Resort—Canada's second-largest ski resort.
Language and Culture Winter Program flyer
Sample Schedule
Monday
Tuesday
Wednesday
Thursday
Friday

Welcome Reception

9 – 9:30 a.m.

ISA-led orientation

9:30 – 11 a.m.

Elective Selection

noon – 12:30 p.m.

TRU Campus Tour

12:30 – 2:30 p.m.

Intercultural Communications

9 a.m. – noon

Downtown Kamloops

City Tour

1 – 4 p.m.

Intercultural Communications

9 a.m. – noon

Orientation to Kamloops

1 – 3 p.m.

Language Studies

9 a.m. – noon

Elective

1 – 4 p.m.

Language Studies

9 a.m. – noon

Curling

1 – 4 p.m.

BC Family Day

TRU campus closed

No classes

Elective

9 a.m. - noon

Language Studies

1 – 3 p.m.

Sun Peaks Resort

Skiing or Snowboarding

8:30 a.m. – 5 p.m.

Elective

9 a.m. - noon

Language Studies

1 – 3 p.m.

Language Studies

9 a.m. – noon

Sleigh Ride

12:30 – 4:30 p.m.

Language Studies

9 a.m. – noon

Dreamcatchers

1 – 3 p.m.

Elective

9 a.m. - noon

Language Studies

1 – 3 p.m.

Language Studies

9 a.m. – noon

Language Studies

1 – 3 p.m.

Kamloops Blazers Hockey Game

6:30 – 9:30 p.m.

Language Studies

9 a.m. – noon

Indoor Rock Climbing

1 – 3 p.m.

Language Studies

9 a.m. – noon

Language Studies

1 – 2 p.m.

Closing Celebration

2 – 3 p.m.
Intercultural Communication Skills Workshops
We include four thought-provoking workshops at the beginning of all language and culture programs. Participants explore the meaning and basic elements of culture, experiment with key concepts in verbal and non-verbal communication, and reflect on their strengths and weaknesses so they can develop deeper cultural awareness. During the workshops, we also assess each student's level of English ability for group placement for the remainder of the program.
Electives
We offer students the choice of one elective from the options below. Every effort will be made to ensure each student gets their first choice, but this may not always be possible. In these cases, second and third preferences will be taken into consideration.
Applied English
Poster sessions are common in academic settings—and they are a great way to share information. Students work in pairs to do research and gather information on a topic, create a visual and linguistically efficient display of their findings and finally, present their work in an expo-like environment.
Global Citizenship
We are all citizens of the same planet, and it is more important than ever to understand our rights as well as our responsibilities. Gain a deeper understanding of key concepts such as diversity and privilege. In this interesting and inspiring hands-on elective, students will learn how each person truly can make a difference.
Healthy Choices
Students explore their understanding of healthy eating, exercise and maintaining a healthy mind. These sessions will inform and inspire. Students learn about strategies to evaluate and adjust all areas of their lives to shape a holistically healthy way of living for themselves and those around them.
Leadership Skills
This course will introduce students to basic leadership theory, help them identify their own leadership style, and introduce effective communication techniques. Interesting case studies will clearly illustrate the importance of having strong leadership skills in every workplace environment.
STEM Skills
An ideal elective for students whose career goals include Science, Technology, Engineering or Mathematics. Learn terms related to your own field of study, develop functional language, and practice working with numbers in English. This elective includes a field trip to our local Big Little Science Centre.
Study Skills
Students discover their learning style and explore strategies for setting realistic goals and effective time management. Learners will experiment with a variety of memorization techniques and discover ways to increase their reading speed. Other topic content include practice using proven systems for note-taking and learning how to conquer test anxiety.
Sustainability
Students will learn about efficient ways to make the environment safer and cleaner. The learners will explore some award-winning projects on the TRU campus and learn about zero-waste living.
Workplace English
This elective guides students through all the important aspects of a job search including an individualized labor market survey, Applicant Tracking System navigation with resume preparation, cover letter writing and job interview skills.