Career Ambassadors
Career Ambassadors promote the Career and Experiential Learning Department through activities such as class visits, presentations, information sessions, events, and peer-to-peer support. They work closely with CEL coordinators to enhance the visibility of the department while acting as a point of contact for students. Career Ambassadors encourage students to 'start early' and take the first step towards the career, job, volunteer position, or work term they are after.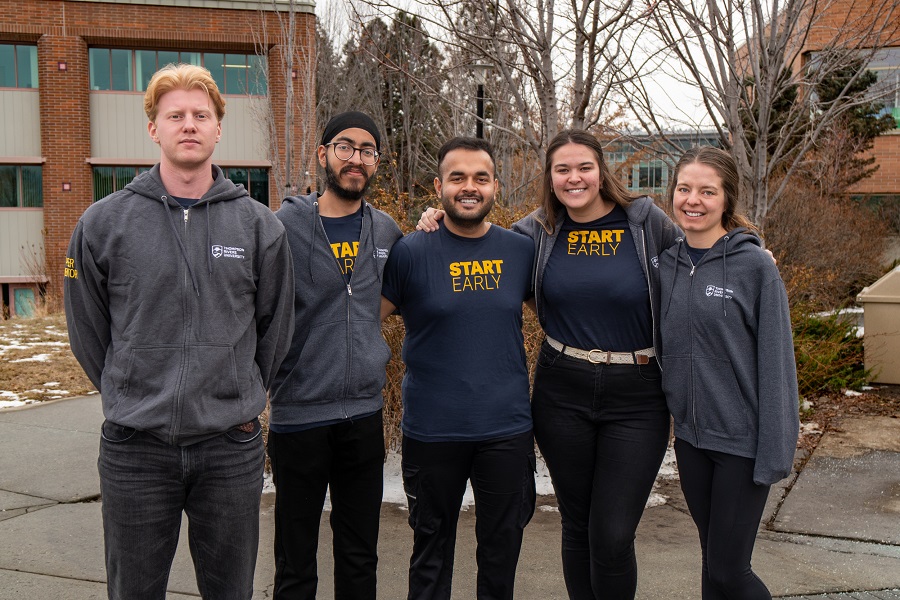 The Benefits of Being a Career Ambassador
Enhance interpersonal and communication skills
Acquire knowledge and abilities related to career and professional development
Develop leadership, teambuilding and networking skills
Create a personal brand and professional presence
Practice skills in organization, event planning and project management
Gain experience in research, marketing, event planning and possibly advising
Personally connect with career development advisors, faculty members, alumni, peers and industry representatives
Access alumni and employers during events such as the jobs for TRU Job Fair, speaker panels and other career development events on campus
Responsibilities
Design marketing materials and create promotional strategies to engage students in all years of study across all programs
Collaborate with student associations to organize events and/or promotional efforts
Create, curate and collect content for newsletters and social media channels
Assist with planning, organizing and promoting events such as hiring fair, workshops, speaker panels, career development month, company tours, speaker panels etc.
Represent the Career and Experiential Learning Department (CEL) as a Career Ambassador by promoting events, services, resources and encouraging students to participate across all Faculties
Provide input, suggestions, ideas and feedback to CEL regarding students' needs and requests for services and programs
Support the collection of data and enter as required
Assist with the recruitment and training of new ambassadors
Deliver short in-class presentations to promote CEL
Promote CEL at various internal events and tabling around campus
Attend team meetings and training as scheduled
Support CEL in various projects and initiatives
Requirements
Committed to advancing the CEL mission of striving to empower students and alumni with the skills, tools and resources they need to achieve their career goals
Must be enrolled as a student in good standing for Fall and Winter semesters
Availability of 4 hours per week
Ability to exercise tact, diplomacy and professionalism
Strong interpersonal, public speaking and communication skills (verbal and written)
Evidence of leadership, responsibility, accountability, initiative and attention to detail
Interest in career/professional development
Interest in supporting others to discover and meet their potential
Demonstrated ability to take initiative and work independently as well as collaboratively
Creative, reliable, and punctual
Possess good judgement, time management and problem-solving skills
Displays enthusiasm, accountability, willingness to learn and openness to new ideas
Research skills and proactive curiosity that could be applied to investigating professional opportunities, employers and external partners, industry trends, and more
How to Apply
Fill out the Career Ambassador Application Form 2023/2024.
Email the completed application form to liles@tru.ca with the subject line: Career Ambassador Application.