Job Application Tools/Resources
If you're getting ready to look for work, you've come to the right place. Here you'll find information on getting ready for the job market, creation of application documents like resumes and cover letters, tips on interviews, and places you can look for work.
---
International Students
International students are an important part of the TRU community and we understand the unique set of opportunities you face when exploring career options.
Career and Experiential Learning offers individual career coaching. Please contact us to make a free appointment.
Working in Canada
International Students in Canada may work on or off campus without a work permit if they meet the eligibility requirements of Citizenship and Immigration Canada.
Social Insurance Number
Anyone who works in Canada must have a Social Insurance Number (SIN) in order to legally be permitted to work and to have access to government programs and benefits. For more information on SIN cards, visit Service Canada. For more information on the code of practice, visit SIN Holders' Responsibilities.
Cover Letters
The purpose of the cover letter is to:
Pique the employer's interest and to introduce your resumé
Highlight the skills you possess which are most important to the employer
Focus on what you can do for the employer, not what they can do for you
Resources
Cover Letters
Cover letter sections
Introduction
The introduction of the cover letter should:
Capture the reader's attention
Be written in a clear and articulated manner
Make a strong first impression
Speak specifically about why you are intered in the particular organization
A well written introduction shows competency, attention to detail and strong writing skills.
Body
The body paragraph of the cover letter should:
Be one or two paragraphs in length
Mention relevant education, skills and experience
Explain how your abilities can be an asset to the employer
Below are some guidelines that can help you create a strong cover letter body:
Add any relevant information that shows you will be a good employee for the company
Consider using bullet points in the body (such as for a list of skills you offer)
Tell the reader how you will be a valuable addition to their team and what sets you apart from other candidates
Group similar topics together (like skills, education, experience)
Make sure the information is relevant to the position you're applying for
This is the part of your cover letter to concisely articulate why the employer should consider you for a position in their company.
Close
The close paragraph of the cover letter should:
Reinforce why you are a good fit for this position
Thank them for taking the time to consider your application
Include detailed information on how they may contact you if they have further questions
Below are some guidelines that can help you create a strong cover letter close:
Be sure to sign the letter with a pen as well as your name typed
If you are sending your cover letter electronically, include a scanned copy with your signature
"Sincerely yours," is a strong closing statement
Final tips
Do your research about the company and learn about their core values and what types of skills they seek in their employees
Use the information you learn about the company to customize your cover letter
"Pepper" your cover letter with the same vocabulary the employer uses in their website, marketing material, job posting, annual reports, and more
Cover letter examples
Resumes
Resources
This handout covers every aspect of building a resumé in great detail. Use this document for guidance on how to organize and write your resumé, and for many examples.
Skills, Headings and Action Words
This document lists many words to use in resumés and cover letters.
This handout outlines the sections of a well-organized resumé in brief detail.
CPA Resumé and Cover Letter Tips
This document from the CPA covers tips for creating resumés and cover letters.
---
Resumé presentation
It's important to present your information in a comprehensive and attractive document to demonstrate the contributions you will make to a future employer.
Below are the different types of resumés available along with samples. The type you used should be based on your skills, experience and the position you are applying for:
Chronological/combined
A chronological resumé lists work experience from the most to the least recent work experience and provides details about the work positions.
This type of resumé should be used if:
You have experience in the field you are seeking employment in
Your work history is stable with limited time gaps
You have a long history with no large gaps between jobs and when you're not drastically changing your career direction
You have strong editing skills
Samples
Functional
A functional resumé lists your abilities in "skill groups" that focus on transferable skills and abilities. This allow you to highlight the skills you acquired through your education and volunteer experience. This style is suitable for recent grads or mid-career changes.
This type of resumé should be used if:
You have limited work experience in the industry you are pursuing
You want to emphasize your transferable skills
You are making a career change to a new industry or occupation, or are a recent graduate
Samples
Once you have determined what you can offer an employer, researched the job market and decided on a presentation method, you are ready to build the content of your resumé.
Interviews
Interviews are an opportunity for students to impress potential employers and speak directly to why they would be a suitable employee for their organization. Some companies may conduct one or two interviews to make sure they find the best fit for their organization. Below are some links on how to prepare for an interview.
Resources
Interviews
Informational Interview Guide
How to prepare for an interview
Proper preparation for an interview will eliminate nervousness, uncertainty and help you provide the best answers to your interview questions. Most of all, preparation increases your confidence, which will show through to the employer by influencing your demeanor.
Much of the preparation for the interview may have already been done when creating your cover letter, but it's important to have the company's nature, products and goals, skills they are looking for and the job posting information fresh in your mind.
Research the company to be up to date
Consider how your skills fit with the employer's needs
Be familiar with and practice a variety of potential questions (see below for more information on interview questions).
Prepare a variety of example stories. Choose stories that can be adapted to a variety of questions, using recent experiences from work, school, volunteer positions, hobbies or any other real life experience. Consider using stories that were negative experiences but had positive outcomes, and think about how you contributed to that using your knowledge and skills
Gather any documents you might want to take to the interview, such as your résumé, cover letter and reference letters
Relax before the interview to maintain confidence and better be able to listen and respond to questions
Remember — enthusiasm, confidence and energy are contributing factors in who is hired.
Interview components
Employers may use a variety of components in their interview process. This may include:
Pre-screening (phone or short interview)
Skills test
Panel interview
Group interview
Second and third interviews
Types of interview questions
Traditional
Generally, these questions are open-ended questions with a preference that you respond with work related answers.
Situational
These questions typically involve a case scenario where they are looking for a response describing your thought process and how you would solve a scenario.
Behavioural
These questions often start with the phrase: "tell me about a time when you…". These types of questions are based on the assumption that past behaviour is often the best predictor of future behaviour. Employers use this style of interview questions to assess a candidate's experiences and behaviours in order to determine if you have the right characteristics to succeed in their company.
Sample behavioural questions
Describe a time when you demonstrated initiative
Tell me about a time when you made a mistake at work
Describe a past example that demonstrates great team work
Give me an example of a time when you had a conflict with someone at work or in school
Answering questions in an interview
The goal is to provide the best answer possible during an interview. To help focus, listen to what is being asked and respond with a clearly thought-out and articulate response, review the tips below:
Listen to what is being asked
Think about the question before answering
Ask for clarification of the question if it's not entirely clear. If you're still not sure, ask, "Did I answer your question?"
Nervous? Say so – it might help break the tension
Body language can indicate your interest. Remember to sit up straight, maintain eye contact and limit fidgeting
Smile, be enthusiastic and stay positive
Ending the interview
Interviewers will often ask if you have any questions for them. This is a good time to ask any questions you may already have in mind, but asking even one or two questions is a great way to show further interest in the position. Some questions you might ask are:
What skills and abilities does your ideal candidate have?
What is the key objective you have for this position?
What can a new employee do to make a positive first impression?
What is the process from here?
When do you expect to be making your decision?
May I contact you in a week if I have not heard from you?
Remember to say thank you at the end of the interview and extend a strong handshake to reaffirm your professionalism.
Networking
The vast majority of job openings are not advertised, but filled by word of mouth. Networking is about building relationships with peers, class mates, instructors and industry professionals. Everyone you meet can help you move your job search forward.
Resources
Discovering Potential Contacts in your Network
Benefits of Networking
Key strategy for securing meaningful work
Proven strategy for tapping into hidden job market
Insight into businesses, organizations and industries you desire to work
Employers typically hire people they know – better chances when employer knows your name and face
Opportunities to build relationships that can provide invaluable information and advice for your career development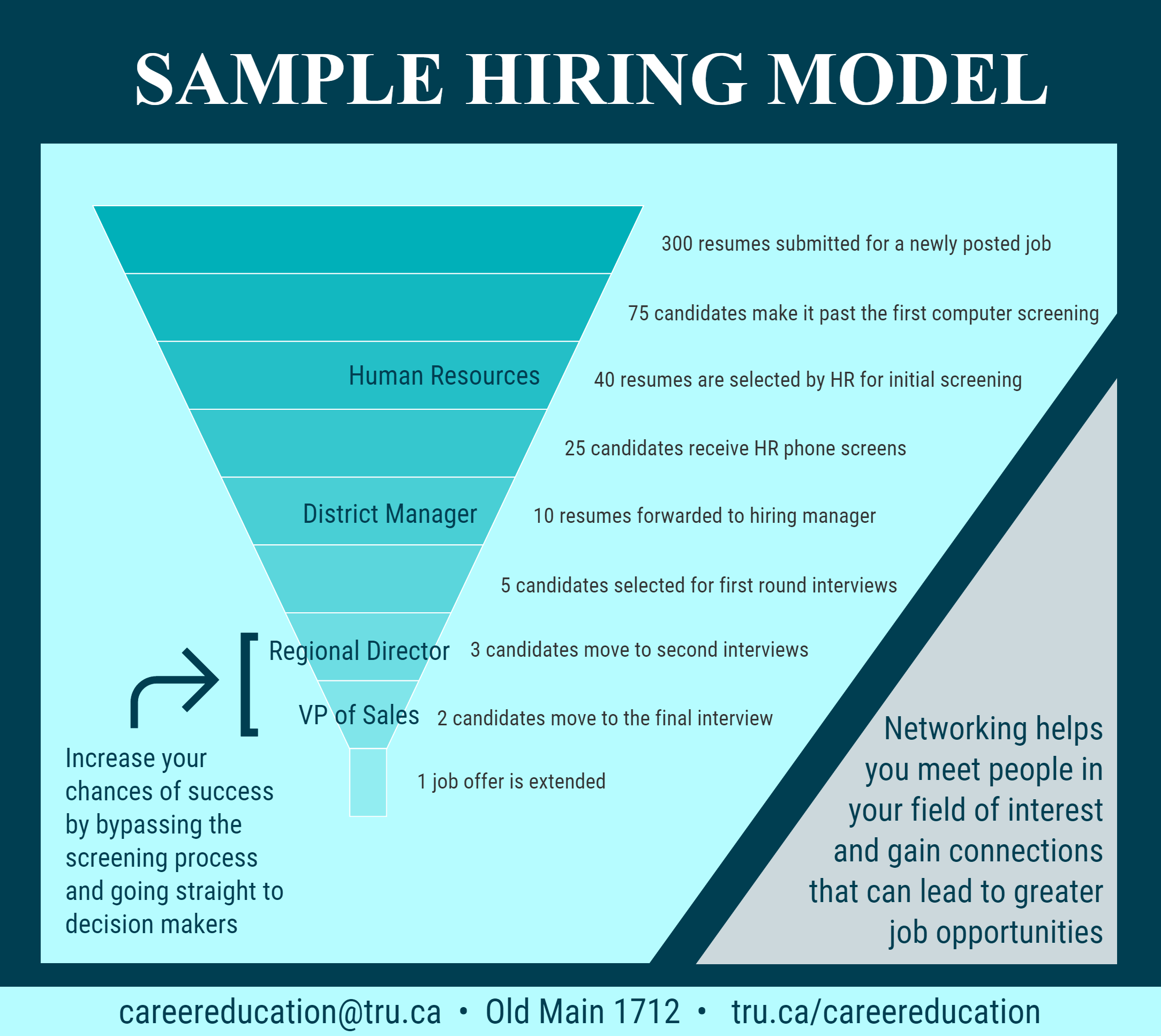 Job Search
Work on Campus
Cheatsheet for working on campus (PDF)
Aramark
Aramark is the exclusive food provider on the TRU campus, employing about 40 students across campus in the fall and winter semesters. Available staff positions include: cashiers, kitchen staff and catering staff. Most recruiting occurs in August and September.
Application process
Submit your resumé to the food services director in the Campus Activity Centre Room 123.
Include your availability and the type of work you prefer to do (cashier, kitchen or catering).
Contact
Phone: 250-371-5720
Fax: 250-371-5978
Campus Activity Centre Room 123
For more information, visit Campus Dish
Co-operative Education
Co-operative education is an opportunity for students to enhance their education through career-related work experience while studying at TRU. It combines practical in-class education with applied learning opportunities.
Visit the Co-operative Education site for eligibility, application forms and more information.
Work Study
The Work Study program is a TRU funded financial assistance program that allows Canadian students to work on campus part-time. This program offers work experience, working relationships with faculty and staff, and a regular source of income to students who demonstrate financial need.
Job postings are available in mid-August, and hiring takes place in the fall until all positions are filled.
Students may not begin work until after returning the Work Study eligibility form to the Students Awards and Financial Support Office and completing all paperwork.
Work Study students will also be offered a career planning session to assist them in connecting their Work Study positions to future career goals.
Eligibility
Enrolled in a minimum of a 60% (full-time) course load
Maintain a 2.00 GPA
Canadian citizen
Demonstrate financial need (if not on government student loans, students may complete a bursary applcation process)
Application process
Complete a Work Study application through myTRU
Complete the application form and return to the TRU Students Awards and Financial Support Office for assessment. Out of province students, please attach a copy of your most recent loan document or a copy of an official notification of award from your home province.
A student finance advisor will assess your financial needs and eligibility for the Work Study program. Once approved, the eligibility form can be picked up from the Student Awards & Financial Aid Office by the student.
After obtaining the Work Study eligibility form, students can contact the supervisor of the desired position for an interview.
If hired, the supervisor signs the Work Study eligibility form and the student returns it to the Students Awards and Financial Support Office, and makes an appointment with a student finance advisor to complete paperwork. Bring a void cheque with you to the meeting.
Work conditions
Minimum wage with a maximum of eight hours per week (up to 240 hours or $2,500 for the academic year)
Contact
Phone: 250-828-5024
Fax: 250-371-5668
Email: awards@tru.ca
Location: Old Main 1631
For more information, visit Work Study
TRU Students' Union
The TRU Students' Union (TRUSU) provides a variety of services to all students of TRU to ensure students are valued and supported.
TRUSU hires about 24 students each year to work at the information booths, front desk and student-run coffee shops.
Most recruiting occurs during the summer and hiring takes place in late August. Jobs are posted throughout the year as positions become available.
Application process
Submit a resumé to the TRUSU student desk in the Campus Activity Centre, first floor.
Contact
Phone: 250-828-5289
Fax: 250-852-6350
Email: info@trusu.ca
For more information, visit TRUSU
Teaching Assistants (GTA and UTA)
Teaching assistants (TAs) work under the supervision of a faculty member.
To be eligible for the Teaching assistant position, students must meet the following criteria:
Undergraduate teaching assistant
Enrolled in an undergraduate program at TRU
Completed at least 50 percent of their current program of study
Enrolled in at least 3.0 credits for the semester in which they would be employed
A minimum GPA of 3.5
Demonstrate English language proficiency
Graduate teaching assistant
Enrolled in a graduate degree program at TRU
Must be in good academic standing
Demonstrate English language proficiency
Application process
The teaching assistant opportunity will be advertised in the relevant department as well as in Career and Experiential Learning
Once hired, the student TA must complete paperwork to let HR know who has been hired, initiate the payroll process, and inform IT for email access. Forms can be accessed by the faculty member through: One TRU or by emailing hrofficers@tru.ca
NSERC/ SERC Grants
Faculty members vie for funding from a variety of sources to engage in research. Often they will hire upper-level students to assist with this research.
At any given time there are 20-25 students engaged in research work on campus.
Application process
Students will typically apply directly to individual faculty members who secure research funding. These positions are contract positions so they are technically outside of TRU collective agreements.
U-REAP Program
U-REAP provides an opportunity for talented undergraduate students to engage in original, independent research, scholarship and the production of creative works. About 25-30 students participate each year, and the standard award is $6,000 over the course of the project, which will be in the form of a scholarship.
Eligibility
Enrolled in an undergraduate program at TRU, and be taking a 60% (full-time) course load.
Completed a minimum of 60 credits of undergradate studies at the time of application.
A minimum GPA of 3.2. Students who do not meet the GPA requirement may apply and are encouraged to include an explanation of the circumstances leading to a lower GPA.
Have a faculty member who is willing to supervise the project.
Must not have received a UREAP award in the past.
Must not hold a UREAP and an NSERC/USRA at the same time for the same project.
Application process
Call for proposals will go out at the beginning of each term for the following submission deadlines:

During the last week of October
During the second week of February (before break)

Student completes the application form submitted to the Office of the Associate Vice President Research and Graduate Studies
The adjudication committee reviews proposals
Successful applicants will be informed within one month of the submission date
For more information, visit U-REAP award program page. Here you will find deadline dates, the application process and more.
Service Learning Non Paid
Service Learning provides students (both individuals and cohorts of up to five students) with faculty supervised opportunities for civic participation and community involvement. Service Learning carries elective credit: third- and fourth-year students may take count up to six credits of Service Learning toward their degrees; with departmental approval. Service Learning courses that are directly related to the students program of study may be used to satisfy majors requirements.
Trades Students
Meet with us to gain the tools you need to find a job. One-on-one sessions are tailored specifically for you — you will walk out of our office with strategies that you can use immediately to help you find work. Our faculty are working directly with employers who want to hire you. Come and talk to us, and we can share insight on their strategies.
Employers we are currently working with include: