Elders
Elders hold a significant role in Secwepemc society. As role models, and through the use of storytelling, Elders pass on knowledge of history, language, and culture. Elders today hold roles and remain respected as essential teachers, caregivers, and advisors in their communities.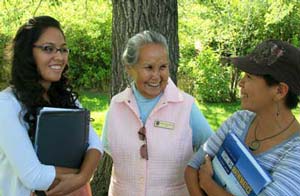 Elders at TRU are available to provide consultation to faculty and staff, visit classrooms, and to speak or provide prayers, drumming, or song at events.
To contact an Elder, or to make arrangements to have an Elder visit your classroom or an event, please contact Misty Antoine at Aboriginal Education: 250-828-5227.
---
Our Elders
Estella Patrick Moller
Estella is 71 years old and is from Nakazdli First Nations in Fort St. James. Estella has 5 siblings: Norman, Irene, Shirley and the twins, Patsy and Raymond. Estella is a fluent speaker of the Carrier language and loves sharing her knowledge of the Carrier traditions, ceremonies, and women's ways.
Estella is a very active individual who enjoys a variety of hobbies. Books, sewing skirts, pow wows, gatherings, hiking and trying new foods are just some of the things she does on a regular basis.
Estella is a strong believer in the healing properties of medicine and meditation and so enjoys gathering various medicines and making medicine bags. Because of this, Estella can often be found meditating on the mountains surrounding Kamloops. Estella is a true joy around Cplul'kw'ten with a passion for learning and sharing her knowledge and helping the students to focus on their own personal development.
---
Mike Arnouse
Mike had the unfortunate experience of attending the Kamloops Indian Residential School (KIRS) until his grade 11 year and is willing to share the truth of his experiences there. Mike is also open to sharing issues surrounding the government, cultural ceremonies and Aboriginal protocol.
Mike is known for being very humble, welcoming and respectful, with a real passion for sharing his knowledge about the history of Aboriginal people and the teachings of the ancestors. Everyone at Cplul'kw'ten feels very fortunate to have Mike at TRU because he acts as our own spiritual advisor through sharing his knowledge of songs, ceremonies and smudges.
---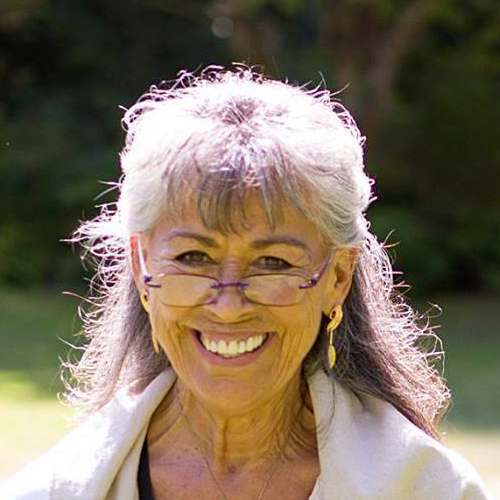 Margaret Vickers-Hyslop
Dr. Margaret Vickers Hyslop is from the territories of the Tsimshian & Heiltsuk people. She was a founding member of the BC Native Indian Teachers' Association & Counselor at Camosun College, Victoria, BC in the 1970s. In 1991 UVIC bestowed an Honorary Doctorate of Laws in recognition of 20 years working in First Nations Communities. Margaret has worked as a teacher, counselor & therapist over the past 40 years. Dr. Vickers Hyslop has endeavored to 'bridge the gap' between dominant culture and indigenous communities in Western Canada and the Southwest USA.