Fill it Forward
It's time to start reusing with the TRU Fill it Forward programs. TRU has two Fill it Forward programs running:
Water refill
Hot beverage reuse
Connect your reusable mug, cup, or bottle with your smart phone to Fill it Forward, track your reuse, and work towards rewards.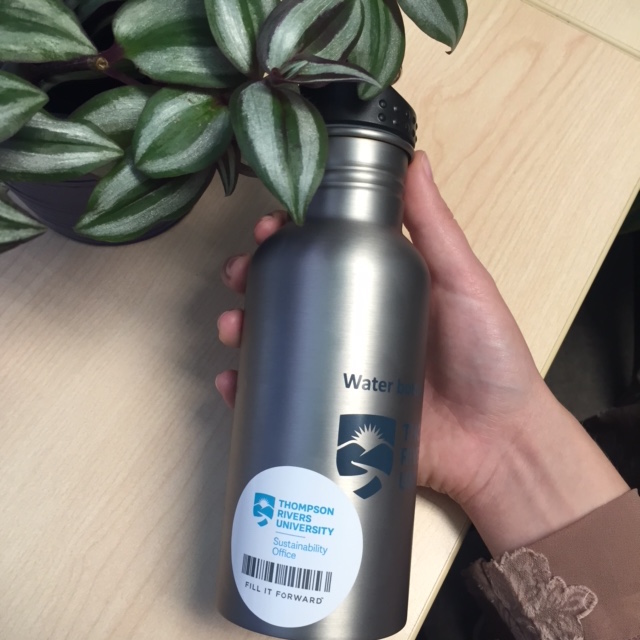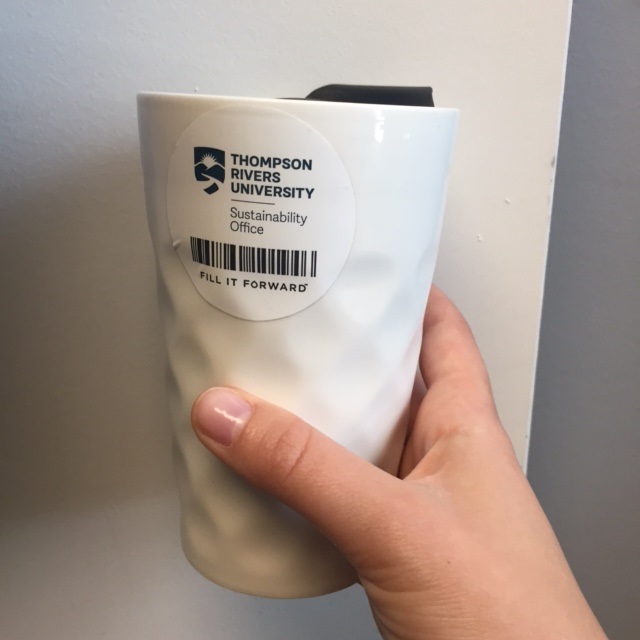 Left: teal water barcode for refilling your water bottle. Right: dark blue hot beverage barcode for refilling your mug. Start scanning and reusing.
This innovative program lets you see the impact you have on the environment by using reusable beverage containers rather than single-use cups. Fill it Forward is a Canadian born movement that links your beverage container to an interactive app experience that you download onto your phone. Every time you refill your bottle, cup, or mug you scan your Fill it Forward tag and a cup of water is donated to a water charity project through the organization WaterAid on your behalf. In addition, with every reuse you will be entered into draws for sweet prizes, and have the opportunity to work toward free beverages at select coffee shops on campus.
Water refill
Identified by teal tags. Stick a tag on your water bottle and scan it every time you refill your bottle. Water will be donated to charity with every scan and you will be entered into a biweekly draw prize for a $15 TRU Food Services gift card through the Sustainability Office.
Hot beverage reuse
Identified by dark blue tags. Stick one of these tags on your favourite mug that you fill up with tea or coffee and scan the tag every time you enjoy a hot beverage. When you scan your dark blue tag you are entered into a bi-weekly draw for a $15 TRU Food Services gift card through the Sustainability Office.
Where to pick up your Fill It Forward stickers:
Visit the following campus locations:
TRU Bookstore
Student Services in Old Main
TRU World Desk
Get Started
Grab a tag (teal for water bottles, dark blue for hot beverages)
Put the tag on the bottle you will use for that respective program
Download the Fill it Forward app from an app store: Apple App Store or Google Play
Start donating water by scanning the tags with the Fill it Forward app every time you refill.
Restrictions
There is a 30-minute cool-down period between scans to prevent misuse. The app will let you know when you can scan again. Maximum number of scans per day is 10.


Lug A Mug
All vendors on campus offer coffee discounts when you bring your own reusable mug:
The Den, U&M Deli/Bento Sushi, Urban Market, Scratch Café & The Workbench offers a $0.25 discount
Common Grounds at TRUSU offers a $0.50 discount
Tim Hortons, Starbucks, Subway offers a $0.10 discount
---