Business Menu
Gaglardi Student Ambassador
The Bob Gaglardi School of Business and Economics Student Ambassador program is designed for a select group of business students to help enhance the TRU Gaglardi student experience on and off-campus.
We are looking for Gaglardi Student Ambassadors (GSAs) to provide key support during TRU Gaglardi events, produce engaging content on TRU Gaglardi's social media pages, and whatever else possible to create a holistic and engaging experience for our student community on campus and around the world.
We encourage students with a strong academic record, critical thinking skills, communication skills, organizational skills, and leadership skills to apply. Upon completion of the program, Gaglardi Student Ambassador will receive a financial award, and gain professional skills that will aid them in the future.
GSA duties may include:
Social Media
Connect with faculty and students to interview them for stories (updates on research, special achievements).
Complete 1 blog post per month and promote it on social media in creative formats, including graphics and video/audio
Provide content for 1 'day in the life' social media takeover during the semester
Maintain a personal presence on Twitter, Facebook, Instagram, and LinkedIn, and be comfortable responding to inquiries, questions, and discussions as directed by TRU Gaglardi Supervisory Staff, (i.e. hashtags, branded pages, and incoming student groups)
Provide content for important days and events around campus
Attend other TRU Gaglardi and TRU events and help promote them on social media
Events
Help generate ideas for and coordinate monthly TRU Gaglardi events
Provide assistance for TRU Gaglardi events planned by TRU Gaglardi faculty and/or staff
Connect with TRU Gaglardi-related TRUSU Clubs
General:
Work closely with staff, faculty, and other GSAs
Relay questions, concerns, and ideas to the GSA Coordinator, Communications & Engagement Coordinator, and Events & Marketing Assistant.
Attend bi-weekly, 1-hour meetings with the TRU Gaglardi GSA Team
Attend a monthly one-on-one meeting with the TRU Gaglardi Supervisory Staff, where you can discuss ideas, feedback, and receive coaching
Communicate with the TRU Gaglardi GSA Team via email, MS Teams, and in-person
Complete a bio for the TRU website and TRU Gaglardi social media
Use your existing connections and your networking skills to build and strengthen TRU Gaglardi's partnership with clubs and other organizations
Uphold TRU's COVID-19 guidelines and maintain professional conduct within TRU and the Kamloops community
Provide assistance with other duties as requested by the TRU Gaglardi Supervisory Staff
Skills and Qualifications
Must be a full-time student (minimum of nine credits undergrad courses or six credits graduate courses) at TRU for the semester appointed as GSA
Must maintain good academic standing throughout the semester
Be able to commit to 65 hours over the semester which may include up to 10 hours in a given week (as discussed with your supervisor ahead of time)
Demonstrated experience with event planning and/or
Active social media presence and experience with digital publishing platforms, including but not limited to, Facebook, Twitter, Instagram, LinkedIn, and Youtube. Bonus if you are active on WeChat.
Basic knowledge of social media, graphic design, photography, and video production
Strong interpersonal, verbal, and written communications skills
Project management skills such as organization, file, and document management T
Training (Mandatory)
You must attend a minimum of 7 hours of training that will be provided (details to be shared with the successful candidate(s)
Benefits and Opportunities
A financial award of $1,000
Increased exposure to TRU faculty, alumni, and the business community
Professional development (including a recommendation letter upon request)
Make an impact as a voice of TRU and influence prospective students' decision to apply and attend TRU
Become a TRU Gaglardi Student Ambassador
For more information about becoming a Future Student Ambassador, email the TRU Gaglardi Communications and Events Office at SoBEevents@tru.ca.
2022 TRU Gaglardi Student Ambassadors



Bianca Aguinaldo
Bianca is a highly engaged and active student at Thompson Rivers University (TRU), where she is currently in her fourth year pursuing a Bachelor of Business Administration (BBA) degree with a major in Accounting. In addition to her academic pursuits, she is also involved in several extracurricular activities on campus. She serves as a Study Abroad Ambassador, and is a member of TRUSU Eco Club, TRU UNICEF Club, and TRUSU Taxation Club.
These experiences have allowed her to develop a variety of skills, such as leadership, networking, and teamwork, that will be valuable to her in her future career. Bianca's advice to other students is to take advantage of the opportunities available to them at TRU by getting involved in co-curricular activities, such as clubs and networking events. She also encourages students to find passion in what they do, and to enjoy their time at university. According to Bianca, if you are enjoying yourself and are passionate about your activities, you will be more motivated to persevere and achieve your goals.
Outside of university, Bianca has a strong interest in traveling and meeting new people. She is an outgoing and approachable person and welcomes the opportunity to connect with others on campus. You can connect with Bianca on Instagram and LinkedIn if you would like to know more about her.




Vallankan Mendonca
Re-introducing Vallankan Mendonca, one of the members of the Gaglardi Student Ambassador team for the upcoming winter semester.
Vallankan is a first-year post-baccalaureate student in International Business and is excited to continue his term with us. He has a passion for writing, event planning, and bringing out the best in people. In addition to his role as a Student Ambassador, Vallankan is actively involved with TRU Women in Business Club and Kamloops Pride as a Board Member and Administrative Assistant.
Vallankan's advice to fellow students is to "Push yourself beyond limits and you'll be surprised at how far you can go." In his free time, you can find Vallankan playing table tennis, watching a movie, and showcasing his witty humor.
As a GSA, Vallankan is eager to contribute to the TRU community and make a positive impact on student life.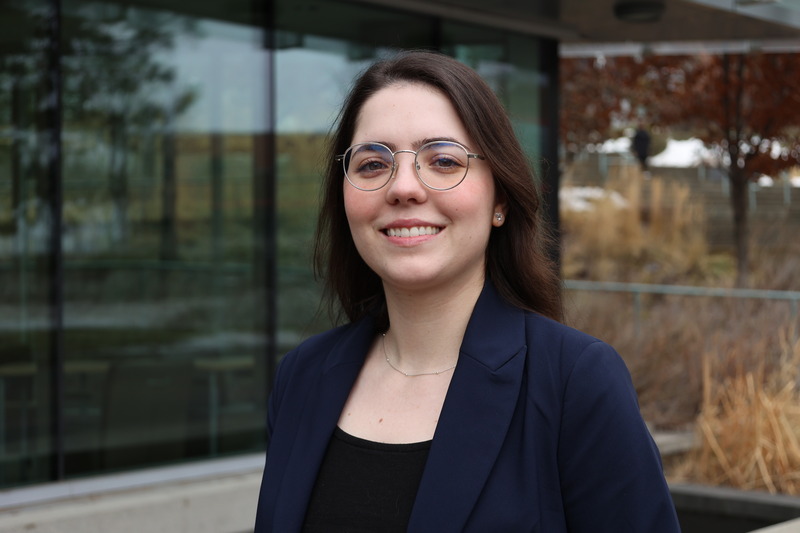 Patricia De Siqueria
Say hi to our Winter semester Gaglardi Student Ambassador (GSA), Patricia De Siqueira!
Patricia is a second-year postbaccalaureate in Human Resources Management, as well as the President of the Human Resources Management Club (@tru_hr_club), and CPHR Student Ambassador for @cphrbc. She was also previously a Social Media Ambassador for @truworld, and Sustainability Ambassador for @trusustain.
Born and raised in São Paulo, Brazil, Patricia brings a diverse perspective to her role. She is deeply committed to helping students reach their full potential by providing guidance and mentorship.
In Patricia's words, 'My advice for students is to take advantage of every opportunity presented to you. Whether it be networking events, clubs or even just a class you're not sure about, you never know where it might take you. Always be open to new experiences and make the most of your time at university.'
Reach out to Patricia with any questions or ideas. You can also connect with her on LinkedIn and here @pat_siqueira22.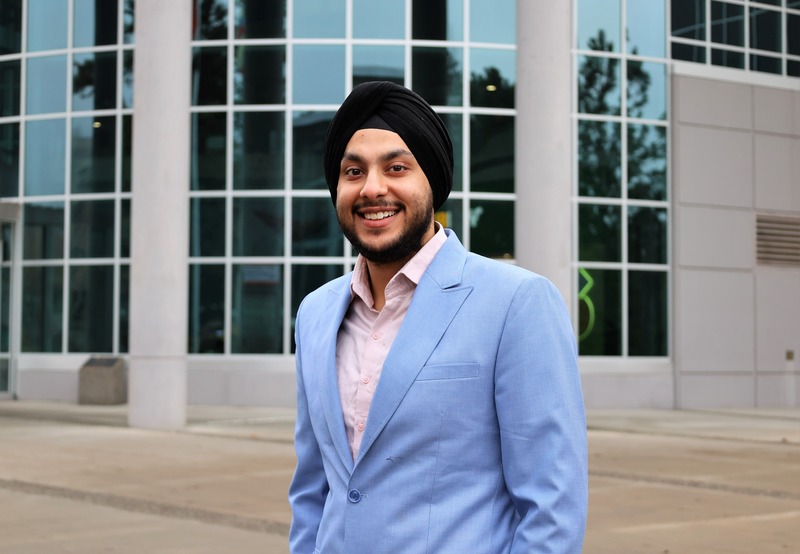 Jaideep Taneja

It is with great pleasure that we introduce Jaideep Taneja, the latest addition to the Gaglardi Student Ambassador (GSA) team for the upcoming Winter 2023 semester.
Jaideep is a first-year MBA student who brings with him a strong passion for building relationships, honing his communication skills, and networking. He is known for his personable nature and constant drive to grow, both personally and professionally. His passion for teamwork and community building provided Jaideep had the opportunity to represent #TRUGaglardi at the 2022 BC MBA Games.
One of Jaideep's guiding principles is reflected in his favorite quote, inspired by Indian athlete Milkha Singh, which states, "Hard work, willpower, and dedication - these qualities can take a person to great heights."
As a GSA, Jaideep advises new students to fully embrace the university experience and make lasting memories. He also stresses the importance of striking a balance between academics and personal life, which he achieves through regular physical activity and meditation. When not focusing on his studies, Jaideep can be found playing badminton or tennis or enjoying social outings with friends. He believes that these activities not only help to de-stress but also help to build strong relationships with friends and colleagues.
We are confident that Jaideep's passion, dedication, and drive will be an asset to the GSA team, and we look forward to his contributions throughout the semester.

---
More information