Committee Members
TRU Romeo offers an efficient, paperless system for reviewing, commenting and approving applications for ethics/biohazard certification and grants that require internal adjudication.
Login to the Romeo Researcher portal using your email address and password information. Please refer to the Registration section for further information on how to obtain an account.
If you are a member of a committee that is managed through the Romeo system, you will have a third box appear on your TRU Romeo home screen called "Role: Reviewer."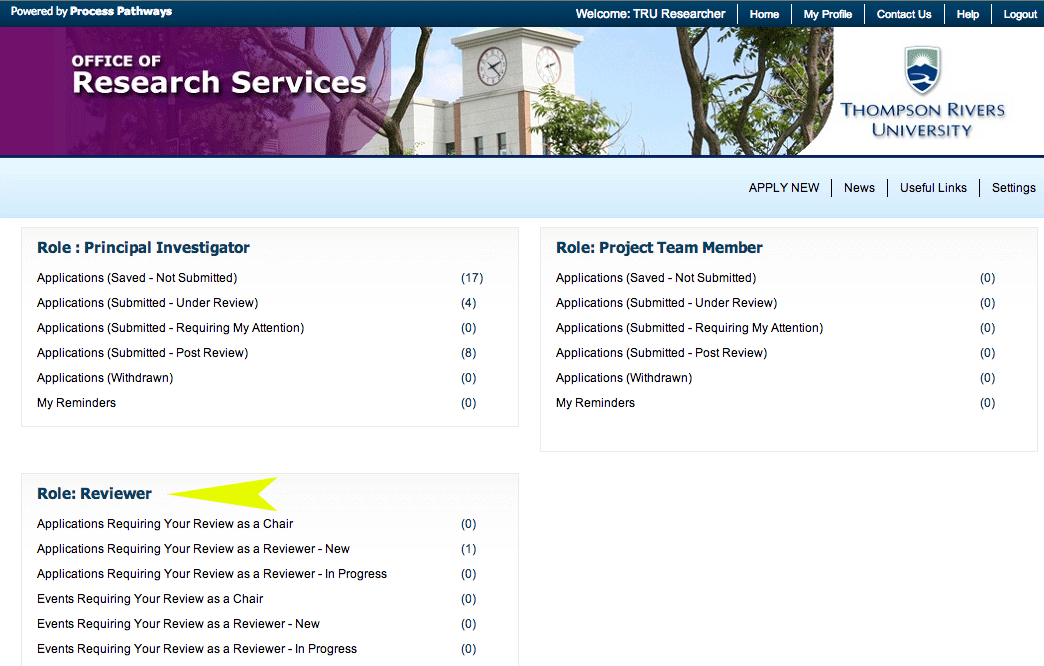 This box contains links to Applications and Events requiring your review as reviewer and/or chair.
NOTE: The term "Applications" refers to NEW or IN PROGRESS reviews while the term "Events" refers to NEW or IN PROGRESS amendments, renewals, etc.
When an application has been sent to you for review by a Research Office administrator, you will receive email notification with the subject line: "You have been assigned as a reviewer." To review the file:
1. Click on the appropriate link under "Role: Reviewer" and choose the file you wish to review.


2. Click "View" — this will bring up the application for your review.
3. Once you have reviewed the application, click Review.

4. Type your comments on the file in the box provided and submit. Your comments will be added to the comments of other reviewers and submitted to the committee chair for review and approval or request for modifications/further information.
IF you are viewing an event and wish to see the original application, Click on the View Application button and view the original submission documents under the Attachments Tab.