History Major, Bachelor of Arts
Shape our future as a modern historian—by learning from our past—with an extensive knowledge of humanity's recorded events and ideologies.
The past shapes our world. It determines the constraints and the possibilities of our aspirations, individually and as a society. As more than black and white facts, history is a dynamic discipline built on analysis, interpretation and debate. Through the study of our records, you'll develop a cultural vocabulary that examines humanity through events, recorded perceptions and cultural context.
History stretches across all cultures, environments and eras as a constant consideration that can be called upon for insight into how we got here, and how we will develop in future. Look back to look forward with a beacon of yesterday's knowledge for tomorrow's biggest ideas.
Why pursue a History Major, Bachelor of Arts?
A history degree is not limited to a single career path. It can lead to a variety of professions. History graduates find jobs with governments, in education, technology and administration.
Future proof
You will cultivate the skills that employers are looking for in communication, decision-making, critical thinking, problem-solving, self-learning, working with groups, leadership, global competency, ethics and the ability to apply knowledge in real-world settings.
Experiential learning
Rather than just memorizing facts and timelines, you will experience the past brought to life through dynamic lectures, historical reconstruction and unique research projects. Because employers look for entry-level candidates with some work experience, you have opportunities at TRU in undergraduate research, co-op work placements, practicums, field schools, service learning and study abroad.
Expansive choice
You can explore the history of education, the history of science, of terrorism, of art, of the environmenl, social history, religious history and even the philosophy of history. Looking at borders and continents, you will study European, American, Canadian and more, all within one program.
Collaborative faculty
Your lecturers approach teaching with compassion for their students and truly foster a productive learning environment. Enjoy lively classes with enthusiastic professors, and active listening in smaller class settings.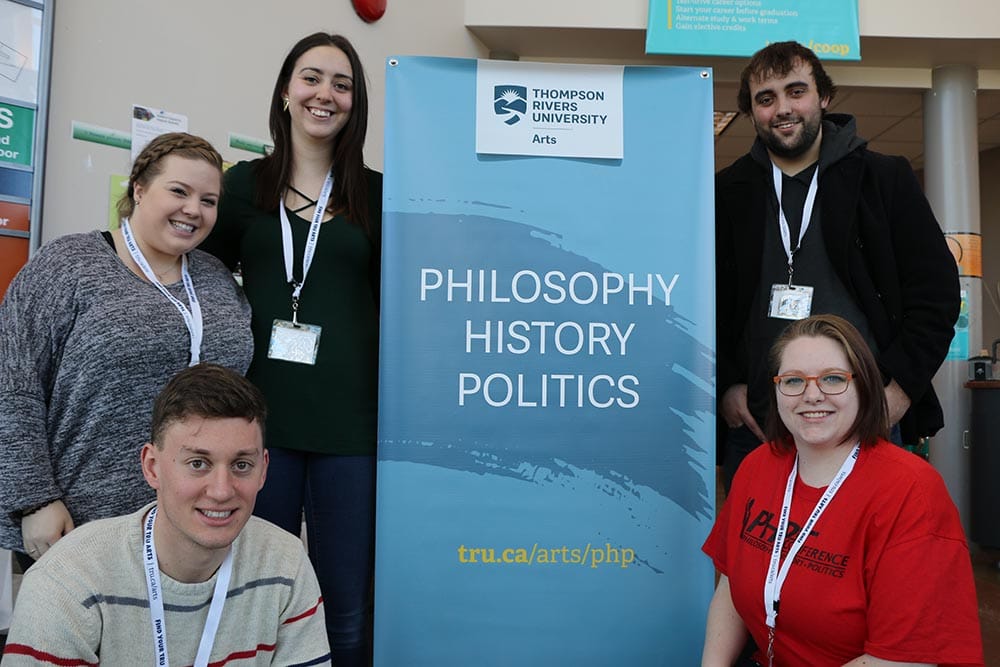 What will I learn?
You'll learn how to confidently organize and classify extensive data.
Explore aspects of the historical experiences of Indigenous peoples in what is now Canada. Consider North American cultural history through the lens of crime and the legal system. You'll survey the history of the United States from the Civil War to the present, with an emphasis on the principal forces affecting the development of a distinctive social and political culture in the United States.
Learn about immigration and ethnicity, war and society, environmental history, religion, sexuality, Aboriginal history, state formation and popular culture. You'll also examine the practice of history, and the history of history: How the study of the past has changed over time. What do historians do, and why do they do it? What is the purpose of history? What is historical evidence, and how is it used?
100%

of graduates said that said the quality of instruction was very good or good

76%

of employed graduate respondents were working full-time

80%

said the knowledge and skills gained were useful in performing their job
How the program works
In addition to requirements for the History Major, students must meet TRU's General Education requirements and requirements for majors in the Faculty of Arts.
Students typically declare their major before the end of their second year of courses. All candidates must meet the Major Program Advisor to go over the program requirements and the selection of appropriate courses to complete their History Major.
Before students can declare their major they must have met the admission requirements for the B.A. As well, they must have successfully completed no fewer than 9 credits in lower-level History courses, either at TRU or at other accredited institutions.
Students must take 30 credits in History courses numbered between 3000 and 4990, including History 3000, History 4280, and cross-listed courses from other disciplines.
Entrance to any 4000-level course requires no fewer than three credits in 3000-level History courses.
All Major in History students must take History 3000: The Historian's Craft in their third year.
All Major in History students must take the History Capstone Course in their final 30 credits, HIST 4280.
Of the thirty credits required of the Major in History, at least nine but no more than fifteen upper-level credits must come from one of the geographic fields (i.e.: British and/or European, American, and Canadian).
Of the thirty credits required of the Major in History, at least three upper-level credits must come from courses in each geographic field (i.e.: British and/or European, American, and Canadian).
Of the thirty credits required of the Major in History, at least nine must be taken at the 4000-level, including HIST 4280.
Of the forty-two lower and upper level credits in History required of Major in History students, no fewer than six must be from Canadian History.
Students are strongly encouraged to include in their programs material from both before and after ca.1800.
Credit toward the Major in History Program is also given for successful completion of Philosophy 4190.
Open admission
Apply to Bachelor of Arts
Grade 12 (or equivalent) or mature student status
English Studies 12/English First Peoples 12 with a minimum of 73% (or equivalent)
Admission to each major program may have specific requirements.
Recommended: Foundations of Mathematics 11 or higher is strongly recommended for students pursuing Education or a major in Geography and Environmental Studies, Sociology or Psychology
Career Options / Laddering options
Where will this degree take me?
You'll develop excellent analytical, organizational and communication skills, and will be prepared for a wide variety of careers. These skills are invaluable to employers in many fields:
Law
Education
Government
Business and industry
Communications
Social services
Museums and historical organizations
Cultural resources management and historic preservation
Historians as educators
Teach in elementary, secondary or post-secondary schools
Educate at historic sites and museums
Historians as communicators
History Majors go on to become writers, editors and journalists
Documentary editors and producers of multimedia material
Historians as information managers
Roles as archivists and records managers
Librarians and information managers
Historians as advocates
Lawyers, paralegals and litigation support
Legislative Staff and consultants at foundations
Laddering options
Many History Major graduates go on to graduate or professional school programs in history as well as other fields such as museum studies, law, library science, business administration, teaching, education and more.
At TRU, you can ladder into the Master of Education.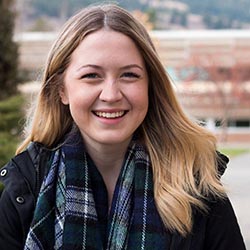 Being a part of the history program has helped me appreciate history in an entirely new way. Instead of always considering the past, I now think about the present and how it will be studied in the future when it becomes history."
— Jenna Churchill, History Major, graduating in 2021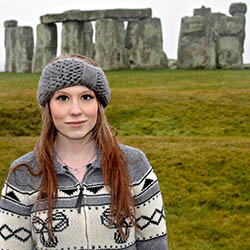 My professors' reassurance and willingness to help during office hours helped me succeed and achieve my academic goals."
— Shelley Gentry, History Major, Bachelor of Arts Graduate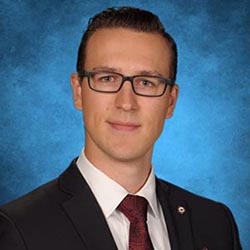 What stands out to me about TRU is the incredibly welcoming environment which breeds student opportunity not only within the classroom but within the university's entire environment. For the first time in my post-secondary educational journey, I found myself glued to my seat, ever fascinated by the historical picture the lecturers were painting. I became inspired to be a learner again, especially because of Dr. Gorman in the History program."
— Nolan Chapman 2018 BEd Graduate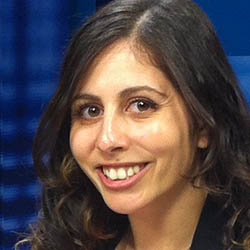 TRU's program prepared me to be the best storyteller possible by helping me with writing, research, and critical thinking."
— Francesca Lucia, History Major, Bachelor of Arts Graduate
Tina Block, Associate Professor
"As a social historian I'm interested in understanding the lives of ordinary people — how people worked and played and engaged in family relations and friendships. How did unbelief fit into that — or did it? Was unbelief something that became significant only at certain points in people's lives? How important was unbelief in the day-to-day lives of individuals?"
Wilson Bell, Associate Professor
"I hope that eventually my research will be superseded by many other people who carry the work forward. I have been fortunate to be one of a handful of people pioneering the field of Gulag studies, and if I'm one of the people that helps this important subject matter be better known then I will have done some good work."
Tina Block, Associate Professor
"Many students come into my classes with the assumption that Canadian history is boring. I love trying to change their minds, and encouraging them as they learn and share new knowledge about the complicated past of what we know of as Canada."