Modern Languages Certificate (French)
Benefit from advanced training in French as an invaluable linguistic asset in Canada and beyond.
Regardless of your career choices, your language skills are in demand as French is the official language in 29 countries across multiple continents. Immerse yourself in learning French to improve your verb conjugations, conversation skills and join 274 million other people speaking French fluently across the globe. Access French and intercultural skills through a combination of lively courses, field school opportunities and immersive study abroad options.
French is one of the world's most spoken languages and so employers in all fields appreciate that to be competitive and successful, their companies and employees must champion an increased knowledge of the language. Navigate the global marketplace as a multi-language communicator and you'll communicate more effectively with contacts worldwide, demonstrating a higher respect for the interrelation of language and human nature.
Why pursue this certificate?
International careers open up
Globalization and remote work is affecting how people live and labour. You already know that multi-language proficiency is a tremendous asset. You can pave your own way in an international career with a global future. In-depth knowledge of a second language like French enhances cognitive skills and prepares you to troubleshoot an array of unseen challenges.
Share and speak
An interactive approach gives you interdisciplinary skills in oral and written communication, including literature and culture. Our professors use a variety of delivery methods to accommodate different learning styles and foster quality teaching through the sharing of teaching ideas, resources and experiences.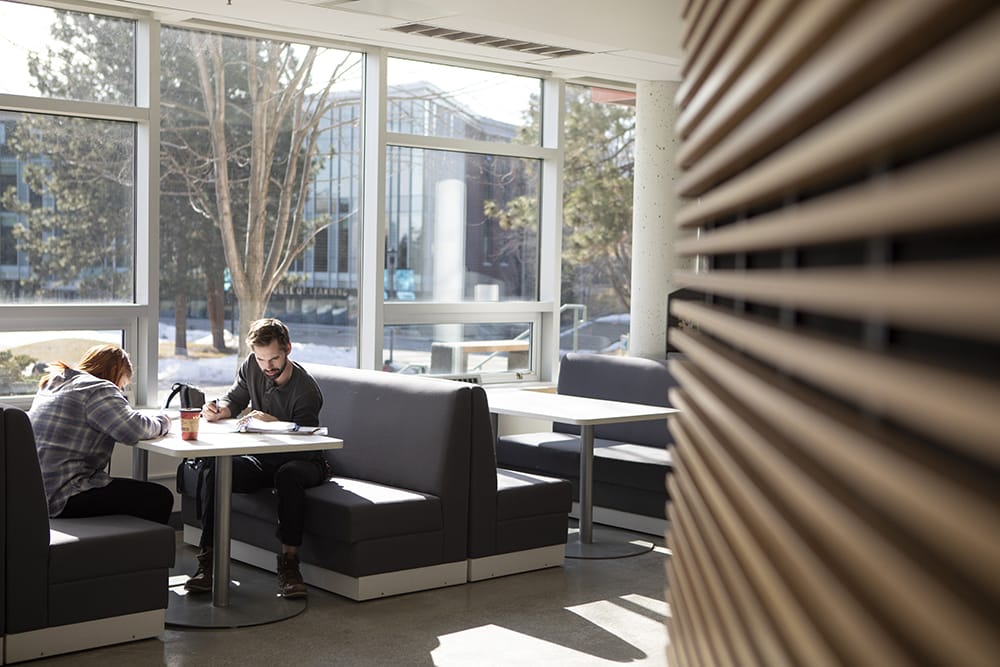 What will I learn?
To the lab!
Take advantage of our language lab — the core of our program. Serving not only as our star teaching resource but also as a focal point for your learning and information sharing about language-related issues and opportunities. Thirty digital workstations allow for instruction inside the tech space, and provide access to a number of valuable online resources. Record and listen to your voice, gaining hours of oral practice.
Francophone field school
Learn on a global scale and mix adventure with education! Take a three-credit course offered abroad for the learning experience of a lifetime. Each field school destination is chosen to suit the course learning outcomes and materials. Go beyond the classroom and enhance your learning through day trips and immersive cultural experiences.
92%

of graduates said that said the quality of instruction was very good or good

100%

were working full-time

100%

said the knowledge and skills gained were useful in performing their job
How the program works
FRAN 2110/2210 Intermediate French 1 and 2.
FRAN 2310/2410 Advanced Intermediate French 1 and 2.
FRAN 3110/3210 Advanced French 1 and 2.
Plus any two other approved modern language courses at the 1000 level.
24 credits of French and other languages
What you need to get in
Open admission
Grade 12 (or equivalent) or mature student status
English Studies 12/English First Peoples 12 with a minimum of 73% (or equivalent)
If you don't meet the requirements
You can take upgrading courses at TRU to help you meet the requirements of this program.
» Talk to a student recruiter about your options. You may be eligible for free tuition. Or learn more about upgrading.
Career Options / Laddering options
Because Canada is an officially bilingual country, Québec is a French–speaking province, and fluency in French is a huge advantage for any career you pursue in Canada or abroad, your career options blossom with this additional language.
Careers for language proficiency include:
Public relations and marketing
Professional writing and journalism
Overseas business representatives
Instructors and teaching assistants
Non-governmental organizations and non-profit workers
Court interpreters
Translators and translating techs
International legal workers
Recent graduates have been employed in a variety of fields including translation, education, governmental and non-governmental organizations.
Laddering options
I love the multiculturalism in the classroom, being in class with people from all over the world."
— Zander Buchanan, languages student
Taking language courses was a really nice way to round-out my education. French is such an important language on the other side of Canada, and I was really grateful to improve my French at TRU before moving to Québec."
— Tatiana Fedotova, French student
If you value cultural exchange, quality education and outdoor activities, TRU is a place I recommend. Studying a new language and culture has widened my view in both the physical and human features of geography."
— Richmond Yu, languages student