Psychology Major, Bachelor of Arts
Needed now more than ever, pursue a career in a field that relates to virtually every aspect of people's lives.
You'll scientifically study thought, feeling and behaviour. Gain critical thinking skills, and be able to analyze and interpret diverse sets of data.
Change through education is at the centre of our Psychology Major. By participating in classroom discussions, readings, guided research and independent study, you will gain a comprehensive understanding of the tools needed to analyze psychological and biological processes and more.
Why pursue a Bachelor of Arts, Psychology Major?
Employers overwhelmingly identify a deficit in critical thinking, problem-solving, and research skills, and are in need of employees with good oral communication skills, able to effectively work with others.
Future Proof
You will cultivate the skills that employers are looking for in communication, decision-making, critical thinking, problem-solving, self-learning, working with groups, leadership, global competency, ethics and the ability to apply knowledge in real-world settings.
Experiential Learning
And because employers want entry-level candidates with some work experience, you have opportunities in undergraduate research, co-op work placements, practicums, field schools, service learning and study abroad.
Collaborative Faculty
Your lecturers approach teaching with compassion for their students and truly foster a productive learning environment. Enjoy class with enthusiastic professors, and active listening in small class settings.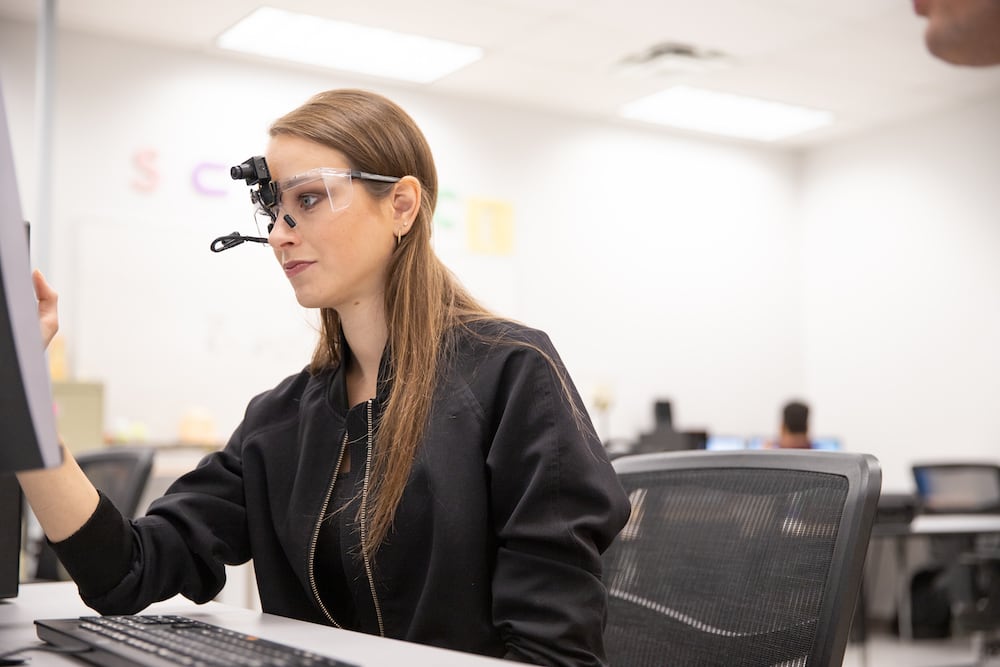 What will I learn?
You'll explore selected topics in contemporary psychology, including intelligence, development, personality, social psychology, emotion, motivation, and psychopathology. Gain conceptual and practical knowledge of the types of data analysis most commonly used in psychology.
Consider the relationship between psychological and biological processes. The anatomy of the brain and neutral activity as well as the endocrine system as it relates to the sensory and motor abilities, learning and memory, language, motivation, states of consciousness and sexual behaviour.
You'll examine the major theories of personality formation, including psychodynamic, cognitive, humanistic, and behavioural approaches. You're provided an opportunity to relate this material to personal growth and development.
Study psychopathology from historical, contemporary and cross cultural perspectives. Consider evolving models and issues including biological, psychological, and social behavioural approaches to assessment, causes, and treatment of a wide range of disordered behaviour.
97%

of graduates said that said the quality of instruction was very good or good

73%

of employed graduate respondents were working full-time

73%

of employed respondents were in a job related to their program
Taken from bcstats.
To graduate with a major in psychology, students are required to complete a minimum of 54 credits of Psychology courses, comprised of 21 lower-level credits (7 courses) and 33 upper-level credits (11 courses), as described below.
In addition to the requirements for the major in Psychology, students are expected to complete requirements for the BA degree. (120 credits)
Students will complete PSYC4280 - the Psychology Capstone - during the last 30 credits of their degree.
Students must also complete the University's General Education requirements, including the completion of the capstone course, which must be taken in the final 30 credits of study.
Lower level required courses (15.00 Credits)
PSYC1110-Introduction to Psychology 1 (3)
PSYC1210- Introduction to Psychology 2 (3)
PSYC2100-Analysis of Psychological Data (3)
PSYC2110-Intro to Research Methods (3)
PSYC2040-Introduction to Biological Psychology (3)
6 credits chosen from the following 2000 level courses: (6.00 Credits)
PSYC2120-Introduction to Personality (3)
PSYC2130-Introduction to Developmental Psychology: Childhood and Adolescence (3)
PSYC2160-Intro to Abnormal Psychology (3)
PSYC2210-Introduction to Cognition (3)
PSYC2220-Introduction to Social Psychology (3)
PSYC2230-Introduction to Developmental Psychology: Adulthood and Aging (3)
Lower level elective Psychology courses:
Students may self-select from the following other 2000-level courses, not required for the Major: (0)
PSYC2050-Drugs and Behaviour (3)
PSYC2300-Human Sexuality (3)
PSYC2910-Research Apprenticeship (3)
Upper level requirements (Credits)
Students majoring in Psychology will complete 33 upper level credits in Psychology distributed as follows: (0)
PSYC 4280 Psychology capstone (under development) (3)
Category A (minimum 6 credits)
Student complete at least 6 credits from courses designated Category A from the following list: (0)
PSYC3000-Psychiatric Clinical Disorders (3)
PSYC3010-Disorders Across the Lifespan (3)
PSYC3020-Infancy (3)
PSYC3030-Psychological Testing (3)
PSYC3080-Social Psychology (6)
PSYC3100-Clinical Psychology (6)
PSYC3110-Clinical Psychology: Theories and Systems of Psychotherapy (3)
PSYC3140-Health Psychology (3)
PSYC3150-Childhood and Adolescence (3)
PSYC3200-Personality (3)
PSYC3220-Adulthood and Aging (3)
PSYC3250-Community Psychology (3)
PSYC3360-Psychology of Language 1 (3)
PSYC3380-Psychology of Emotion (3)
PSYC3400-Psychology and the Law (3)
PSYC3410-Forensic Psychology (3)
PSYC3720-Special Topics in Psychology 2 (3)
Category B (minimum 6 credits) (Credits)
Student complete at least 6 credits from courses designated Category B from the following list: (0)
PSYC3060-Principles of Animal Behaviour (6)
PSYC3230-Conditioning and Behavioural Control (3)
PSYC3390-Human Neuropsychology (3)
PSYC3510-Visual Processes (3)
PSYC3520-Auditory, Tactile, and Chemical Processes (3)
PSYC3540-Cognition: Attention and Memory (3)
PSYC3550-Cognition: Language and Thought (3)
PSYC3560-Psychopharmacology (3)
PSYC3570-Neuroscience of Motivation & Emotion (3)
PSYC3580-Neuroscience of Learning and Memory (3)
PSYC3710-Special Topics in Psychology 1 (3)
Other upper level courses
Students majoring in Psychology will complete the remaining 18 upper level required credits by choosing from courses from Category A or Category B or the following options: (0)
PSYC3240-History & System of Psychology (3)
PSYC3610-Research Methods and Statistics for Psychology (3)
PSYC4210-Advanced Topics in Psychology (3)
PSYC4220-Advanced Topics in Applied Psychology (3)
Upper level elective Psychology courses
Students may self-select from the following other 4000-level courses, not required for the Major: (0)
PSYC4100-Advanced Research Apprenticeship (3)
PSYC4400-Directed Studies in Psychology (3 - 6)
Open admission
Apply to Bachelor of Arts
Grade 12 (or equivalent) or mature student status
English Studies 12/English First Peoples 12 with a minimum of 73% (or equivalent)
Admission to each major program may have specific requirements.
Recommended: Foundations of Mathematics 11 or higher is strongly recommended for students pursuing Education or a major in Geography and Environmental Studies, Sociology or Psychology
All students in the psychology major are required to complete PSYC 1110, 1210, 2100, 2110 and 2040.
Students intending to major in psychology must see both a Psychology Major Advisor and a BA Program Advisor. The Major Advisor will assist each student in selecting courses that will satisfy the major program requirements. The BA Advisor will then ensure that all additional BA degree requirements are met.
If you don't meet the requirements
High school graduates can apply and be admitted to this program while upgrading at TRU.
Mature students without a high school diploma (or equivalent) can work towards completing their BC High School Graduation Diploma while in this program through TRU courses.
Students who do not qualify for mature student status can apply for the TRU University Preparation program to complete their BC High School Graduation Diploma.
» Talk to a student recruiter about your options. You may be eligible for free tuition. Or learn more about upgrading.
Career Options / Laddering options
Majoring in psychology is exceptional preparation for careers in the public sector and in non-governmental organizations, particularly with social services and research agencies.
Psychology graduates pursue the following careers
Addictions counsellor
Advertising and marketing
Career/employment counsellor
Case worker
Child care worker
Child welfare worker
Community worker
Correctional officer
Counsellor
Cultural diversity consultant
Customs or immigration agent
Day care supervisor
Gerontology
Government researcher
Health services
Hospice coordinator
Human resources
Immigration officer
Labour relations specialist
Market research analyst
Mental health worker
Population studies researcher
Probation or parole officer
Psychiatric assistant or aide
Public health statistician
Psychology professor
Research assistant
Social worker
Youth worker
You can also leverage your solid research, critical thinking and writing skills acquired as part of your degree into other careers and further education.
Laddering options
"I'd have to say the thing I benefited from the most during my TRU experience was all the opportunities TRU offers to learn and grow outside of the classroom, such as research and peer mentorship. There's so many different opportunities that you can gain from TRU and staff and faculty are always willing to support you through it all. There's a real sense of community at TRU."
—Rachel Cantin, Psychology Major Graduate 2019
"For me, the opportunity to help design research in areas that I have a deep interest in was what I most enjoyed from studying psychology at TRU. The department has truly inspiring professors who seem genuinely keen on blending their expertise with the topics and questions that students pursue in their undergrad."
—Kole Lawrence, Psychology student
"I thoroughly enjoyed my experiences in the TRU Psychology Program. Not only did I meet lifelong friends, but I was afforded the opportunity to attend the Association for Psychological Science Conference in New York. There, I learned about the relationship between psychology and law. In addition to these experiences, the Psychology Program has taught me skills that I continue to use to this day."
—Natalie Paul, 2015 BA, Major in Psychology graduate & 2018 Law Program graduate
"TRU provided me with a great foundation for my work as an occupational therapist— as OTs are the masters of the cognitive realm in the clinical world. I especially enjoyed the honours group and all of the conferences we attended. This granted me a boon of experience that was helpful in my masters! My experiences with Mike, Sandra and Catherine helped give me the confidence to seek out the right research partners later on. My degree from TRU was exactly what I needed to go on and succeed in a career and further studies."
—Lauren Leveille, BA Psychology Major, graduated in 2012
"The psychology program at TRU helped greatly to set me up for success in graduate school: each class, extracurricular activity, and interaction with faculty and staff meaningfully contributed to my knowledge, sense of self-efficacy, and motivation for the future."
—Karli Rapinda, BA, Major in Psychology graduate
Reaching and Grasping—the research of Jenni Karl, Assistant Professor of Psychology
"What's amazing about neuroscience research," says Karl, "is that you can do more than you ever imagined to advance the knowledge and understanding of the brain's functions as long as you're following ethical protocols; which means you can also discover ways to improve lives."
Heather Price, Associate Professor of Psychology, on Children's Participation in the Justice System
"The legal system isn't structured to accommodate the needs of children," says Heather Price, Tier 2 Canada Research Chair in the department of psychology at Thompson Rivers University. "In order for the justice system to be able to accommodate the needs of children we first have to understand what children's capabilities are; that way we can learn what needs to be adapted to improve a child's ability to provide legal evidence."
"Whether in the classroom or in the lab, what I love most about teaching is witnessing students connect with psychology—whether they have found a topic that is their passion, are feeling the satisfaction of having worked through a difficult challenge, or have stopped by my office to chat about research."
—Catherine Ortner on why she loves teaching