Nursing Menu
Practicum Placements
Nursing 3390 - International Consolidated Practice Experience (CPE3)
At the end of their third year, nursing students have an opportunity to complete a five-week international CPE, depending on host site availability. This experience replaces their usual year-end practicum. The chairperson of the Global Health Committee for nursing provides information on the application process. Approval is contingent on several conditions.
Since 1999 TRU nursing students have been to Nepal, Samoa, Thailand, and Lesotho. Students are always accompanied by TRU nursing faculty members. Preliminary site visits for countries considered for CPE are always completed by experienced faculty to determine suitability for practice for our students. Risk assessments are also done by qualified members of TRU World faculty.
Students are also provided guidance in cultural sensitivity and safety, and are also debriefed on their return from global health experiences.
Following their return, each group of students are expected to prepare a presentation about their experiences for students and faculty campus wide.
Nursing 3850 - Field Course in Global Health Development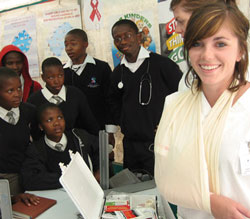 NURS 3850 focuses on global health development with a special emphasis on cultural, social, economic and political environments and their impact on health in a foreign country. Participants will integrate global health and community development perspectives in an international nursing context.
During pre-departure seminars, course participants will attend several lectures that will provide information about the country where the field school is located, theory on community development work, and related project information. Participants will travel to the chosen country for a two-week period, engaging in specific community development experiences to gain a better understanding of global health and community development in a foreign country.
Participants in this course develop an understanding of global health work with an emphasis on the role of the nurse as a care provider, community organizer, educator and advocate within an international health development context. Participants examine a variety of emerging health issues and trends with a view to developing their personal and professional understanding of nursing practice that supports meaningful interactions with individuals, families, groups, communities and society within the global context.
TRU and School of Nursing Study Abroad Exchange Programs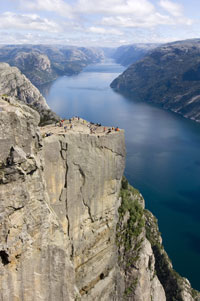 TRU Study Abroad exchange programs and the School of Nursing provide an exciting opportunity for nursing students to live and study in a different country — and have it count toward their degree. Currently this opportunity is available in partnership with the University of Stavanger in Norway and the University of Canberra in Australia.
Students in semester 7, study and practice in the partner sites for the semester and receive equivalent credit. Nursing students from University of Stavanger, the University of Canberra, and Universitat Autonomas Barcelona concurrently attend TRU as Study Abroad students.
For information on how to apply and info session dates, visit the Study Abroad website. This option is offered by TRU World.