Nursing Menu
Truth and Reconciliation (TRC) Spirit Bears
The School of Nursing and the Nursing Undergraduate Society have adopted two bears — an adult named Kenkeknem and a cub named Ckenmim'elt — as part of an initiative spearheaded by the First Nations Child and Family Caring Society of Canada.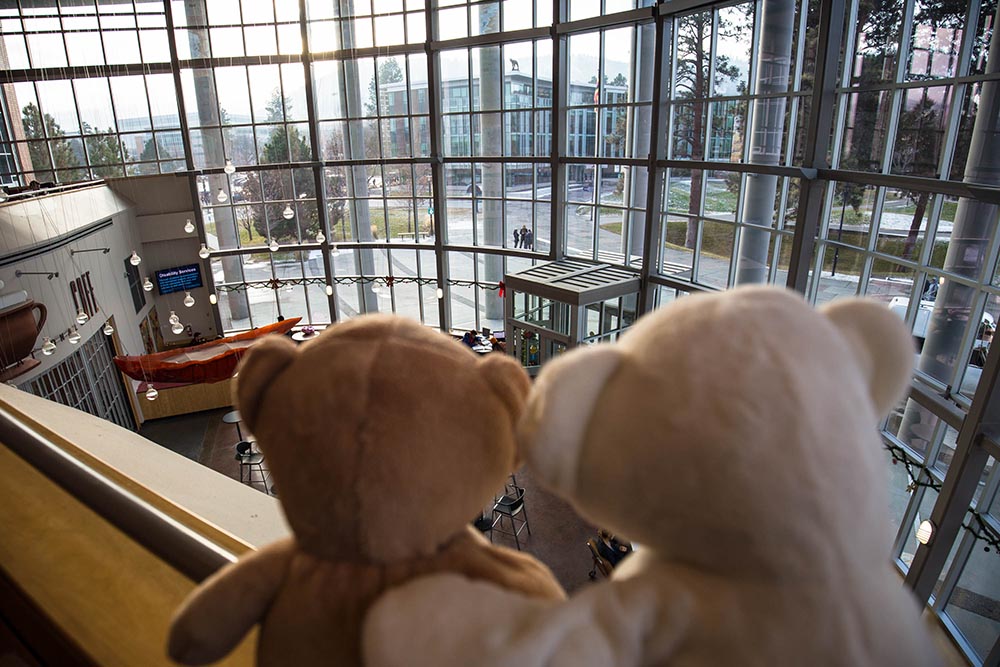 The stuffed bruins act as a reminder of our collective commitments and responsibilities to enact and uphold the Truth and Reconciliation Commission of Canada Calls to Action and Jordan's Principle, "bearing witness" to ensure nursing curriculum and faculty development meet these requirements.
Kenkeknem and Ckenmim'elt travel with faculty and student nurses to be present at local, provincial, national and international conferences, events and occasions; and have been officially welcomed to Senate with their own chairs at the head table. A set of responsibilities has been accepted as part of the adoption process Both School of Nursing faculty, led by Sheila Blackstock, and Nursing Undergraduate Society students, steered by Gabby Fisher, share responsibility for the bears' safety, scheduling and promoting appearances.
Our accepted responsibilities for adoption
Teach the bears the local language and culture.
Have a naming ceremony for the bears.
Commit to a series of annual reconciliation events.
What is Jordan's Principle?
The Canadian Human Rights Tribunal ordered the federal government to fully implement Jordan's Principle by May 10, 2016. It aims to ensure First Nations children can access all public services in a manner that meets their cultural needs, takes account of the historical disadvantage linked to colonization, and without experiencing any service denials, delays or disruptions related to their First Nation status.
---
Watch for these symbolic representatives "bearing witness" at events near you. Follow Kenkeknem and Ckenmim'elt on their blog, and remember to tag your shots with them #bearprinciples!
* Please practise cultural sensitivity when posting and interacting with the bears over social media.
The 'bearing witness' blog