Nursing Menu
Practice Experience
The Practice Placement Coordinators arrange the practice experiences for nursing students in all four years of the BScN program. These experiences include clinical work at hospitals and health care agencies, visiting families, community projects, and practicum placements in acute care, extended care and community settings.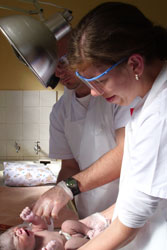 Overview of practice experiences in Kamloops
Year 1
Semester 1 - NURS 1740 - Basic nursing skills in the Nursing Lab; community activities. (observe nurses work; blood pressure clinics; interview elderly). Family visits with resource family.
Semester 2 - NURS1840 - Chronic Health Challenges (CHC). Agency work in extended care settings.
Year 2
Semester 3 - NURS2740 - Episodic acute care at Royal Inland Hospital and in the community. Provide care to clients and families in medical, surgical, maternal and child health practice settings.
Semester 4 - NURS2840 - A continuation of NURS2740.
CPE2 - NURS2380 - Consolidated Practice Experienc 2. Students at the end of year two have a 5-6 week practice experience into early June, which is a continuation of NURS2740/NURS2840. There are no scheduled required theory courses during this time.
Year 3
Semester 5 - NURS3740 - Focus on illness prevention and health promotion. Practice placements in agencies and community will focus on medical, surgical and mental health.
Semester 6 - NURS3510 - Health promotion and community development project with a health program or agency in the community.
CPE3 - NURS3380 -Consolidated Practice Experience 3. Consolidation practicum in acute or extended care setting with a preceptor nurse (36 hr per wk for 7 wks into mid-June), in or outside of Kamloops (see policy E06 re placements outside Kamloops). Students have the opportunity to register for NURS 3390 - CPE3 International.
Year 4
Semester 7 - NURS4380 - Focus on community Nursing and leadership. The practice setting will be throughout southern BC. Student will be preceptored in their practice.
Semester 8 - NURS4210 Final practicum - Student will have a choice in their final practice setting. Practicum, 36 hrs/wk for 12 weeks with preceptor nurse leading to BScN Degree graduation!
---
Practicum placements outside Kamloops
The majority of practice experiences will occur in health agencies within or near the city of Kamloops. Please be aware that all students are expected and required to have a practicum outside of Kamlooops at some point throughout the program and are responsible for fees associated with this. Practicum placements outside of Kamloops provide a unique opportunity for students to practice health care in a variety of settings, including international ones. Some of these practicums may involve a day trip to a local community or practicums throughout Canada! The Practice Placement Coordinator and the Committee for Approval of Practice Placements Outside Kamloops have information and resources for these types of practicums.
Further information for Practice Placements can be found in the 2015-2016 BScN Handbook. (link top of page)
Application process
Committee for Approval of Practice Placements Outside Kamloops
---
The Practice Placement Coordinators for TRU School of Nursing BScN program are:
Semesters 1 – 5 (Group Placements)
Allison Kouroupis, RN, IBCLC, CNeoN(C), MSN (in progress)
Phone: 250-377-6099
Email: akouroupis@tru.ca
Semesters 6 – 8 (Preceptor Placements)
Julie Cinel, RN, ASc, BScN, MSN
Phone: 250-371-5546
Email: jcinel@tru.ca