Bachelor of Business Administration (General)
Stand out and succeed in the world of business.
The Bachelor of Business Administration (BBA) is a four-year program with many options for hands-on and practical learning. You will develop strong writing, presentation, critical thinking and human relation skills – the foundations of business success. In years one and two, you develop a strong understanding of business-related subjects, as well as explore electives across the university. In years three and four, you choose a specialization, major and/or minor.
Many majors prepare you for a professional designation after graduation such as the Chartered Professional Accountant (CPA) or Certified Associate in Project Management (CAPM). The opportunities are endless upon graduation, whether you want to work in government, the private sector or open a small business.
Majors
Accounting
Economics
Entrepreneurship
Finance
General Business
Human Resource Management
International Business
Marketing
Supply Chain Management
Minors
All the options available as a major are also available as a minor. In addition, other minor options include:
Environmental Economics and Sustainable Development
Financial Markets and Institutions
Financial Services
Leadership
Management Information Systems
Project Management
Financial Services
Management Information Systems
Why pursue a BBA at TRU?
There are many careers to pursue, and all are in high demand. According to WorkBC, there are an estimated 4,340 openings for business development officers, marketing researchers and consultants – and that's just the beginning.
The median annual salary is $69,513 for business development officers, marketing researchers and consultants.
Through co-operative education, you can combine academic studies with paid, career-related work experience.
If you have two passions, you can pursue a dual degree in either computing and business or arts and business.
Tailor your learning through flexible programs, small class sizes, and teaching from award-winning research faculty.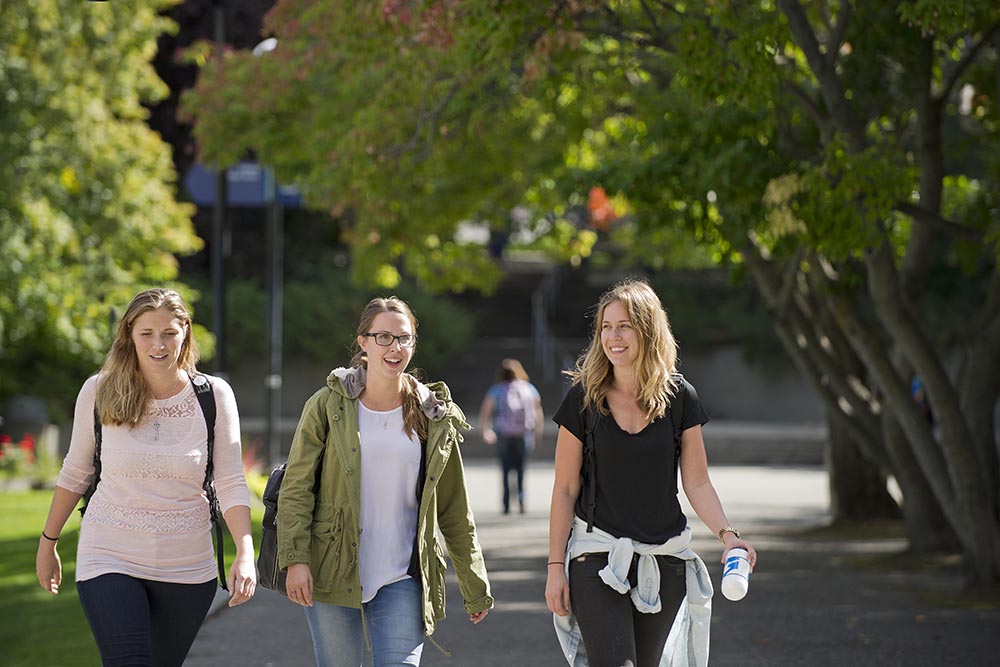 What will I learn?
In your first and second year, you take a diverse set of classes from mathematics and accounting to management and international business.
A snapshot of what you will learn includes:
Collecting, analyzing, and communicating quantitative and non-quantitative information to assist management in making more effective planning and control decisions.
Advanced statistical techniques and their applications in business and economics.
Examining the behaviour of individuals and how they interact with each other in different workplace organizations. Topics include an orientation to organizational, individual and team behaviours and processes.
The influence of forces such as culture, economics, politics and geography on management decision making.
Ethical decision-making is critical to the successful management of any organization. Topics include understanding primary and secondary stakeholder groups as well as changing economic, political and cultural forces and their influence on business and society.
How the program works
Complete at least 120 credits with a minimum of 60 credits as TRU credit. Students must also complete a minimum of 36 business credits as defined by AACSB as TRU credit. More than 120 credits may have to be taken to meet these requirements.
Complete the General Education Requirements, Core Courses, and a Major or General BBA.
Complete a minimum of 45 credits in non-business courses, 51 upper-level credits, and 39 upper-level credits in business or ECON
No more than 30 credits completed at other university-level institutions as part of a student exchange may be counted toward completion of the BBA program.
If completing a major and a minor, students can only share credit for one course. When completing a double major, students may share credit between two courses only.
What you need to get in
B.C. Grade or mature student status
Foundations Math or Pre-Calculus Math 12 with minimum C+ or equivalent
English /English 12 First Peoples with a minimum of 73 per cent or equivalent
Admissions to the BBA are open, meaning all applicants who meet the entrance requirements are accepted. If you do not meet the requirements, you are accepted conditionally and can commence your studies while you upgrade your English and mathematics.
Where will this take me?
A business degree can open a wide range of career opportunities. Depending on your interests and specialization you can explore various roles within finance, consulting, entrepreneurship, sales, marketing and operations among others.
I couldn't be happier with my decision. I had many opportunities on campus, largely thanks to the small classes. The connections you make can propel you into whatever future you want if you put in an honest effort and work hard."
— Canyon Sinclair
Bachelor of Business Administration graduate
Choosing TRU was the best decision I could have made. Not only did the professors want to see me succeed, they encouraged me to take advantage of all the opportunities TRU had to offer, which really helped me differentiate myself in my post grad job search."
— Katie Doherty
Bachelor of Business Administration graduate with double major in marketing and international business