Donor Stories
Nels Vollo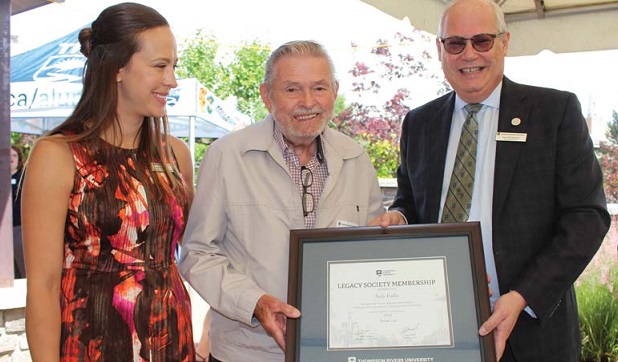 A $300,000 gift from retired geologist Nels Vollo will give new life to TRU's geology lab. The donation will allow TRU to upgrade 1980s-era lab space amid efforts to develop a full degree program in geoscience. Vollo's donation will improve technology in the geology lab, particularly for introductory courses.
"What we're aiming to do is bring the geology lab into the 21st century with the kind of technology that didn't exist when the program was established," said Dean of Science Tom Dickinson. "Equipment will be fundamental in taking geology beyond the first two years and ensuring we can be positioned to develop a four-year Bachelor of Science in Geoscience."
Mike Wiegele Helicopter Skiing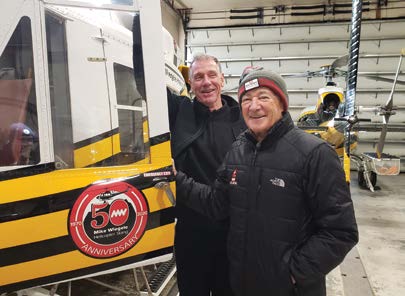 The founder of Mike Wiegele Helicopter Skiing donated $50,000 to fund 14 awards for students in the Faculty of Adventure, Culinary Arts and Tourism. This is also the 50th anniversary season of Wiegele's legendary heli-ski operation in Blue River, BC. Wiegele continues to fuel the tourism economy by working with TRU to create new opportunities for students—especially those who call the North Thompson home.
"It's important to reach younger generations and to make education available to those who will enhance the future of tourism. Now, we want the whole valley to benefit from what has been built here over the last 50 years," Wiegele said.
Windsor Plywood Foundation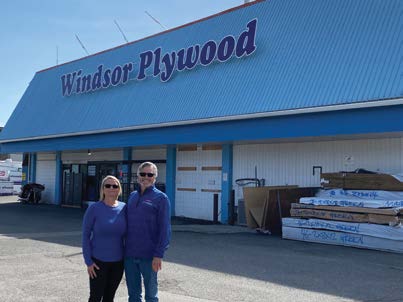 A $75,000 donation from the Windsor Plywood Foundation supplied TRU's carpentry program with new, state-of-the-art equipment. Local Windsor Plywood Kamloops owners Bryan and Karie Ghering worked to have TRU receive a donation fromt he company's foundation. The School of Trades and Technology was able to purchase a Grizzly 40-inch variable speed helical blade planer in addition to other equipment for the carpentry program.
"I had such a good experience at TRU. I loved it, every second I was there," Ghering said. "After I graduated, I didnt want that relationship to end. It was an amazing experience to have this come to fruition and I think it's so great the Windsor Plywood Foundation is giving back."
Lorianna Bennett
A family lawyer, mom and engaged community volunteer, Lorianna has inspired her peers and promoted a culture of change in many law firms, striving to create working environments that balance the needs of professionals, families and communities in her capacity as the Yale County representative of the Canadian Bar Association.
Work-life balance is important to Lorianna, who is an active volunteer in her sons' school and sporting activities, teaches a commercial law course at TRU and fund-raises for the hospital and university foundations. She often takes time to speak as a career mentor and as an advocate for anaphylaxis education.
"My proudest accomplishment since 2010 is that I have been able to advance my career in a way that has enabled me to maintain a healthier work-life balance. I do not feel that I have sacrificed one for the other — well, for the most part at least!"
Lorianna also gave birth to a baby girl in 2012 — her youngest of three kids.
Lorianna's personal accomplishments were followed by professional accomplishments in the years to follow.
"In 2013, I became a partner/co-owner of the firm where I have worked since graduating from law school, and just a few months into that new role I was recognized as one of Kamloops' Best Lawyers in a local Readers Choice poll. In 2016, I received that award a second time. Also, by 2016 I had received a ministerial appointment to the boards of the Provincial Health Services Authority and BC Emergency Health Services. [This was] a real honour for me because BC Children's Hospital was instrumental in saving my daughter from a serious illness back in 2013, and it meant the world to me to be able to give back in some way. In 2017, I began instructing at the TRU Faculty of Law (you will actually hear me talk about wanting to do this one day in my 2010 distinguished alumni video, well before we even had a law school). In 2020, I was honoured to be recognized by the community again, this time as Kamloops' Best Lawyer.
My 2021 mission was to complete my mediation training. This is something I wanted for years, but the training involved at least a week of in-person professional education away from my family. On top of all of my other provincial board commitments (which regularly took me out of town), it was just too much to try to fit in additional absences, so I kept putting it off. However, everything changed with the pandemic, including that the 80-hour education credits were (for the first time ever) offered on a virtual platform. Needless to say, I jumped at the opportunity and am now fully qualified.
Somewhere during the last 11 years, my husband and I also bought rural property, built a ranch, and converted our city lifestyle to a western one. Ranching is a tonne of hard work but also hugely rewarding. We feel extremely privileged to live where we live and do what we do, and most importantly our children love our lifestyle and could not be happier. I have no doubt that their best childhood memories will include travelling around with us to rodeos doing what they love the most!
It's so fun to go through life, look back, and be able to check things like this off of your bucket list. I'm very excited to see where life will take me next."
In 2021 Lorianna was appointed as a judge of the Provincial Court of British Columbia.
Lorianna's advice to students is to appreciate all that TRU has to offer and take advantage of the knowledge of those around you.
"There is no need to fly the coop too soon. So many kids want to leave Kamloops right after high school graduation and overlook the value of TRU. TRU is an incredible post secondary institution. My advice is also to make use of the TRU career counsellors. They are invaluable and will ensure that you are taking the courses that you need in order to reach for your longer-term goals. I will never forget the one counsellor I had met back in the early '90s, "Bernie". She was our hero. She knew us all by name, was always there to answer questions. She played a huge part in navigating me through my undergrad. She genuinely cared about the students, and you could tell."
You can read more about Lorianna's career on the Paul and Company website.
Awards and accolades (since 2010):
2013 and 2016: Recipient of Kamloops Readers Choice "One of the Best" Lawyers Award
2019: Legacy Society Member Recognition Award from Thompson Rivers University
2020: Recipient of Kamloops Readers Choice "Best Lawyer" Award
Jack and Sylvia Gin Foundation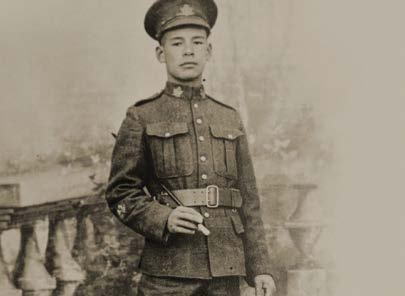 The legacy of Chinese-Canadian soldier Frederick Lee will be memorialized through a scholarship at TRU in recognition of his life and character.
The Jack and Sylvia Gin Foundation has pledged $20,000 to create the Private Frederick Lee Scholarship in honour of Lee, who was killed in action as one of 300 Chinese Canadians who served in the First World War. Vancouver-based philanthropist Jack Gin hopes the scholarship gives bright youth a chance at an education Frederick Lee never had. Read full story here.
Frank Quinn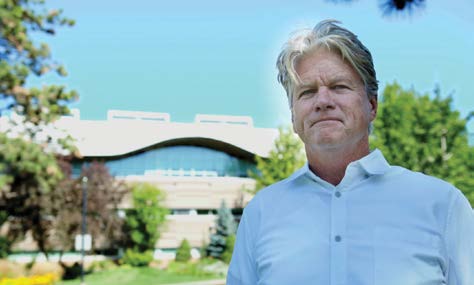 TRU extends its gratitude to Frank Quinn, who recently pledged a substantial donation of $250,000 toward the creation of the Norma Quinn Memorial Law Bursary, endowed to annually support single parents attending law school at TRU. Two bursaries will be awarded, each for three consecutive years, allowing recipients to receive much needed financial aid for the duration of their three-year law degree. In addition to generously supporting TRU law students with financial awards since 2014, Frank is a past member of the Board of Governors for TRU and the University College of the Cariboo and a past director of the TRU Community Trust. TRU sincerely thanks Frank for the generosity and leadership that so greatly shapes the success of our students.