Donor Stories
Jack and Sylvia Gin Foundation
The legacy of Chinese-Canadian soldier Frederick Lee will be memorialized through a scholarship at TRU in recognition of his life and character.
The Jack and Sylvia Gin Foundation has pledged $20,000 to create the Private Frederick Lee Scholarship in honour of Lee, who was killed in action as one of 300 Chinese Canadians who served in the First World War. Vancouver-based philanthropist Jack Gin hopes the scholarship gives bright youth a chance at an education Frederick Lee never had. Read full story here.
Frank Quinn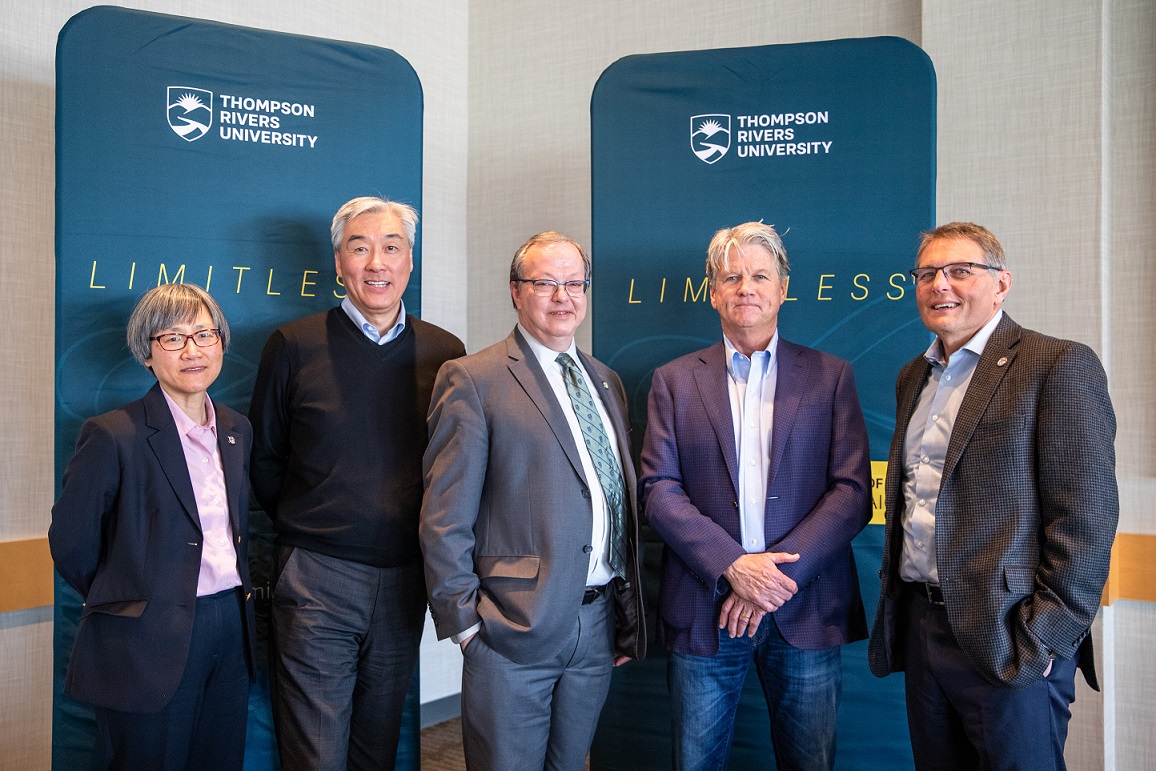 TRU extends its gratitude to Frank Quinn, who recently pledged a substantial donation of $250,000 toward the creation of the Norma Quinn Memorial Law Bursary, endowed to annually support single parents attending law school at TRU. Two bursaries will be awarded, each for three consecutive years, allowing recipients to receive much needed financial aid for the duration of their three-year law degree. In addition to generously supporting TRU law students with financial awards since 2014, Frank is a past member of the Board of Governors for TRU and the University College of the Cariboo and a past director of the TRU Community Trust. TRU sincerely thanks Frank for the generosity and leadership that so greatly shapes the success of our students.
__________________________________________________________________________________________
Students + support = better community and business
For his parents' 55th wedding anniversary, Norman Daley's family endowed an award in their name at the hometown college that played a big role in the Alberta community where he grew up. Now the owner of Daley and Company LLP is doing the same at TRU, recognizing the role the institution plays in the city he has called home since age 25. Read full story here.
__________________________________________________________________________________________
Forging a legacy as a TRU volleyball alumna
Cariboo College alumna Carolynn Boomer took the initiative this year to leave a planned gift, pledging $5,000 as a scholarship for a WolfPack women's volleyball athlete as part of her will. Planned giving is one way to leave a legacy through charitable giving. As a former varsity athlete, Boomer understands the importance of scholarships. Read full story here.
__________________________________________________________________________________________
Roland and Anne Neave
Longtime TRU Supporters Roland and Anne Neave continue to have a profound impact on TRU students with recent contributions of more than $50,000 to the university, bringing their cumulative giving to more than $635,000. Roland and Anne donated $20,000 during Day of Giving in November to support the Charles & Jean Whittaker Memorial Bursary, an endowment they created in 2017. It is one of several scholarships and bursaries the Neaves fund, having supported student awards across various programs since 1990. The owners of Wells Gray Tours also donated time and funds last fall to construct a research shelter at the Neave Family Wetlands, a property they donated to TRU in 2014 for the benefit of students and researchers in the Faculty of Science. The new facility built by the Neaves allows students to stay onsite to conduct research while in the field. Generations of students have and will continue to benefit from their generous support and ongoing partnership with TRU. Thank you Roland and Anne Neave.
__________________________________________________________________________________________________
Duncan and Marie MacRae
Duncan and Marie MacRae, long-time donors and friends to Thompson Rivers University recently donated $50,000 towards the new Industrial Training and Technology Centre. In recognition of their generous donation, Thompson Rivers University named a classroom on the 3rd floor of the new building the 'Duncan & Marie MacRae Teaching Room' which was unveiled at a celebration Friday, January 25, 2019.
____________________________________________________________________________________________________
Dr. Annette Dominik on behalf of the late Ted Smith donates $40,000 to TRU
A $40,000 endowment in memory of Interior artist Ted Smith will benefit future visual arts students at TRU. The donation made by Dr. Annette Dominik on behalf of the late abstract painter will be used to create the Ted Smith Visual Arts Award in Painting, to be given annually to a third-year student who shows promise as an emerging artist.
____________________________________________________________________________________________________
$700,000 grant from RBC Foundation launches the RBC Women in Trades Training Program
The first recipients of money through the RBC Women in Trades Training Program gather with officials from RBC and TRU during the funding announcement on Feb. 12, 2014.
Learn More
---
Guy Mercier
His construction projects mark the economic growth of this region: Sun Peaks, Work Safe BC, New Gold, and many others, including TRU. Guy Mercier, the long-time former owner of Acres Enterprises Ltd, came forward at the 21st annual Foundation Gala on February 2 to add another dimension to his relationship with the university with a $250,000 donation.
"My parents instilled me with a belief in education," says Mercier, who graduated with a BBA from the Université de Rimouski, Quebec in 1973.
That same year he came to Kamloops "only to view the country" for the summer. Shortly afterwards, he started to work for Dominion Construction as an Engineering Technologist. His first project was the development of Aberdeen Hills Community, for the Bentall Family.
By 1980, he was running his own construction company, Action Construction Ltd. It evolved into Acres Enterprises, focusing on roads and municipal infrastructure projects. Branching into general construction in 1990, Mercier completed his first project at TRU.
"We have been very involved with TRU's growth over these last 22 years and can see that universities are important to individuals, families and communities," says Mercier. His gift will go towards student endowments and the revitalization of Old Main.
Acres Enterprises worked on the Main Library (more than once), was a general contractor for the Campus Activity Centre, and was a subcontractor for the Brown Family House of Learning. Mercier sold the company in 2012.
---
Ed and Dianne Barker
A number of years ago we made the choice to invest in a Life Insurance Policy with Thompson Rivers University as the owner and beneficiary because we believe in the value of education, we believe in the value of sport and we believe in Kamloops.
Ed was born and raised in Kamloops (his grandparents homesteaded here). Although Dianne is a graduate of UBC, we make our living in Kamloops and believe strongly in supporting our community. Both our sons attended TRU and that education provided a good foundation for further education for both of them.
As Ed moved along in his real estate career, and our financial future became more secure, the disability insurance premiums that Ed was paying seemed redundant. If he became disabled and was unable to work, we would be OK. It made sense to us to take the money we were paying in premiums for a disability insurance policy, and instead, make those same payments toward premiums for a life insurance policy that would provide a lasting legacy to TRU.
The benefit to TRU will be $100,000 for scholarships and bursaries for student athletes when we die; the immediate benefit to us is that the annual premiums to the life insurance policy are considered a charitable donation for taxation purposes.
We believe that TRU is a real asset in our community and making TRU the beneficiary of a life insurance policy is an easy way to assist students well into the future.