Nursing and Population Health Building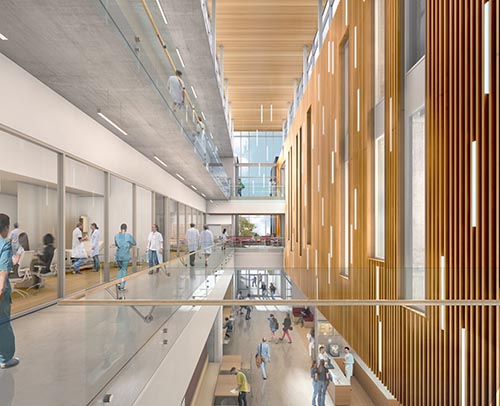 Start: April 2018
Finish: Anticipated September 2020
Status: Under way
Cost: $37.2 million
View live webcam
Project
A purpose-built three-storey home to TRU's Bachelor of Science in Nursing, Master of Nursing and Health Care Assistant programs.
Benefits
The Nursing and Population Health Building is a 4,550-square-metre facility encompassing classrooms, patient simulation labs, interdisciplinary health clinics, home-care space, student lounges and breakout rooms. It will be a hub for health-care teaching and learning. The new space will support collaborative learning for interdisciplinary teams, bringing together students in respiratory therapy, social work and medical residency. The building will foster creativity and innovation, and support research designed to improve health outcomes.
Critical to student success are the building's patient simulation labs. Equipped with advanced technology, high-fidelity simulation mannequins and space similar to that of real health-care settings, these labs will better prepare students for working conditions after graduation.
The $37.2-million project is made possible through the support of the provincial government ($8 million), the university's capital reserves and ongoing fundraising efforts.
Timeline
Construction began with site clearing in April 2018 and is expected to take about 18 months to complete. During the course of work, road and parking lot closures can be anticipated with signage in place to direct vehicle and pedestrian traffic.