Nursing and Population Health Building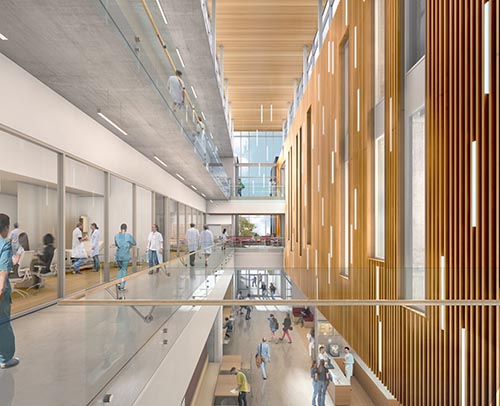 Start: April 2018
Finish: Anticipated September 2020
Status: Under way
Cost: $37.2 million
Project
A purpose-built three-storey home to TRU's Bachelor of Science in Nursing, Master of Nursing and Health Care Assistant programs that will enhance the quality of nursing education and develop a highly-skilled workforce.
This is more than bricks and mortar. This is a historical affirmation that's showcasing TRU has a longstanding history of excellence in nursing education. The Nursing and Population Health building represents a global reach of education and research.Donna Murnaghan, Dean, School of Nursing
Benefits
The strategically designed Nursing and Population Health building represents the pinnacle of health-care education. When the building opens in 2020, TRU will have capacity to improve access for students, improve transition into the labour market, enrich research opportunities and simulate the full spectrum of health-care environments. Rising on the southeast end of TRU's campus, the 49,000-square foot, three-storey building will be a hub for knowledge with classrooms, state-of-the-art patient simulation labs, a home care simulation lab, seminar rooms, student lounges, research space and breakout rooms. This space will support collaborative learning for interdisciplinary teams while fostering creativity and innovation.
Critical to student success are the building's patient simulation labs. Equipped with advanced technology, high-fidelity simulation mannequins and space similar to that of real health-care settings, these labs will better prepare students for working conditions after graduation and will support research designed to improve health outcomes.
The $37.2-million project is made possible through the support of the provincial government ($8 million), the university's capital reserves and ongoing fundraising efforts.
Timeline
Construction began with site clearing in April 2018. During the course of work, road and parking lot closures can be anticipated with signage in place to direct vehicle and pedestrian traffic. The building will be open for classes in the fall of 2020.