Chappell Family Building for Nursing and Population Health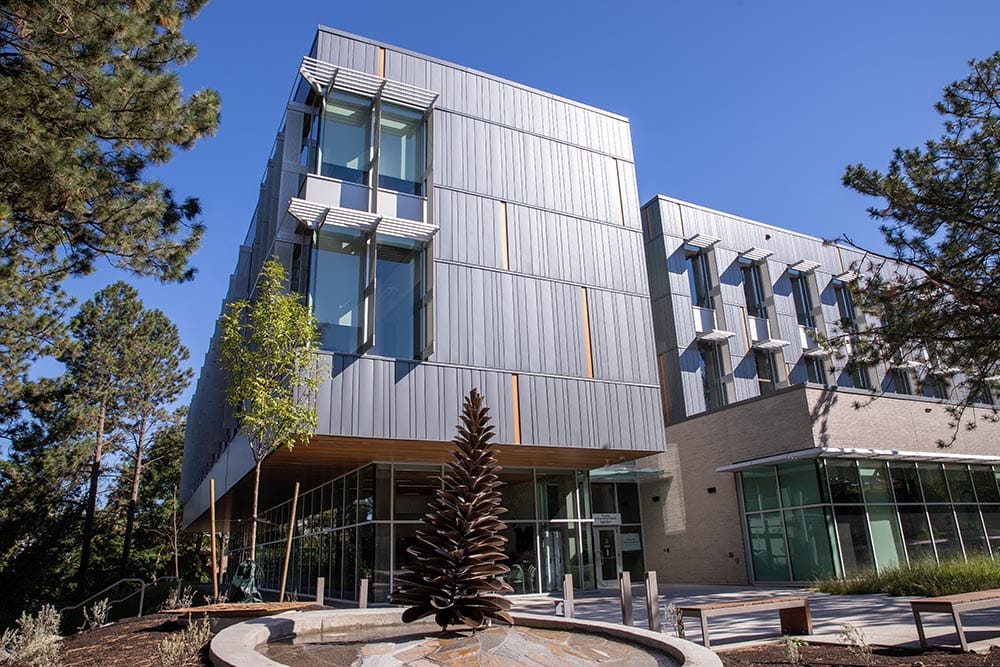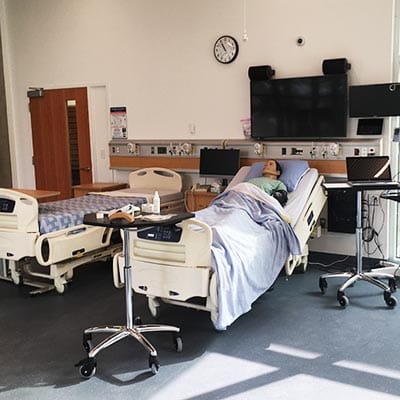 Start: April 2018
Completed: September 2020
Status: Open for learning
Cost: $37.2 million
With 49,000 square feet (4,552 square metres) of multi-disciplinary labs, classrooms, research and collaborative study spaces, the Chappell Family Building for Nursing and Population Health celebrates innovation and excellence in health-care education.
The Chappell Family Building opened in September 2020 and is the newest academic building on TRU's campus. As a result, the School of Nursing has tripled its lab space, prioritized student needs and introduced new technology for modern education and training.
Chappell Family Building highlights
The building's patient simulation labs are equipped with advanced technology that replicate the work environments for a variety of hospitals and laboratories. They reflect real health-care settings to better prepare students for working conditions and support research designed to improve health outcomes. This video highlights these features.
Background
The Chappell Family Building for Nursing and Population Health represents a signification investment in TRU's students, faculty and staff. Of the $37.2-million cost, $8 million was funded by province, and the remainder came through the university's capital reserves and ongoing fundraising efforts. The latter includes a $1.5 million commitment from an anonymous donor, $1.5 million as part of a Sherman Jen donation announced last fall, and $550,000 from the Stollery Foundation. These are a few of the many donors who have contributed and continue to help fund this building. TRU is deeply grateful for all of this generous and impactful support.
This new building will transform how my classmates and I learn to be the future health-care workers in BC. We are excited to use this new facility.Fourth-year nursing student Lisa Bonang
Key building facts
Lab space triples, from 16 to 48 beds.
The Stollery Foundation Innovation Lab has 16 beds with basic technology.
Three labs have eight beds that are set up to resemble a hospital ward and include medium-fidelity computerized real-life mannequins to reflect patient complex care.
The research lab allows for research that will translate knowledge into real-health situations.
The community clinic provides nursing students with simulated experience working in public health using simulation, seminars and workshops.
The Sherman Jen Lab has eight beds with high fidelity mannequins to reflect real patient situations. These mannequins have built in technology and can be remotely programmed to respond by movement and voice to mimic real situations. This applied learning space is where students develop confidence in clinical practice knowledge and skills.
The home-care simulation lab is a series of rooms that recreate an apartment-style setting offering fully immersive experience for students.
There is one 60-seat classroom and several seminar rooms for smaller work sessions.
The building has several seminar rooms for small group activity and learning as well as places for students to gather in pairs or small groups informally.
The building optimizes the physical surroundings by large windows and natural light throughout.