Elders
Elders hold a significant role in Secwepemc society. Historically, they possessed leadership qualities and were skilled and knowledgeable about sewing, fishing, gathering, and hunting. Members in each village, considered elders to be teachers and ceremonial leaders, and they were often the caregivers of grandchildren.
As role models, and through the use of storytelling, Elders passed on knowledge of history, language, and culture. Elders today hold similar roles and remain respected and essential teachers, caregivers, and advisors in their communities.
Elders at TRU are available to provide consultation to faculty and staff, visit classrooms, and to speak or provide prayers, drumming, or song at events.
To contact an Elder, or to make arrangements to have an Elder visit your classroom or an event, please contact Misty Antoine at The Aboriginal Offices: 250-828-5227. View the Elders' Calendar.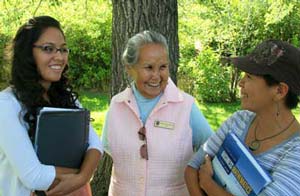 ---
Resources for Elders
Resources for Working with Elders
The Public Health Agency of Canada's comprehensive Guide to Communicating with Aboriginal Seniors was prepared to assist those who work with Aboriginal seniors. As there are many differences among aboriginal nations and communities, this guide serves as a general reference. For specific information about your local aboriginal community, contact the band office.