Tourism Management Menu
Resort and Hotel Management Diploma
Explore your interest in hospitality operations and obtain key knowledge and skills to move beyond the front lines of service into leadership and management roles in the dynamic global tourism industry.
As a 60-year old field of study, resort and hotel management uses multiple perspectives to embrace complexities faced by the industry as it has evolved into the service and experience-based way we consume hospitality today. You'll develop a solid understanding of the important social, environmental and economic aspects of resort and hotel management as well as strategies necessary to creatively tackle modern challenges.
In this program you'll also learn key business principles necessary to successfully manage hotels and resorts, flawlessly execute food and beverage operations, and sharpen your understanding of excellence in service culture overall. Skills and knowledge gained in this program are easily transferable to other business sectors.
Enter a growing sector that employs one in twelve workers worldwide in a wide range of career opportunities:
Resort and hotel operations
Food and beverage management
Conference services
Project management
Cruise ship industry
Wine industry
Hospitality sales and marketing
Human resource management
Financial controls/operations
Sales and marketing
Sequence of study
Year 1
Fall semester

| Course | Course Title | Credit |
| --- | --- | --- |
| CMNS 1810 | Business, Professional and Academic Composition | 3 |
| HMGT 1110 | Catering and Service Management | 3 |
| MATH 1100 | Finite Math with Applications I | 3 |
| TMGT 1110 | Introduction to Tourism | 3 |
| TMGT 1160 | Organizational Leadership in Tourism | 3 |
Winter semester
Course
Course Title
Credit
ACCT 1000
Financial Accounting
3
HMGT 1210
Food and Beverage Preparation
3
HMGT 1410
Hotel Operations 1
3
JOUR 2060
Introduction to Multimedia
3
TMGT 1150
Marketing and Customer Service
3
Total credits for Year 1
30
Year 2
Fall semester

| Course | Course Title | Credit |
| --- | --- | --- |
| HMGT 2210 | Food and Beverage Management | 3 |
| HMGT 2510 | Hotel Operations 2 | 3 |
| TMGT 1140 | Human Resources Management | 3 |
| TMGT 2010 | Financial Operations Control in Tourism | 3 |
| TMGT 2250 | Hospitality Law | 3 |
Winter semester
Course
Course Title
Credit
ECON 1220
Introduction to Basic Economics
3
HMGT 2100
Food and Beverage Cost Control
3
HMGT 2120
Hotel Sales and Service
3
HMGT 2500
Resort Field Experience ($600 activity fee)
3
HMGT 2610
Resort and Hotel Operations
3
Total credits for Year 2
30
Total program credits
60
Apply Now
---
A TRU Story: Debi Schranz
Resort and Hotel Management Diploma - Duty Manager, Hotel Hof und Post, Innertkirchen, Swizerland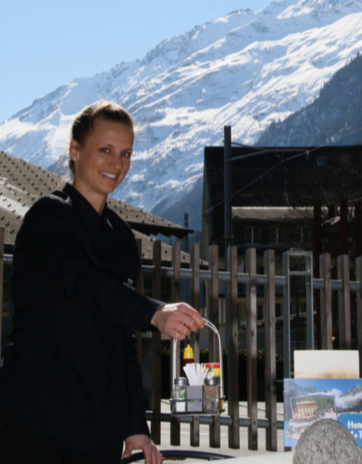 Why TRU?
I started looking at hotel management programs and found that TRU had small class sizes — where teachers would know my name — and it was affordable, in a community I wanted to live in.
From global to local
Being able to work in Switzerland speaks highly of my TRU education as Switzerland has impeccably high standards in the hotel industry. Working in a small town in the Swiss Alps has been a great experience. My responsibilities as a duty manager are diverse and incredibly exciting! I am involved in every aspect of managing a hotel: human resource management, sales and marketing and ensuring excellent customer service is delivered every single day. For my first international job opportunity out of university, I am really pleased!
---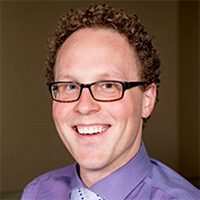 Jordan Amon

BTM 2009, Resort and Hotel Management Diploma 2007
"Be patient while you gain your experience. Realize that the bad days, the difficult situations, the tough managers and the good times all contribute towards your experience. Your attitude now is what is going to land you your dream job later."
More about Jordan
Hometown: Kamloops
Current residence: Kamloops
Employment: General Manager at Chartwell Ridgepointe Retirement Residence
Jordan's journey with Chartwell Retirement began back in April 2016, when he was hired as the retirement living consultant. Before that, he spent eight years at Starwood's Four Points brand, serving as the operations manager for five years. Realizing that he needed to work on his sales experience, Jordan leapt on the opportunity to learn marketing with a supportive company that aligned with my morals and offered room to grow. After being awarded top salesman in 2017, he entered into the internal aspiring leader's education program to expand his skillset. Jordan loves his current job and duties.
---