School of Trades and Technology Menu
Safety
Fall Protection Certification XOCH 0520
TRU offers this highly reputable Fall Protection Group certification. The course material is energetically delivered and includes hands-on activities, video analysis, and a focus on student participation. All courses are classroom-based and delivered by a highly qualified instructor. On-site training is also available.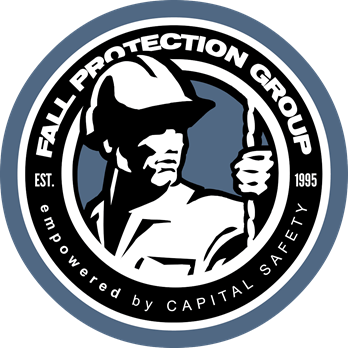 Comprehensive (8 hours)
This full day classroom delivery end user program is delivered by the School of Trades and Technology's Continuing Studies Department and developed by Fall Protection Group. The Fall Protection Comprehensive program will allow you to understand the use of fall protection, as it relates to what you do at height. Various fall protection options exist, this course will identify which options may best meet your needs, and give you the tools and knowledge to work at height safety.
This course is delivered to a specific provincial regulation. Using Fall Protection Group's online endorsement service, students who possess a valid credential may register for and complete additional provincial accreditations. These accreditations will provide you with knowledge related to a selected jurisdiction and will allow to you to add multiple provincial endorsements to your fall protection certification. This endorsement service allows for increased knowledge and aids in worker mobility without requiring redundancy in training.
Course Fee: $209
Contact: Marie Weisbeck
mweisbeck@tru.ca
250-828-5106
Ground Disturbance Level II (8 hours)
Global Ground Disturbance Level II® is a one-day supervisory level program designed for any party that is supervising a ground disturbance, independently performing a ground disturbance, or issuing and receiving ground disturbance permits. The program ensures that Ground Disturbance Level II® personnel are familiar with, and fully understand, all the regulations and variances involved when a ground disturbance takes place.
Due-diligence and personal safety is emphasized throughout and students learn everything from the initial planning of a ground disturbance, including, searching for underground facilities, providing notification, and locating and marking, to the execution and completion of the job. This includes necessary approvals, permits, crossing agreements, backfill inspections, types of exposure, emergency response plans, and procedures to follow when one makes 'contact' with an underground facility. Students will also learn about current regulations, as all content and steps are in accordance with current industry practice and expectations, as set by the ABCGA and BCCGA. Ground Disturbance Level II® is the standardized program recognized by industry regulators.
Objectives are tested by a written competency exam. Certification is valid for three years and issued upon completion of all objectives.
Contact: Marie Weisbeck
mweisbeck@tru.ca
250-828-5106
Confined Space (8 hours)
This is a one-day program designed for anyone working in or around Confined Spaces in any capacity. Participants will gain an understanding of confined spaces/restricted spaces, including their dangers, pre-job assessment and recognition of hazards, controls that must be in place to eliminate/reduce the risk of such hazards, hazardous substance awareness, isolation, ventilation/purging, testing and atmosphere. Also, students will learn about entry and monitor responsibilities, entry permit systems, PPE, due-diligence and awareness of personal safety. All material is related to real life job site and emergency incidents, as well existing legislation and Code of Practice requirements.
Students will have the option of engaging in a live rescue scenario using SCBA tanks, followed by a written test.
Certification is valid for three years and issued upon completion of all objectives.
Contact: Marie Weisbeck
mweisbeck@tru.ca
250-828-5106