School of Trades and Technology Menu
Refrigeration and Air-Conditioning Mechanic
As a refrigeration mechanic you'll build, install, repair and service residential, commercial and industrial cooling and heating systems. Part of your job will involve using welding and brazing equipment to measure, cut and connect pipe, and recharge systems with refrigerant gases. You'll connect rooftop units to gas, test and balance systems, and connect electrical systems. And you'll have the capacity to operate and adjust computerized controls, use computer software to calculate loads, work on large machines and prepare work estimates for clients.
Refrigeration and Air Conditioning Mechanic Foundation
Gain the skills needed for entry-level position as an apprentice in the refrigeration field.
What you'll learn
Construction safety and proper use of ladders, scaffolding and trade-specific tools.
Piping basics including swaging, flaring, soldering and brazing. You'll learn to properly install piping on a working refrigeration system.
Refrigeration theory including heat transfer, temperature pressure conversions and calculations, components and practical working applications.
Electrical theory including single- and three-phase motors, wiring diagrams and control installation.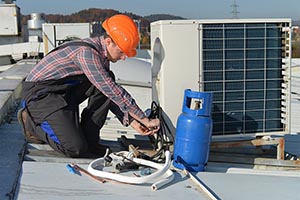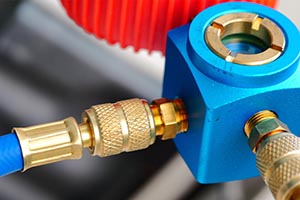 What makes TRU's program unique
Large, open shop featuring new refrigeration training equipment.
Job shadows as part of the program, and great networking with industry professionals to facilitate job placement.
Gas theory and hands-on training that is not included in standard refrigeration foundation programs.
What you'll graduate with
Refrigeration and Air Conditioning Mechanic Foundation Certificate of Completion
The in-school technical training for level 1 of apprenticeship
425 work-based hours towards apprenticeship
Program requirements
Placement on the entry assessment test for reading comprehension, sentence skills, arithmetic and algebra, and English at a 050 level
of TRU School of Trades and Technology grads employed in the labour force
of TRU School of Trades and Technology grads satisfied with training
quality of instruction rated by TRU School of Trades and Technology grads
Apprenticeship Refrigeration and Air Conditioning Mechanic Program
Apprenticeship provides refrigeration and air conditioning mechanic certification through work-based training and in-school technical training. Employers sponsor students for the work-based training and TRU offers the in-school technical training for levels 1, 2, 3 and 4 of your apprenticeship.
Level 1 and 2 each consist of six weeks of technical training, and level 2 and 3 each consist of eight weeks of technical training*. Once you've completed all four levels and the required work-based hours, you'll receive a Refrigeration and Air Conditioning Mechanic Certificate of Apprenticeship and qualify to write the interprovincial Red Seal exam for your Certificate of Qualification.
*Durations will change with program harmonization, starting in 2020. Level 1 will still be six weeks, level 2 will be seven weeks, and level 3 and 4 will be 10 weeks each. Current curriculum will remain in place for the next couple years for students enrolled prior to harmonization.
Additional equipment/supplies provided by student
Refrigeration and Air Conditioning apprentices must purchase the required textbooks and provincial competency manuals, and have a current copy of the BC Building Code (not included in program cost).
Program requirements
Must be a registered apprentice with the ITA in BC and possess a valid apprenticeship number
Sponsored by an employer registered by the Industry Training Authority (ITA)
Must be in good physical health
Apprenticeship training dates
| | From | To | Location |
| --- | --- | --- | --- |
| Level 1 (Harmonized) | Jan 04, 2021 | Feb 12, 2021 | Kamloops |
| Level 2 (Harmonized) | Feb 16, 2021 | Apr 01, 2021 | Kamloops |
| Level 3 | Aug 31, 2020 | Oct 23, 2020 | Kamloops |
| Level 4 | Oct 26, 2020 | Dec 18, 2020 | Kamloops |
All apprenticeships have a waitlist. Adding your name is free and you will be contacted when your name comes up.
Add your name
for this apprenticeship waitlist
Contact
apprenticeship@tru.ca
Costs for Refrigeration and Air-Conditioning Mechanic programs
Fees are based on 2019 rates and are subject to change.
Costs include items such as student/ancillary fees, books, personal tools and safety gear, which are kept by students when they graduate from the program.
General
Application fee
$29.83
Accuplacer exam fee
$37
Accuplacer rewrites
$25
Parking (student parking website)
$2.50 (pass) Motorcycle
$5 per day
Foundation

| | |
| --- | --- |
| Tuition | $3825 |
| Student and lab fees | $1250 |
| Learning guides and/or textbooks | $800 |
| Safety Gear: Clear safety glasses, CSA work boots | $250 |
| Calculator, 3-ring binder, paper, pens, etc. | $50 |
| Total | $6,175 |
The in-school technical training costs are based on the number of weeks you need, level 1 and 2 each consisting of six weeks, and level 3 and 4 each consisting of 8 weeks. Contact us for more rates.
Instructor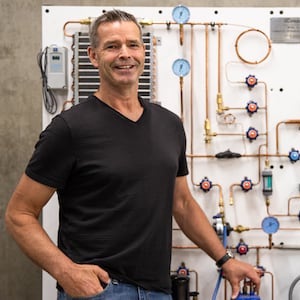 Pete Arkesteyn
Pete is a Red Seal refrigeration mechanic with a gasfitter Class A qualification. He worked in the heating, ventilation, air conditioning and refrigeration field for nearly 30 years, before hanging up his tools to pass on his knowledge and experience to students. He enjoys hockey, hiking and biking through Kamloops' great outdoors, and volunteering with community groups.