School of Trades and Technology Menu
Industrial Mechanic (Millwright) / Machinist
As an industrial mechanic (millwright) you'll install, repair, overhaul and maintain machinery and heavy mechanical equipment such as conveyor systems, and perform routine maintenance like adjusting valves and investigating breakdowns. You'll find work in diverse settings ranging from mines and logging operations to ski hills and manufacturing facilities.
Industrial Mechanic (Millwright)/Machinist Foundation Program
If you have little or no experience in the millwright or machinist field, our Foundation program will provide you with the necessary skills to work as an apprentice in the trade.
VIDEO SOURCE:
WORKBC'S CAREER TREK
---
VIDEO SOURCE:
WORKBC'S CAREER TREK
What you'll learn
ITA approved curriculum with an emphasis on safe work practices. Including math skills for industry and precision measuring.
Power transmission (gears, belts and chains), system installation and maintenance.
Bearing science, installation and maintenance procedures.
Fluid power basics.
Rigging and hoisting methods.
Basic welding techniques.
Pumps and compressor principles.
Machinery dismantling, repair and assembly.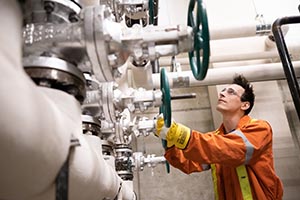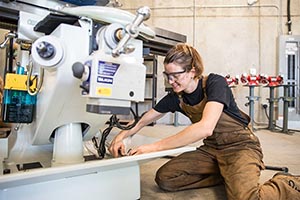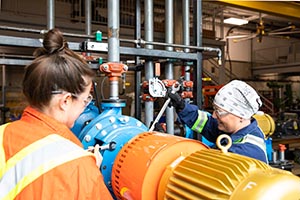 What makes TRU's program unique:
You'll hone your skills with our advanced training equipment.
Learn from exceptional instructors with over 40 years of experience.
Our graduates have a 92% pass rate on the Interprovincial Red Seal Exam.
What you'll graduate with:
(Industrial Mechanic) Millwright Foundation Certificate of Completion
The in-school technical training required for apprenticeship level 1 Millwright and level 1 Machinist
425 work-based training hours towards apprenticeship
Program requirements:
Grade 12 graduation or equivalent
Completion of Grade 10 with Grade 10 Math and English mandatory
Successful score on ACCUPLACER
Stats:
64% of graduates from this program are employed in labour force
82% of graduates from this program satisfied with training
91% quality of instruction rated by program graduates
Instructors:
Carl Burton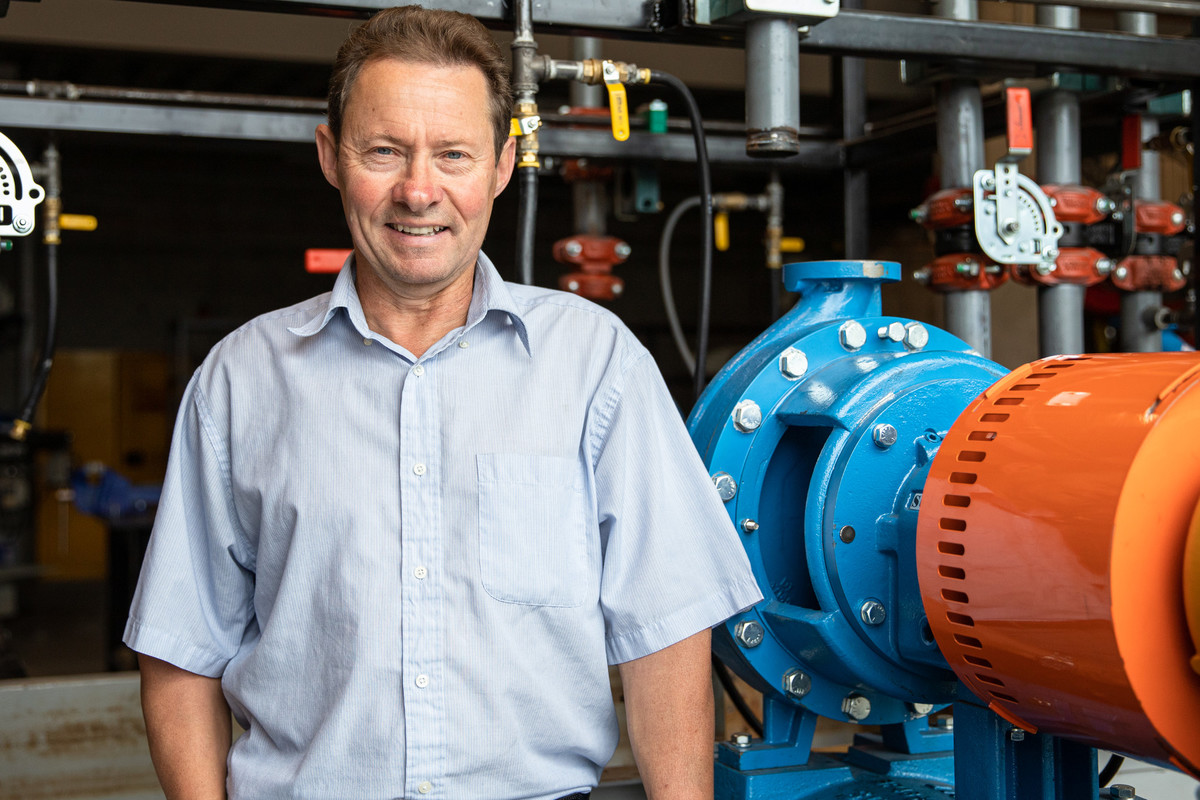 Carl is a millwright instructor with over 20 years teaching experience in his field. He is dual ticketed with a Red Seal in both the millwright and machinist trades, and also holds a Mechanical Engineering Technician Diploma. Before he became a trades instructor, he worked in various fields such as steel manufacturing, the textile industry, food processing, pulp mill machinery manufacturing and the sawmill industry. Since becoming an instructor, he has been to Ottawa to participate in a Red Seal exam workshop and has worked with the ITA on numerous standard level exam developments.
Apprenticeship Millwright Program
Apprenticeship provides Industrial Mechanic (Millwright) certification through work-based training and in-school technical training. TRU offers the in-school technical training components for apprenticeship levels 1 to 4, with each level of technical training being seven weeks in length and containing theory and practical competencies. Once you've completed the technical training for levels 1 through 4 and the required work-based training hours you will receive an Industrial Mechanic (Millwright) Certificate of Apprenticeship, and be eligible to write the interprovincial Red Seal exam for your Certificate of Qualification.
Level 1
Learn safety, trade mathematics, blueprint reading, measurement and layout, hand and power tools, fasteners and threads, lubrication, saws and grinders, drill press, lathe and milling machines, access equipment, machine leveling and installation, cutting and welding operations and rigging.
Level 2
Learn trade science, blue print reading, metallurgy, lubrication systems, shafts, bearings and seals, couplings, clutches and brakes, belt, chain and gear drives, shaft alignment, cutting and welding operations.
Level 3
Learn shaft alignment procedures, fans and blowers, positive and centrifugal pumps, compressors, pneumatic and vacuum systems, piping and tanks, hydraulic components, circuits and diagnostics.
Level 4
Learn work planning, engines, turbines, electric motors, conveyor systems, electricity, preventative maintenance, vibration analysis, commissioning of equipment and robotic systems.
Additional equipment/supplies provided by student:
CSA approved safety toe work boots or shoes, CSA approved safety glasses, work gloves, coveralls or other work apparel, scientific calculator.
Program requirements:
Sponsored by an employer registered by the Industry Training Authority (ITA)
Must be in good physical health
Apprenticeship training dates
Submit your name
to the interest list for an apprenticeship course
| | From | To | Location |
| --- | --- | --- | --- |
| Millwright (Industrial Mechanic) (Harmonized) - Level 2 | September 12, 2022 | October 28, 2022 | Kamloops |
| Millwright (Industrial Mechanic) (Harmonized) - Level 3 | October 31, 2022 | December 16, 2022 | Kamloops |
| Millwright (Industrial Mechanic) (Harmonized) - Level 4 | January 3, 2023 | February 17, 2023 | Kamloops |
| Millwright (Industrial Mechanic) (Harmonized) - Level 1 | February 20, 2023 | April 7, 2023 | Kamloops |
Contact
apprenticeship@tru.ca
Costs for Industrial Mechanic (Millwright) programs
Fees are subject to change.
Costs include items such as student/ancillary fees, books, personal tools and safety gear, which are kept by students when they graduate from the program.
General
Application fee
{{ formatPrice(all.applicationFee) }}
Accuplacer exam fee
{{ formatPrice(all.accuplacerFee) }} plus GST
Accuplacer rewrites
{{ formatPrice(all.accuplacerRewrite) }} plus GST
Parking (parking website)
{{ formatPrice(all.motorcycle) }} (pass) Motorcycle
${{ all.parking }} per day
Foundation

| | |
| --- | --- |
| Tuition | {{ formatPrice(mwma.tuition) }} |
| Student and lab fees | {{ formatPrice(mwma.fees) }} |
| Learning guides and/or textbooks | {{ formatPrice(mwma.books) }} |
| CSA work boots, clear safety glasses | {{ formatPrice(mwma.gear) }} |
| Scientific calculator (non-programmable) | {{ formatPrice(mwma.calculator) }} |
| Toolbox deposit (refundable) | {{ formatPrice(mwma.tools) }} |
| Calculator, 3-ring binder, paper, pens, etc. | {{ formatPrice(all.supplies) }} |
| Total | {{ formatPrice(mwmaTotal) }} |
Apprenticeship
The in-school technical training costs are based on the number of weeks you need, with each apprenticeship level requiring seven weeks.
Seven weeks tuition and fees
{{ formatPrice(appr.seven) }}
Contact us for more rates